Rugby ACT Brumbies XV vs NSW Waratahs Development side at St. Edmund's College in Canberra on Saturday 24 September.
Contracted ACT Brumbies players will combine with development talent and local players from the Bentspoke John I Dent Cup, providing valuable minutes for emerging members of Stephen Larkham's Super Rugby Pacific squad.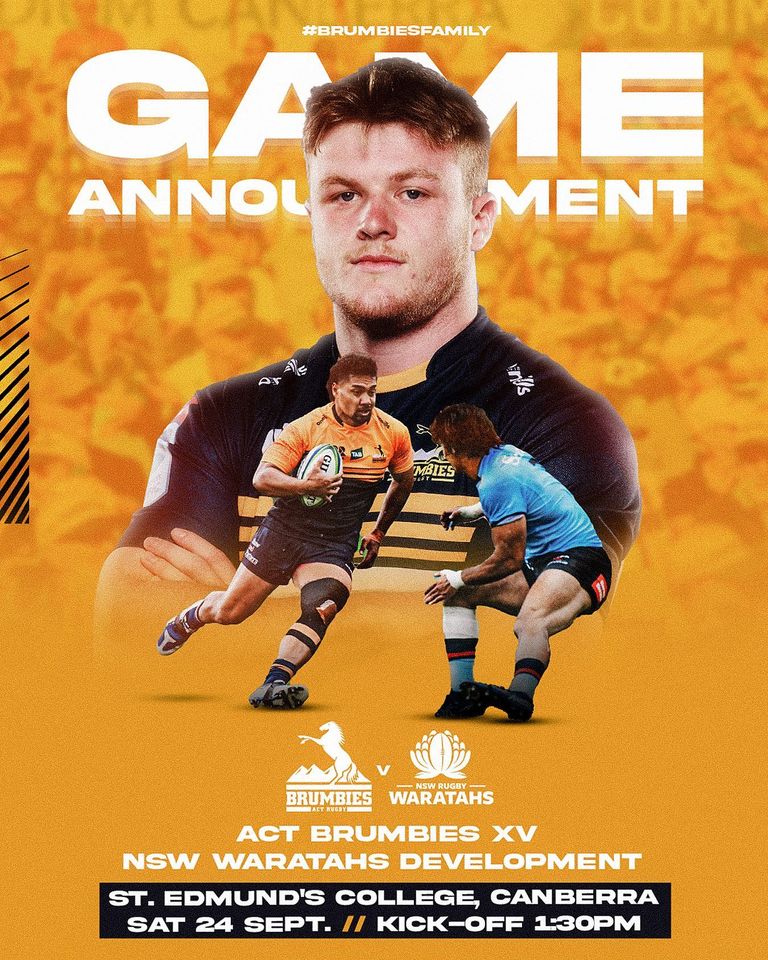 The fixture will be part of an exciting double-header, with the ACT and Southern NSW Kestrels in action against a President's XV selection of talent from outside of the ACT Brumbies region, with entry being free for all.
ACT Brumbies CEO, Phil Thomson said: "It's exciting for us to be able to organise this double-header and to be able to take it to our local community at St. Edmund's College."
"Our Pathways and Representative programs are in full swing with City vs Country taking place on Saturday in Goulburn, and this game is certainly part of that, and it will be great to see our contracted talent mixing in with some of the standout players from our local competitions."
ACT Brumbies head coach, Stephen Larkham said: "I'm really pleased we were able to organise this fixture, with the support of Darren [Coleman, NSW Waratahs head coach] and the Waratahs."
"It's going to be very beneficial for us to get more minutes into some of our younger players, while also having a look at other long-term development talent coming in for an opportunity.
"For us, it's even better to be able to play at a place that has produced plenty of Brumbies in St. Edmund's College and we're looking forward to seeing everyone there nice and early for the Kestrels game."
NSW Waratahs head coach, Darren Coleman said: "We're excited to have this match before our official pre-season starts in November and I'd like to thank the Brumbies for helping arrange this."
"For the players not involved in Wallabies and the Australia A programs, it provides an opportunity to get some quality game time, build some cohesion, and show us what they can do in this environment."
KEY DETAILS
Date:
Saturday 17th September
Time:
12pm – City Women vs Country Women
13:25 – Brumbies City South vs Brumbies Country
14:20 – Brumbies City North vs Brumbies Country
15:10 – Brumbies City North vs Brumbies City South
Venue:
Simon Poideven Oval, 240/246 Addison Street, Goulburn
ACT AND SOUTHERN NSW KESTRELS vs PRESIDENT'S XV
St. Edmund's College, Canberra
Saturday 24 September, Kick-off 11:30am
ACT BRUMBIES XV vs NSW WARATAHS DEVELOPMENT
St. Edmund's College, Canberra
Saturday 24 September, Kick-off 1:30pm
ACT BRUMBIES COUNTRY (MEN)
Forwards: Alex Meades, Alex Farquar (Wagga Ag College), Adam Mokotupu, Thomas Blanch, Jacob Nielsen, Pita Herangi (Wagga City), Oliver Toma, Connor Swann (Tumut), Will Mooney, Jordan Wilcox (Goulburn), Talilotu Uoifalelahi, Blake Theunissen (Griffith), James Bundy (Broulee)
Backs: Jackson Reardon, Alec Palmer (Goulburn), Anthony Taylor, Max Gay (Wagga Ag College), Vincent Wise (Tumut), Noa Rabici, Sheldon Tovio (Wagga City), Vilitati Seru (Cooma), Lachie Day (Wagga Waratahs), Aaron Leighton (Crookwell), Tully MacPherson(Albury)
Nick McCarthy (Head Coach), Doug Ryan (Assistant Coach), Jake Eaglesham (Manager)