The quarterfinalists for Super Rugby Pacific 2023 have been determined after 15 regular season rounds. The Super Rugby final round 15 match determined the final two positions, seventh and eighth. The top six spots were secured the previous night following victories by the Blues over the Highlanders and the Brumbies against the Melbourne Rebels.
The Fijian Drua made history by beating the Queensland Reds handily in Suva to earn their first-ever quarterfinals berth. The battle for the final position in the quarterfinals came down to the final game of the regular season.
The tabletop's top to keep the Reds from losing the championship, the Chiefs defeated the Western Force, who needed to win to qualify for the playoffs.
The Reds kept the final position after the Chiefs, who were at the top of the standings, defeated the Western Force, who needed to win to go to the playoffs. Due to a greater points differential across all games, the Reds beat out the Highlanders to claim the top spot.
The locations and broadcast times for "2023 Super Rugby TV" are shown below. Fans can now register or join interest to apply for Super Rugby Live stream.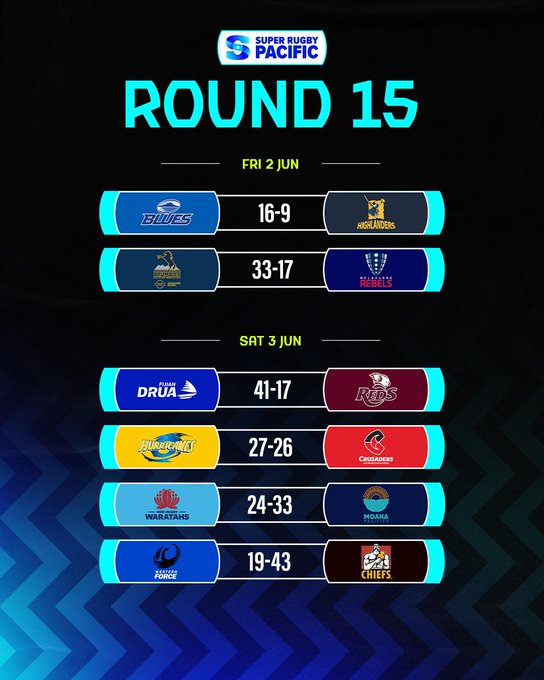 The quarter-finals rankings (based on final regular season standings) are:
1. Chiefs
2. Crusaders
3. Blues
4. Brumbies
5. Hurricanes
6. NSW Waratahs
7. Fijian Drua
8. Queensland Reds
The teams to miss out on the quarter-finals are: Highlanders, Western Force, Melbourne Rebels and Moana Pasifika.
The Super Rugby Pacific quarter-final match schedule is:
Friday 9 June, 7.35pm NZT: Blues (3) v NSW Waratahs (6), Eden Park, Auckland
Saturday 10 June, 4.35pm NZT: Chiefs (1) v Queensland Reds (8), FMG Stadium Waikato
Saturday 10 June, 7.05pm NZT:  Crusaders (2) v Fijian Drua (7), Orangetheory Stadium, Christchurch
Saturday 10 June, 7.35pm AEST: ACT Brumbies (4) v Hurricanes (5), GIO Stadium, Canberra
Watch Super Rugby on Stan Sport
Stan Sport is the Home of Rugby. From international tournaments to club rugby and everything in between. Start a 7 day free trial to stream the rugby ad-free, live & on demand.