The third Pacific Four Series will take place in 2023. It is a women's rugby union event and one of the main ways to qualify for the top two tiers of WXV. The hosts for 2023 have been confirmed as Spain, Australia, and Canada.
Over the course of three months, the series will air. On April 1 in Madrid, a match between Canada and the United States will kick off the first round. Later in June, Australia will host New Zealand.
All four teams will compete for the title of 2023 champion over two weekends in Canada, where the series will come to a finish.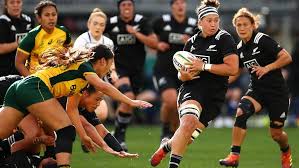 The 2023 Laurie O'Reilly Cup will be the 14th edition of the rugby union competition. Australia will host the Black Ferns in the first of two O'Reilly Cup matches, which also doubles as a Pacific Four Series test. The second O'Reilly Cup match is set to take place in New Zealand in September.
2023 Laurie O'Reilly Cup
Tournament details
Date
29 June & 30 September
Countries
 Australia
New Zealand
No. of nations
2
Pacific Four Series 2023 match:

 

 
Round 2  
Australia wallaroos v New Zealand black Ferns – June, Australia
Round 3 
Canada v New Zealand – July, Canada
USA v Australia – July, Canada
Round 4 
Canada v USA – July, Canada
USA v New Zealand – July, Canada
O'Reilly Cup:
Australia vs. Black Ferns – Thursday 29 June, Brisbane, Australia
Black Ferns vs. Australia – Saturday 30 September, TBC, New Zealand
Kick-off times for Pacific Four Series and O'Reilly Cup to be confirmed at a later date.
Black Ferns, Wallaroos lock in dates for 2023 O'Reilly Cup
In the yearly competition for the O'Reilly Cup, the Black Ferns will face the Wallaroos in Brisbane on June 29 and again in New Zealand on September 30.
The world champions' test itinerary for 2023 was partially revealed on Thursday by New Zealand Rugby, while there are still many specifics to be finalized, including the location of the trans-Tasman test in New Zealand.