The 2023 Laurie O'Reilly Cup is the 13th edition of the competition. The matches will be played on 20 and 27 August with both Australia and New Zealand hosting each other.
After a two-year absence due to the COVID-19 pandemic, it was confirmed that the competition would return. The first test will be played in Christchurch at the Orangetheory Stadium on 20 August 2023. The second test will be played in a curtain raiser to the Wallabies and Springboks test in Adelaide on 27 August 2023.
O'Reilly Cup Rugby 2023 Fixtures
20 August 2023
Game 1 New Zealand vs Australia
Orangetheory Stadium
27 August 2023
Game 2 Black Ferns vs Wallaroos
Adelaide Oval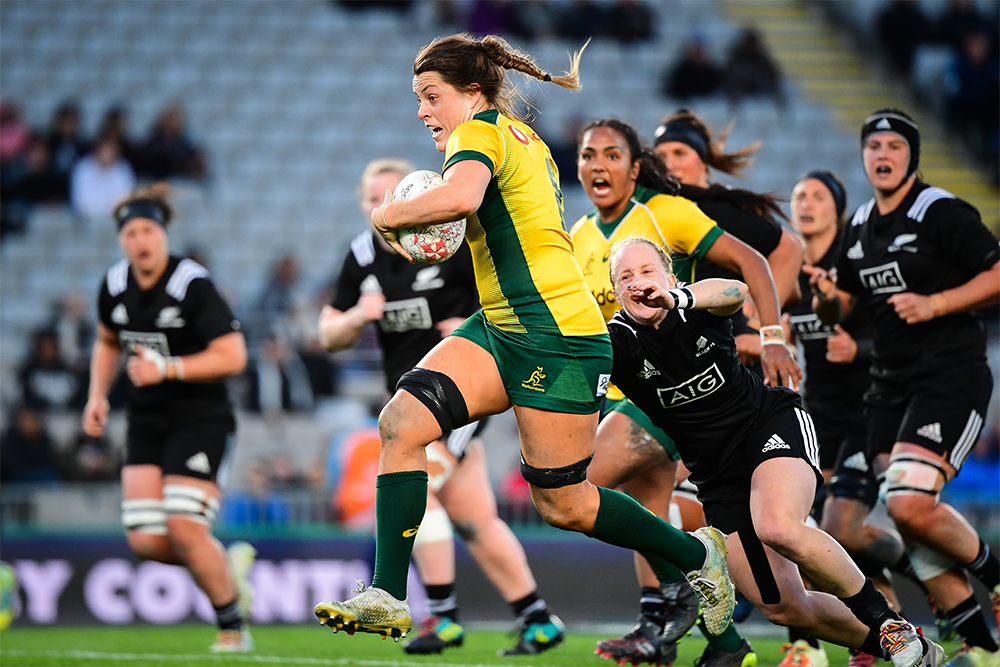 The two-match Test series holds special importance to Smith, named after his former coaching mentor and friend Laurie O'Reilly.
"Laurie inspired me to be a coach and I feel really fortunate to have had such a great relationship with him.
"These are test matches, and they are called that for a reason – they test our ability to play under pressure against other world class players. These are incredibly important games from a historic perspective, an emotional one and as a selection tool for the World Cup," said Smith.
Broadcast
O'Reilly Cup matches will be broadcast live on Sky.
Tickets
Tickets to the Christchurch Test on sale here.
The Black Ferns Squad is (in brackets; age, Super Club, Province, Test Caps);
Hookers Luka Connor (25, Chiefs, Bay of Plenty, 6) Natalie Delamere (25, Matatū, Bay of Plenty, 1) Georgia Ponsonby (22, Matatū, Canterbury, 5)
Props Tanya Kalounivale (23, Chiefs, Waikato, 2) Pip Love (32, Matatū, Canterbury, 17) Krystal Murray (29, Blues, Northland, 3) Amy Rule (22, Matatū, Canterbury, 5) Awhina Tangen-Wainohu (24, Chiefs, Waikato, new cap) Santo Taumata (19, Chiefs, Bay of Plenty, new cap)
Locks Chelsea Bremner (27, Matatū, Canterbury, 3) Joanah Ngan Woo (26, Hurricanes, Wellington, 8) Maiakawanakaulani Roos (21, Blues, Auckland, 6)
Loose Forwards Alana Bremner (25, Matatū, Canterbury, 6) Tafito Lafaele (21, Blues, Auckland, 2) Charmaine McMenamin (32, Blues, Auckland, 25) Kaipo Olsen-Baker (19, Hurricanes, Manawatu, 2) Kendra Reynolds (29, Matatū, Bay of Plenty, 3) Kennedy Simon (25, Chiefs, Waikato, 8)
Halfbacks Ariana Bayler (25, Chiefs, Waikato, 4) Kendra Cocksedge (34, Matatū, Canterbury, 60) Arihiana Marino-Tauhinu (30, Chiefs, Counties Manukau, 8)
Inside Backs Sylvia Brunt (18, Auckland, 2) Ruahei Demant (27, Blues, Auckland, 18) Amy du Plessis (23, Matatū, Canterbury, 2) Theresa Fitzpatrick (27, Blues, Auckland, 11) Chelsea Semple (29, Chiefs, Waikato, 28) Victoria Subritzky-Nafatali (30, Otago, 19) Hazel Tubic (31, Chiefs, Counties Manukau, 14)
Outside Backs Renee Holmes (22, Matatū, Waikato, 3) Ayesha Leti-I'iga (23, Hurricanes, Wellington, 15) Tyla Nathan-Wong (28, Blues, Northland, new cap) Grace Steinmetz (24, Matatū, Canterbury, 0) Ruby Tui (30, Chiefs, Counties Manukau, 2)