The Emirates Dubai 7s, part of the HSBC World Rugby Sevens Series, has announced the pools and match schedules for the festival, taking place on 2-3 December 2023 during the festival which starts on 1st December.
The 16-team men's competition involves four pools of four teams each, while the 12-team women's event sees the teams divided into three pools of four.
In the men's event, Pool A sees current number one-ranking and 2022 Series champions Australia together with South Africa, Great Britain and Kenya. Pool B sees Olympic gold medalists Fiji play Argentina, New Zealand and Uruguay. Pool C features third-seed France taking on Ireland, Spain and Uganda. Finally, Pool D has Samoa, the USA, Canada and Japan.
How to watch World Rugby Dubai 7s 2023 When does it start, Live streams and schedule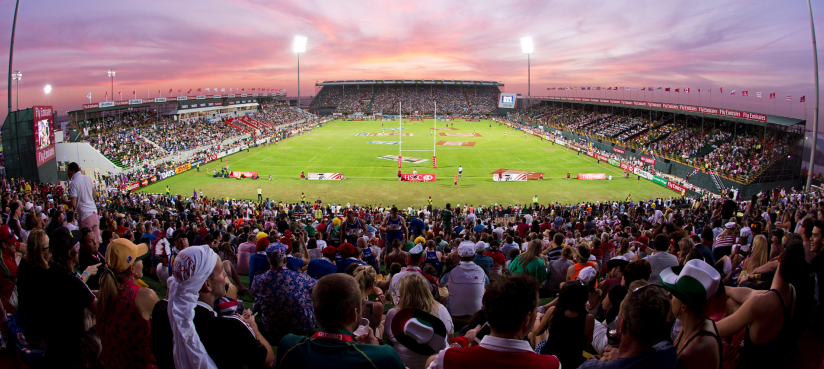 The three-pool women's event sees Australia, the USA, Canada and China compete in Pool A. France, New Zealand, Great Britain and Brazil will compete in Pool B. Pool C features Fiji, Ireland, Spain and Japan.
Matches will be played across two pitches and will kick off at 9am UAE local time on Friday 2nd December with Ireland competing against Spain in women's Pool C. Following two full days of action-packed rugby matches the women's final will take place at The Sevens Stadium at 6:56pm on Saturday 3rd December, followed by the men's final at 7:26pm.
World Rugby Sevens 2023
The eleven-event schedule for the series is:
2022–23 Itinerary
LEG
STADIUM
CITY
DATES
WINNER
Hong Kong 2022
Hong Kong Stadium
Hong Kong
4–6 November 2022

 

Australia
Dubai
The Sevens Stadium
Dubai
2–3 December 2022
South Africa
Cape Town Stadium
Cape Town
9–11 December 2022
New Zealand
Waikato Stadium
Hamilton
21–22 January 2023
Australia
Sydney Football Stadium
Sydney
27–29 January 2023
United States
Dignity Health Sports Park
Los Angeles
25–26 February 2023
Canada
BC Place
Vancouver
3–5 March 2023
Hong Kong 2023
Hong Kong Stadium
Hong Kong
31 March – 2 April 2023
Singapore
National Stadium
Singapore
8–9 April 2023
France
Stade Ernest-Wallon
Toulouse
12–14 May 2023
England
Twickenham Stadium
London
20–21 May 2023
Emirates Dubai 7s is the largest sports and entertainment event in the Middle East, attracting more than 100,000 attendees from 128 countries. Founded in 1999, the festival is the longest running sports event in the region and is a celebration of sports, music and entertainment.
Taking place during the UAE National Day Weekend of 1 – 3 December 2022 and hosted at The Sevens Stadium in Dubai, Emirates Dubai 7s builds on a 51-year history of hosting the world's most unique Rugby Sevens tournament, welcoming the very best teams in the world each year, alongside Invitational Rugby, Netball, Cricket and Fitness Tournaments which attract over 4,500 participants each year.
Dubai Sevens Rugby 2023 Fixtures
FIXTURES & RESULTS
FRI DEC 2, 2022
Match 3
IRELAND 7S vs SPAIN 7S
Local time kick off 10:06
Match 1
USA 7S vs CANADA 7S
Local time kick off 10:06
Match 4
FRANCE 7S vs UGANDA 7S
Local time kick off 10:28
Match 2
SAMOA 7S vs JAPAN 7S
Local time kick off 10:28
Match 5
ARGENTINA 7S vs NEW ZEALAND 7S
Local time kick off 10:50
Match 6
FIJI 7S vs URUGUAY 7S
Local time kick off 11:12
Match 7
SOUTH AFRICA 7S vs GREAT BRITAIN 7S
Local time kick off 11:34
Match 8
AUSTRALIA 7S vs KENYA 7S
Local time kick off 11:56
Match 9
USA 7S vs JAPAN 7S
Local time kick off 13:05
Match 10
SAMOA 7S vs CANADA 7S
Local time kick off 13:27
Match 13
ARGENTINA 7S vs URUGUAY 7S
Local time kick off 13:49
Match 14
FIJI 7S vs NEW ZEALAND 7S
Local time kick off 14:11
Match 11
IRELAND 7S vs UGANDA 7S
Local time kick off 14:36
Match 12
FRANCE 7S vs SPAIN 7S
Local time kick off 14:58
Match 15
SOUTH AFRICA 7S vs KENYA 7S
Local time kick off 15:20
Match 16
AUSTRALIA 7S vs GREAT BRITAIN 7S
Local time kick off 15:42
Match 18
SAMOA 7S vs USA 7S
Local time kick off 18:06
Match 17
CANADA 7S vs JAPAN 7S
Local time kick off 18:28
Match 19
SPAIN 7S vs UGANDA 7S
Local time kick off 19:07
Match 21
NEW ZEALAND 7S vs URUGUAY 7S
Local time kick off 19:34
Match 20
FRANCE 7S vs IRELAND 7S
Local time kick off 19:35
Match 22
FIJI 7S vs ARGENTINA 7S
Local time kick off 20:05
Match 23
GREAT BRITAIN 7S vs KENYA 7S
Local time kick off 20:18
Match 24
AUSTRALIA 7S vs SOUTH AFRICA 7S
Local time kick off 20:33