Unbeaten since the second week of the competition, the table-topping Blues will host the Highlanders at Auckland's Eden Park on Saturday in the only all-Kiwi affair. Super Rugby Pacific's quarter-final seedings have been finalised, with all five New Zealand sides represented in the first round of the playoffs.
The Highlanders can count themselves fortunate to reach the playoffs, after just four wins all season, sneaking in on points differential. The Highlanders have snuck into the Super Rugby playoffs. The Highlanders have snuck into the Super Rugby playoffs.
The quarterfinalists for the inaugural season of Super Rugby Pacific have been confirmed. Rugby writer Marc Hinton breaks down the matchups, form and likely outcomes for the four sudden-death encounters.
Super Rugby Quarter Final: Blues vs Highlanders
Eden Park, Auckland, NZ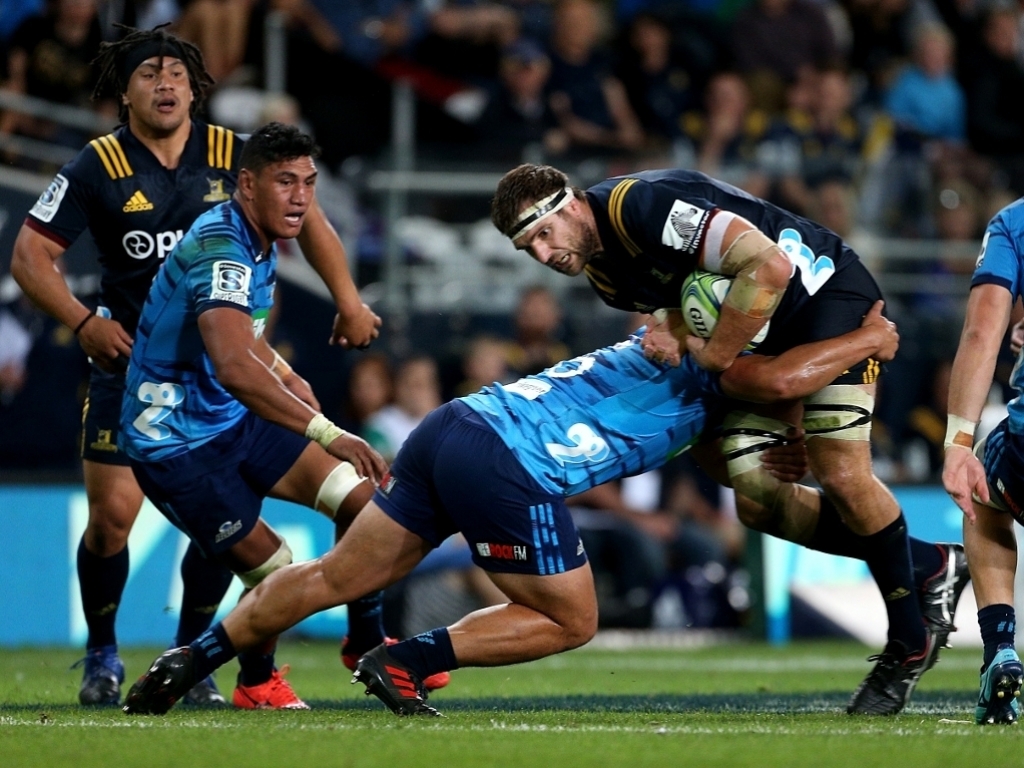 The 13-1 Blues (58pts) lost their season opener, then rattled off 12 straight victories to seal top spot with a week to spare. Coach Leon MacDonald rested his frontliners from Saturday's finale at the Waratahs, but they still got the job done to extend their win streak to a franchise record 13. The 4-9 Highlanders (22pts) lost 31-30 to the Rebels in Melbourne on Sunday but secured a vital bonus point which ensures they remain alive in the competition.
The streaking Blues, at Fortress Eden, will be the warmest of favourites, and should bolt into a home semi. The Highlanders would retain some hope based on recent matchups, but look a long way off the standard of the Auks in '22. Leon MacDonald's starters pretty much all sat the final round out, so they'll be well rested and ready to rumble. Caleb Clarke's hamstring injury shapes as their only major defection. It's rabbit out of the hat time for Highlanders coach Tony Brown.
Five-week ban ends Sam Gilbert's season for Highlanders
Highlander Sam Gilbert has been handed a five-week ban for his dangerous tip-tackle on Waratahs loose forward Michael Hooper, a suspension that will end his Super Rugby Pacific season.
The sanction by Sanzaar was handed down on Tuesday night and rules Gilbert out of all rugby up to and including June 25. The Super Rugby Pacific final is due to be held on June 18.
The Highlanders, still in the running for the last quarter-final spot, will find the going tougher without their converted first-five Gilbert.
The former wing had done a good job in the No.10 jersey until his moment of madness in the 29th minute of his team's 32-20 defeat to the Waratahs in Dunedin on Sunday.
With Mitch Hunt still recovering from concussion, Marty Banks is the Highlanders' only recognised available first-five. on Saturday 25 June will see Tāmaki Makaurau Auckland's Mt Smart Stadium play host as the Kiwis vs Tonga