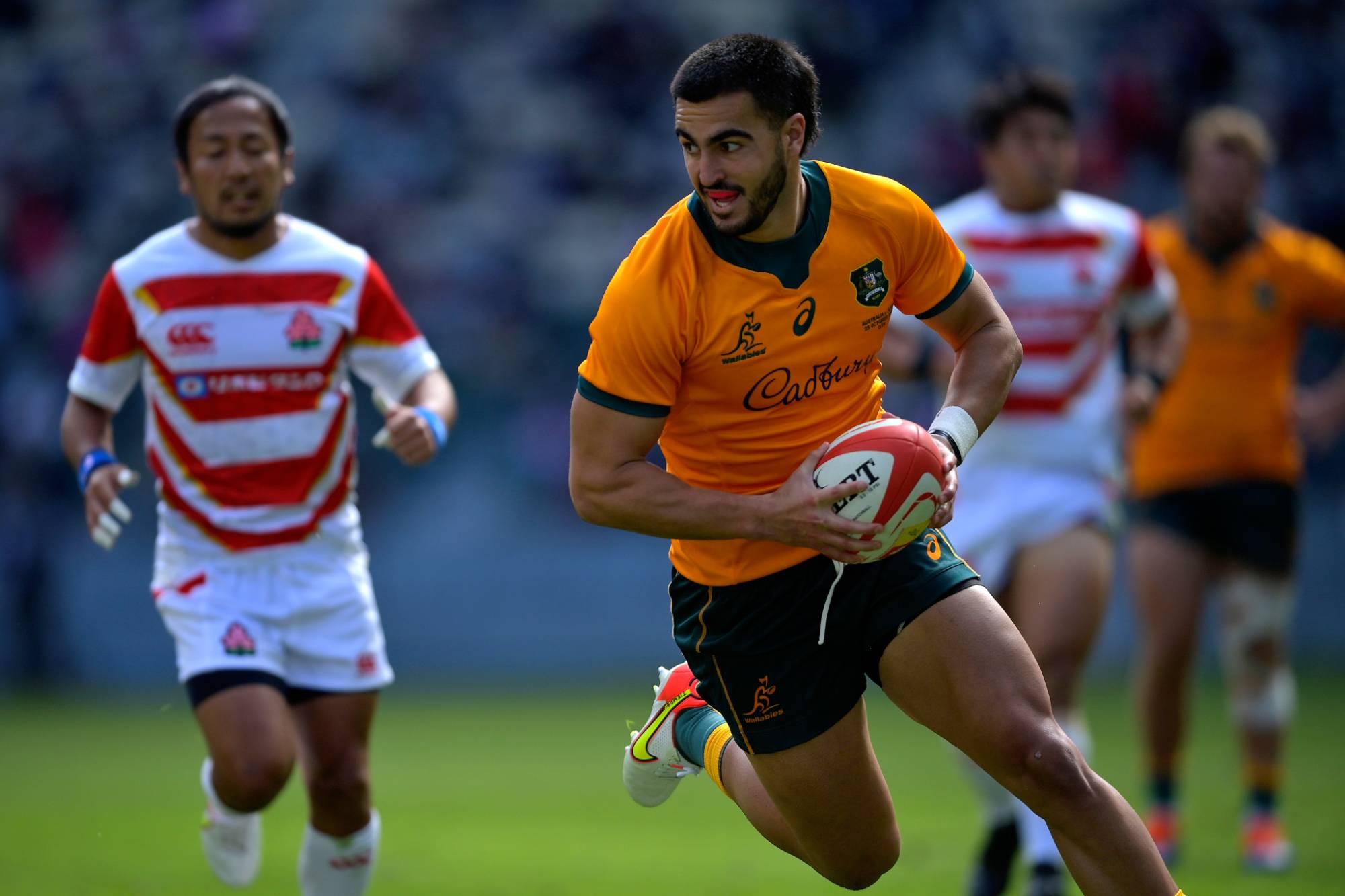 South Africa will be licking their lips when they review Australia's loss to Argentina in San Juan, and the Wallabies have to address their execution failures if they are to have any chance in their two Tests against the world champions.
Michael Cheika produced a coaching masterclass to secure that win. In the first game, they ran the ball a lot more than what Argentina teams are renowned for and did it to good effect. In general play, and off-the-counter attack, they scored a couple of good tries.
Coming into this game I think the Aussies would have prepared for much of the same. But Cheika's plans around their kicking, with contestable kicks off 9 and looking for territory and grass down the middle off 10, caught the Aussies unawares.
Their contestable kicks were the difference between the teams and were executed with great intent.
Emiliano Boffelli was excellent on the wing and they targeted Marika Koroibete under the high ball. While there was distinct change around their kicking game they also came at Australia with a very high tempo and it seemed, particularly in the second half, the Wallabies couldn't stick with them.
Their players understood the plan and were assertive, and their kicks were right on the money.
That is the style of play we should expect from South Africa and what they would have seen from that game would just give them even more confidence in their tactics. If they can execute and be accurate in those areas they will cause big problems.
The Roar experts Brett McKay, Harry Jones and Jim Tucker analyse the Test against the Pumas
 Tom Wright can be a very good fullback. He has all the attributes but needs to learn more about the craft, probably back in Super Rugby.
He got exploited a little bit by Argentina's kicking game, pulled out of positions.  A couple of times I thought he was a bit gassed. I'm not questioning his conditioning or anything like that but it's a different type of role to being a winger because you're required more in attack and defence as the central figure in the backline.
I would have liked to see Jock Campbell get a go because he's a natural fullback. He understands what's required in terms of positioning and running volume, the conditioning and positioning.
And the kicking game is crucial for a fullback. You have to understand and be able to read when's the best time to kick and when's the best time to run, and then execute those skills.
Andrew Kellaway could return for the Springboks Tests but the question is what is his level of conditioning like?
Does he come off the bench rather than start the game? If I was to start him, it would be at fullback with Wright on the wing. Kellaway is a natural fullback.
Yes, Australia had a lot of players missing, but as Dave Rennie touched on after the game, the side we put out was good enough to get the job done.
There were patches where we built some nice play, moments where we enjoyed good possession, good continuity of attack and good flow.
What keeps letting us down is when we get into moments where we have the potential to score or capitalise on the pressure that we're building, we find ways of releasing it through penalties at the breakdown, losing the ball or simple skill execution errors.
Those failures in execution are building pressure on the Australians now. There is a seed planted in their psyche around the fact that they haven't been clinical and haven't been able to take advantage of the opportunities that they're creating.
In the back end of the game, it just seemed like Argentina were almost scoring at will. They were exceptional, but we just were not able to capitalise on the good things that we create. That's a consistent theme, and it seems like something that's either not being addressed or not addressed properly.
Lack of continuity in selection obviously plays a part because you're not able to build that cohesiveness as a group, particularly in core positions like 9, 10 and 15.
They've had to adjust with Quade out and then with James O'Connor coming back in. Wright is a relative novice at the fullback position. All that plays a part but you have to be more ruthless in assessing it.
Regardless of all the injuries, they're still playing a good brand of positive rugby and they're creating opportunities. So I think it's probably not so much a lack of cohesion as a lack of experience in and around the leadership space.
There was one moment where Len Ikitau made a break and passed it to Lalakai Foketi and they've set up a ruck a couple of metres out from the try line. Fraser McReight looked to pick and go but got isolated and forced Nick White to make a clean out  from the side. If Fraser just cleans out and goes over that ball, Whitey's right in behind him and there are numbers on the right-hand side.
Little things like that are about experience and understanding the right decisions to make in promising moments.
I don't think these failings are on Dave Rennie. I love the way he coaches the game and the way he has them playing.  You can see that he coaches a lot of detail and that's backed up by conversations with guys in the squad.
It's detailed around knowing your roles – in counterattack, at kick-offs, understanding where you've got to be and letting the decision-making come from the playmakers.
That's where I think the issue is. At certain key moments, we're not making the right decisions.
Here's an example.
Sometimes we're carrying too much in our forward pods and need to be getting the ball out the back to the playmaker earlier.
We play in the forward pods, we play a tip and they get a good carry and get over the gain line and look to go to the backs off the back of that. But when we go to the backs, it's essentially a flat line of attack.
Then even if the defence is short or retreating, they can cover it because as they come across – they just use the sideline as an extra defender and push you that way.
If they're playing out the back of that first forward pod to the 10, the inside section of the defence has been sat down because of the forwards and the outside section can't come up all the way and they also sit. That means the attack is dictating all the terms.
The playmaker can go forward at the defence while they're sat, and then he just makes a decision as to where the space is short. Off the back of that, you don't allow the defence to recover because the forwards are sat down on the inside section and the backs are sat down in the outside section of the game.
You get a good carry-over-the-gain line and the defence is scrambling a lot more than what they would be if you're playing one too many phases off the forwards and then getting into the backs' hands after that.
The 10s have to recognise that and react accordingly. I wanted to see James O'Connor step up at first receiver a little bit more.
His performance was inconsistent. He did some good things. He made some errors. But I don't think he was assertive enough in controlling the game.
Rennie will have a few choices to make around his squad for the South Africa games.
Allan Alaalatoa was missed for his work around the field and his leadership so you'd imagine that he would come straight back in. Folau Fainga'a should too. His physicality and presence around the field, and his lineout throwing in the first Test, were all missed as well.
The Wallabies need to address their mentality, and they have to do it soon. As disappointing as that result was, it's not all doom and gloom.
The biggest positive was Bobby Valetini. He's playing at a consistently high-level, week in, week out. And at times he's almost shouldering the entire responsibility of getting them over the gain line.
He needs others to step up with him.
Rugby – The Roar