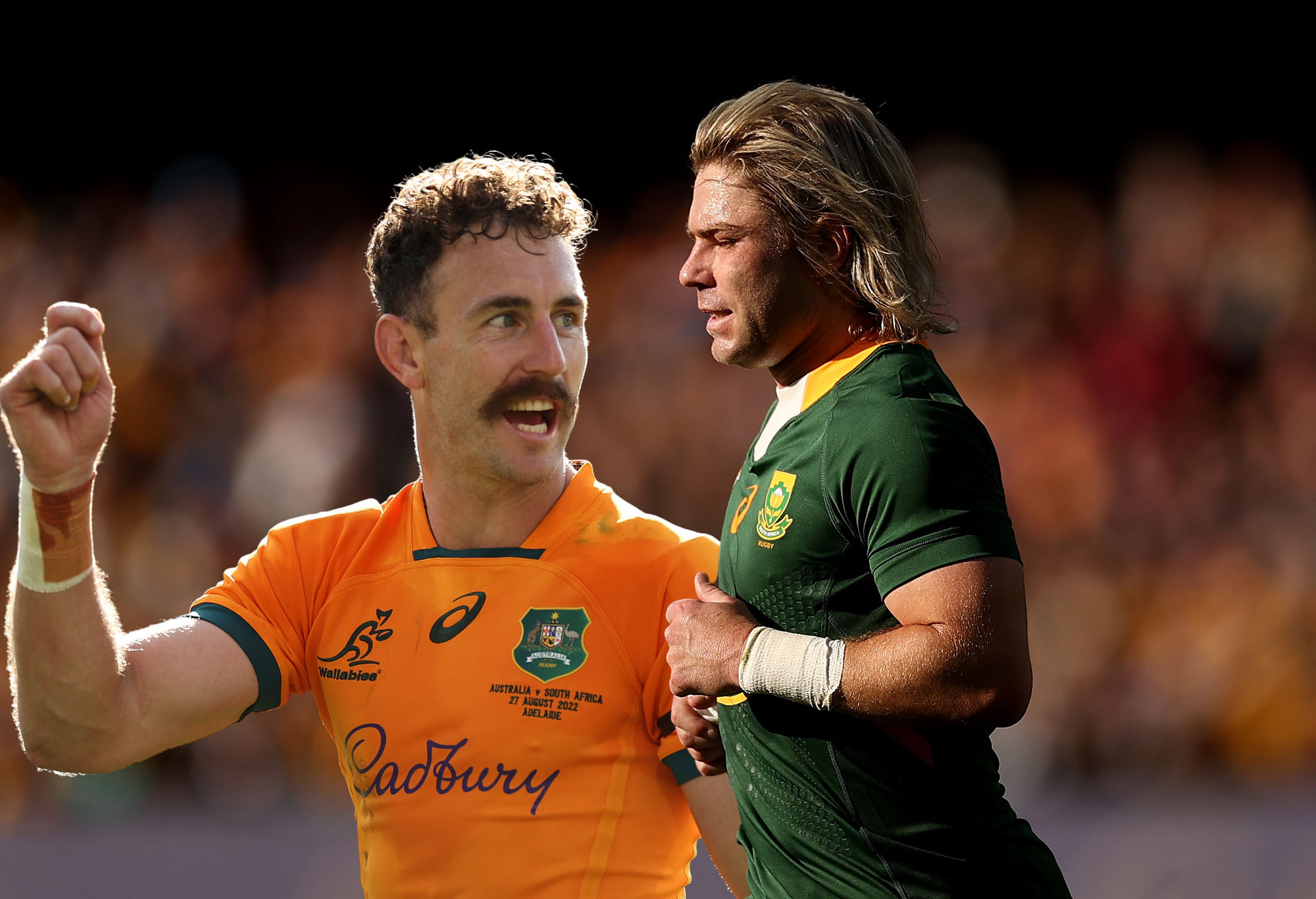 Nic White, and to a lesser extent, Faf De Klerk, have been criticised for that massive moment between them in the Adelaide Test, but for me, the officials are the ones who should be feeling the heat.
I can understand why there has been criticism of what Whitey did, and to some extent believe it's warranted. Faf just made a mistake. But the refereeing of that incident was ridiculous and had a dramatic and unnecessary impact on the game.
Let's start with Nic. In professional sports at the highest level, you've got to try to get an edge.
You could do it in an obvious way, which is what Whitey did, or you can do it through the dark arts in the breakdown and scrums – manipulate the laws to take advantage.
A lot of teams and players do it, although often in more subtle ways that the general public won't understand or see. That's one where Nic did it for everyone to see.
Faf's tried to tap the ball out of Whitey's hand and he's got it wrong and slapped his face.
The referees have to be able to make a decision based on being out there –  seeing and understanding the circumstances.
What are we playing? Are we playing touch?
Yes, it was penalty. But there's no malice, no bad intention. It's not a high degree of force and he's just trying to make a normal rugby play. Penalty, go back 10. To go through that whole process and it's a yellow card? That's an atrocious decision. I hate that that's the way the game is going.
A referee like Nigel Owens probably says, 'ok, I'm giving Australia a penalty because there's contact with the face. Whitey, I don't want to see that again. Faf I understand what you're trying to do, but you have to understand it's a penalty.'
 That's how it should have been handled.
It had a huge impact on the game because losing a halfback is significant. It's like losing two players, because not only are you missing the link between forwards and backs, you lose the person who has to come in to play that role. South Africa sent their wingers in at halfback, robbing them of the width and making them much easier to defend.
'He's an absolute machine'
There was another big moment that South African fans have taken an issue with and that's the try saver from Marika Koroibete.
He definitely wraps his arm for the tackle – there is separation between his elbow and body as. The reason he doesn't get the arm around is because Makazole Mapimpi jumps.
Mapimpi is a world class winger but if he had his time again I don't think he would have done the same thing. If he steps inside as Marika arrived he probably ricochets off and rolls over the tryline. He'll be disappointed with that finish.
Marika is an absolute machine. People always talk about that George Gregan tackle on Jeff Wilson and that one was almost exactly the same. It will go down in rugby folklore.
He not only makes the tackle but absolutely dominates the tackle to force the knock on.
When you see your team mate do something like that, it just gives you so much energy and motivation.
You could see the emotion from the guys around who went in and gave him a hug. Not only did it stop a try it created momentum to change the game.
He trains like that, so while it's an amazing thing to see, a lot of his teammates will have been thinking 'that's just what he does.' The most phenomenal part about it is it almost becomes normal from him.
He's not just the best winger in the world, he's one of the best players in the world.
Most players will train at 100% but there's moments within sessions where you can train within yourself. The hardest part of the week is training – it's never the game because you can get up for it emotionally and that gets you through.
He just goes balls out every single time.
'I assume Hoops walks right back in'
Fraser McReight reminds me a lot of the young Michael Hooper. He's such a ball of  energy. He's always buzzing around the field, always involved whether it's pressure at the breakdown or in support when he scores tries.
We all thought there'd be a big hole with Hoops not being there. Fraser has stepped up and taken his opportunities and been excellent.
 But there are levels to the game. Hoops isn't just a great, great player based on reputation. Right now, Hoops is an absolute great.
He still has the level of impact on a game with his performances that he's always had. He's still on another level to the guys in his position.
When he's ready to return I would assume that he walks back in, but that's not a decision for me to make.
There are warning signs for game two
Dave Rennie has been preaching about wanting to start well for the entire season and the start was excellent. We had a good kickoff and got the ball back. We were able to build pressure and be patient with the ball.
We've been good at creating opportunities over the course of games, but not taking advantage of them. To build pressure and score points off the back of that set the game up well.
Tactically we were excellent with our kicking – long kicking, keeping the ball in and down the middle of the field, finding grass. It seemed they weren't afraid to put the ball behind the goal line to force drop outs which gave them the ball back in good positions.
There was good kicking off set piece on first phase, particularly off 12. It almost looked like they were shaping as if they were playing a starter play, where 12 gets the ball and maybe carries or plays out the back through 13 and 10, but Hunter Paisami was putting it on his boot down the middle of the field, finding grass.
Nic White kicked well off the contestable kicks and you could tell there was a clear plan in attack close to the ruck. They set McReight's second try up really nicely.
In that second Test loss to Argentina there was a lot of experience missing. In Test matches that matters. He had Allan Alaalatoa, Dave Porecki, Scott Sio and Folau Fainga'a back and that brought confidence to the group, but it also added composure in high pressure situations.
There were some warning signs, though, as Australia look to go back-to-back over the Boks again.
As strange as it might sound I thought South Africa might have been the better team. They did a lot of really good things but just made really basic mistakes – they would lose the ball at the breakdown or they might push an off load.
They were quite inaccurate in their usual areas of strength, which is that working around the breakdown and contestable kicks. Even then they played some really good rugby where they created plenty of opportunities, linebreaks and a  mountain of territory and possession.
That they weren't able to capitalise is a massive credit to the Australian defence. They have to do it again this weekend.
Rugby – The Roar