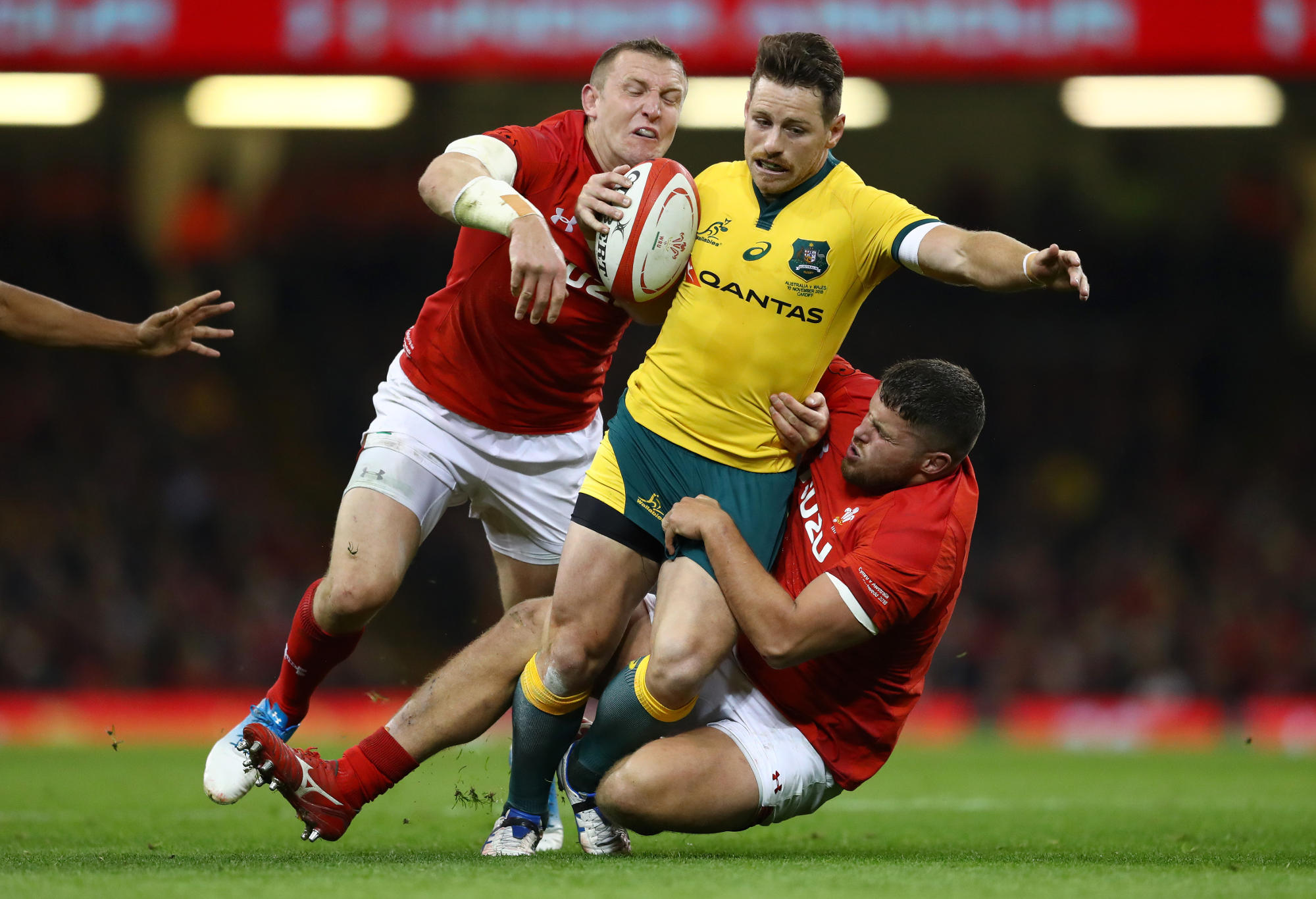 Bernard Foley is expected to be named when Dave Rennie announces his squad for the next stage of The Rugby Championship on Thursday.
Rennie, who is scrambling to find a solution to his playmaker problems, will release the squad at 3.30pm and then talk to the media about his selections from 4pm (follow updates right here).
The loss of Quade Cooper for up to a year has left Rennie with a selection headache at No.10 and Thursday's selection could add some layers to the conversation around the position.
Rennie has been reluctant to go all in on youngster Noah Lolesio and there are doubts over the durability of James O'Connor, who started in San Juan last week with Cooper sidelined with an Achilles rupture.
Fox Sports reported that Foley was at Rugby Australia on Wednesday and has undergone medical tests to help give selectors an indication of his physical condition.
He hasn't played since May 22 so coming in for a clash against the Springboks seems a mighty big ask, although a camp appearance makes sense as the Wallabies build towards the Bledisloe Cup.
Foley, 22, has played 71 Tests – the most recent at the 2019 World Cup – and reportedly turned down an offer to come back in last season.
News Limited reported earlier Thursday that Foley would be named but Kurtley Beale would be left out as he recovers from injury.
Rennie will have some respite from a long injury list with Andrew Kellaway and Angus Bell to be named.
Earlier, former captain Grace Hamilton was the big omission from the Wallaroos team to face New Zealand in Christchurch on Saturday.
Queensland Reds prop Bree-Anna Cheatham set to make her Test debut at loosehead prop while Brumbies No. 8 Grace Kemp will make her starting debut.
Head coach Jay Tregonning said: "The team has come back into camp in better shape since our last campaign, showing that players have been putting in the hard yards in their respective states.
"I've been impressed with how everyone has applied themselves this week as we prepare for the first O'Reilly Cup Test against New Zealand.
"It is great to reward a number of players who have been diligent in their training in the seven weeks since we were last together for the Pacific Four campaign, with players working hard to return from injury while also playing great Rugby in their respective club competitions around the Country.
"We're still building towards the World Cup, but we want to keep improving with every game and be competitive against the top teams in the world, which includes New Zealand.
"These two Test matches provide us with a great opportunity for further growth off the back of the Pacific Four campaign, with valuable game time for the players ahead of the World Cup."
Wallaroos squad
1.         Bree-Anna Cheatham* – Queensland Reds
2.         Ashley Marsters – Melbourne Rebels
3.         Bridie O'Gorman – NSW Waratahs
4.         Michaela Leonard – ACT Brumbies
5.         Kaitlan Leaney – NSW Waratahs
6.         Emily Chancellor – NSW Waratahs
7.         Shannon Parry (c) – Queensland Reds
8.         Grace Kemp** – ACT Brumbies
9.         Iliseva Batibasaga – NSW Waratahs
10.       Arabella McKenzie – NSW Waratahs
11.       Ivania Wong – Queensland Reds
12.       Cecilia Smith – Queensland Reds
13.       Georgina Friedrichs – NSW Waratahs
14.       Mahalia Murphy – NSW Waratahs
15.       Pauline Piliae-Rasabale – NSW Waratahs
Reserves:
16.       Adiana Talakai – NSW Waratahs
17.       Emily Robinson – NSW Waratahs
18.       Eva Karpani – NSW Waratahs
19.       Atasi Lafai – NSW Waratahs
20.       Piper Duck – NSW Waratahs
21.       Layne Morgan – NSW Waratahs
22.       Trilleen Pomare – Western Force
23.       Lori Cramer – NSW Waratahs
Rugby – The Roar