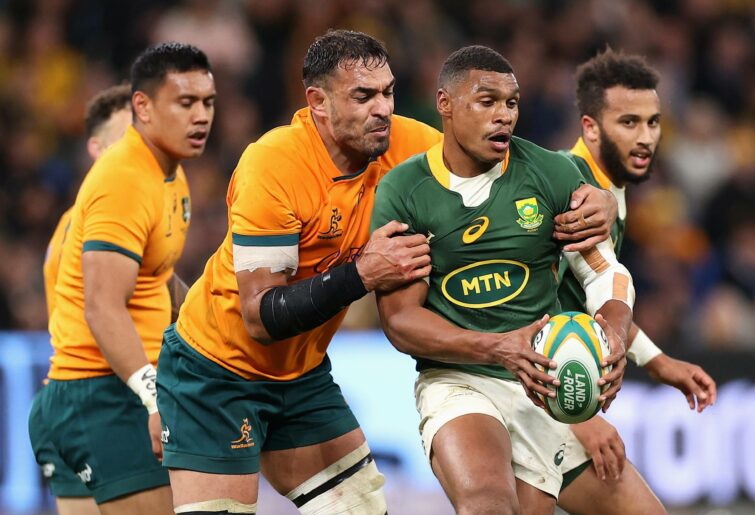 The current Rugby Championship has been filled with ups and downs from all four participants.
The hot-and-cold nature of all teams has been a major concern for the southern hemisphere nations. Clearly we are behind our compatriots up north.
The northern hemisphere unions have definitely developed their players far better than those in the south.
In addition, the north have certainly adapted to the revised rules from World Rugby that have been heavily enforced since the start of the 2019 World Cup in Japan.
Sports opinion delivered daily 
So why have the northern hemisphere clubs taken such huge strides?
Could it be that they have more club football with more players at their disposal than us in the south?
Food for thought.
The Premiership Rugby competition in England has 13 teams contesting in a home-and-away format for the most part.
The French have the Top 14 competition, with second and third-tier competitions to rival Super Rugby.
You then have Ireland, Scotland and Wales into a Celtic league, which has gained passionate and superior development to the south but have Ireland at the top of the tree. South Africa are now in as well.
In the southern hemisphere we have been blessed with a Super Rugby format that was the envy of the rugby world when it was established in 1996.
Each of those participants, including Australia, New Zealand, South Africa and later Argentina (and a bit of Japan), have tried to expand, while the north stayed the course.
The north allowed existing rivalries to grow and allowed imports to increase depth. They looked at the long game.
Both Premiership Rugby and Top 14 were considered retirement funds for players in the south, while the southern hemisphere nations kept grabbing the holy grail, except England in 2003.
The difference over the past four to eight years has been the evolution of club and provisional rugby above the equator.
These competitions are built on many more players than the south and include imports from around the world.
There are more eyeballs to grab in Europe, but the percentage of those engaged in rugby union from other codes must far exceed that in Australia, not NZ.
Two years ago New Zealand Rugby proposed a scenario that has come back to bite them, including two teams from Australia and SA out of the picture.
Note that I'm not blaming NZR for this outcome, as desperate times called for desperate measures and Australian rugby has been in disarray for a far longer period of time and South African rugby was adamant it wanted to play its dominant rugby, which works at Test levels but not at provincial – it hasn't been pleasant viewing for Australian audiences, though I personally like it.
All parties were at fault.
South Africa has gone North for provincial rugby, and I think it is a masterstroke.
Super Rugby Pacific was a great addition, but we need to keep the Saffas happy on a national level.
The issue in the southern hemisphere rugby community is that there simply isn't enough content and therefore not enough interest.
For example, the English series in Australia was solid in terms of ratings but could and should be more.
The South Africa and Argentina series against our Wallabies have delivered significantly lower results TV-wise. Why?
Keep in mind the Bledisloe Cup will gain more viewers but still won't change the landscape of public perception.
The Rugby Championship is a good competition, but it doesn't come close to the Six Nations in terms of interest.
In addition, the All Blacks have been the benchmark of skills in rugby for 20 years – the Wallabies were good for ten years before that – but Ireland, South Africa, France and England are only a fraction off, if not better now.
It is time that NZ and RA worked together to create a product with more content and increased teams.
The southern hemisphere have one truly national competition for rugby, and it exists in Japan.
The Super Rugby competition is the equivalent of the Celtic league.
Effectively, the premier southern hemisphere competition is equivalent to the third most watched competition in the north.
Perhaps it's time Super Rugby went in a different direction and provide more content.
There is no point in having one game of rugby every weekend for fans.
The Shute Shield and Hospital Cups are our go-to competitions, but are they grabbing new viewers?
All of the Top 14, Celtic and Premier Rugby in the northern hemisphere continue to run whilst the Test matches are fought, albeit with fewer key personnel.
It's time to create an alliance for Super Rugby Pacific that creates more content.
The addition of Moana Pasifika and Fiji Drua have been the shining lights to come out of the Super Rugby Pacific alliance.
It's time to create eight teams from Australia and eight teams from New Zealand to create a competition that allows for 18 teams.
This would challenge the other codes in terms of content and give some additional viewing to the rugby audience.
I know this wouldn't be home and away, but it's not dissimilar to NRL, AFL, Premier Rugby or Top 14.
The Rugby Championship could be completed over split rounds, similar to the NRL for State of Origin during internationals.
Based on past comments on this site, I'd bet that most would say Australia doesn't have the depth.
I disagree with this notion, as there is at least a top XV in addition to the current Super Rugby teams playing in Shute Shield and Hospital Cup and another OS. The issue is exposure. It took France and England ten years, but now look at them.
However, there has to be more talent, and if NZR and Rugby Australia could agree, there would be plenty of talent in the current NPC that could certainly add to the Australian teams by allowing marquee players from across the ditch.
Of course our brothers from the islands have their own teams to allow for an awesome competition.
In relation to the Rugby Championship, it should be simply run as tours as it is currently, but in completely different calendar allocations.
Perhaps the Wallabies could go to South Africa in April for two weeks and the All Blacks could go to Argentina in April
And keep the All Blacks-Wallabies matches on a home-and-away basis in August or September prior to the finals for Super Rugby Pacific.
The current format doesn't work. It could be that New Zealand Rugby and Rugby Australia need to think long term.
It's a hybrid of Premier Rugby and Top 14 compared to Celtic.
Create the content, create the players
Rugby – The Roar