The 2023 Rugby World Cup runs from Friday 8 September to Saturday 28 October, with matches played across France. The Rugby World Cup Fixtures are announced! On this page we give you an overview of the dates of all matches and you can immediately request ticket-inclusive travel packages for your favorite match.
Rugby World Cup 2023 kicks off on 8 September 2023 with a spectacular opening match between host country France and title contender New Zealand in Stade de France. The pool phase ends on 8 October. The numbers one and two from the pools go on to the knockout phase, which starts with the quarterfinals on 14 October. The final of the tournament is scheduled on 28 October in Stade de France.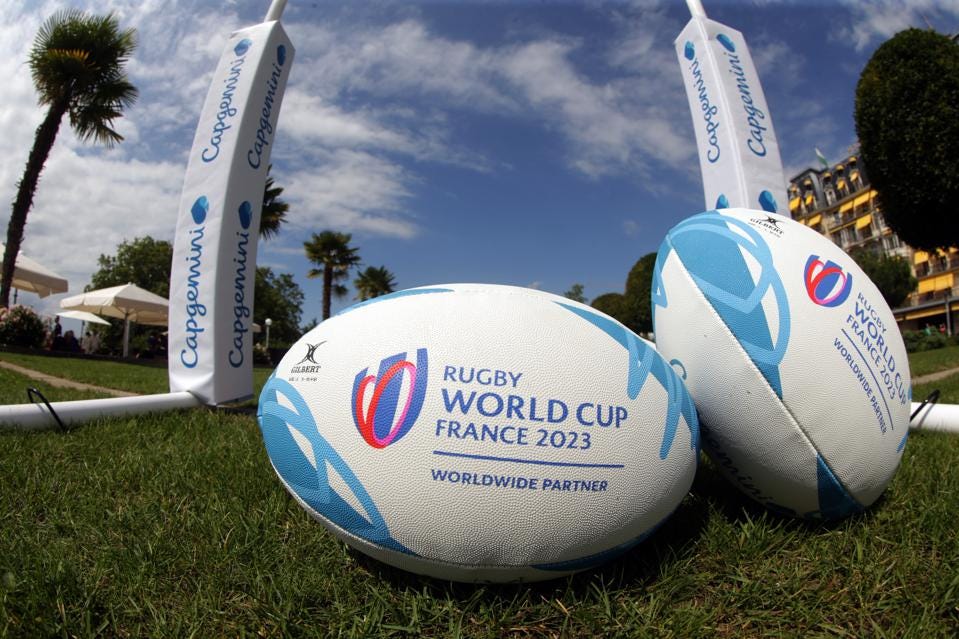 South Africa, the current world champion, will play the most exciting match of their pool against Ireland on 23 September. England, the losing finalist of 2019, starts the tournament against Argentina on 9 September.
Rugby World Cup 2023 Fixtures | RWC 2023 Schedule
POOL A SCHEDULE
| | | |
| --- | --- | --- |
| 08-09-2023 | France vs New Zealand | Saint-Denis |
| 17-09-2023 | Italy v Namibia | Saint-Entienne |
| 14-09-2023 | France v Uruguay | Lille |
| 15-09-2023 | All Blacks vs Namibia | Toulouse |
| 20-09-2023 | Italy v Uruguay | Nice |
| 21-09-2023 | France v Namibia | Marseille |
| 27-09-2023 | Uruguay v Namibia | Lyon |
| 29-09-2023 | New Zealand v Italy | Lyon |
| 05-10-2023 | New Zealand v Uruguay | Lyon |
| 05-10-2023 | France v Italy | Lyon |
POOL B SCHEDULE
| | | |
| --- | --- | --- |
| 09-09-2023 | Ireland v Romania | Bordeaux |
| 10-09-2023 | South Africa v Scotland | Marseille |
| 16-09-2023 | Ireland v Tonga | Nantes |
| 17-09-2023 | South Africa v Romania | Bordeaux |
| 23-09-2023 | South Africa v Ireland | Saint-Denis |
| 24-09-2023 | Scotland v Tonga | Nice |
| 30-09-2023 | Scotland v Romania | Lille |
| 01-10-2023 | South Africa v Tonga | Marseille |
| 07-10-2023 | Ireland v Scotland | Saint-Denis |
| 08-10-2023 | Tonga v Romania | Lille |
POOL C SCHEDULE
| | | |
| --- | --- | --- |
| 09-09-2023 | Australia v Georgia | Saint-Denis |
| 10-09-2023 | Wales v Fiji | Bordeaux |
| 16-09-2023 | Wales v Portugal | Nice |
| 17-09-2023 | Australia v Fiji | Saint-Entienne |
| 23-09-2023 | Georgia v Portugal | Toulouse |
| 24-09-2023 | Wales v Australia | Lyon |
| 30-09-2023 | Fiji v Georgia | Bordeaux |
| 01-10-2023 | Australia v Portugal | Saint-Entienne |
| 07-10-2023 | Wales v Georgia | Nantes |
| 08-10-2023 | Fiji v Portugal | Toulouse |
POOL D SCHEDULE
| | | |
| --- | --- | --- |
| 09-09-2023 | England v Argentina | Marseille |
| 10-09-2023 | Japan v Chili | Toulouse |
| 16-09-2023 | Samoa v Chili | Bordeaux |
| 17-09-2023 | England v Japan | Nice |
| 22-09-2023 | Argentina v Samoa | Saint-Entienne |
| 23-09-2023 | England v Chili | Lille |
| 28-09-2023 | Japan v Samoa | Toulouse |
| 30-09-2023 | Argentina v Chili | Nantes |
| 07-10-2023 | England v Samoa | Lille |
| 08-10-2023 | Japan v Argentina | Nantes |
Quarterfinals
Sat 14 Oct Winner Pool C v Runner-up Pool D (Stade Vélodrome, Marseille)
Sat 14 Oct Winner Pool B v Runner-up Pool A (Stade de France, Saint-Denis)
Sun 15 Oct Winner Pool D v Runner-up Pool C (Stade Vélodrome, Marseille)
Sun 15 Oct Winner Pool A v Runner-up Pool B (Stade de France, Saint-Denis)
Semi-finals
Fri 20 Oct Winner Quarter-final 1 v Winner Quarter-final 2 (Stade de France, Saint-Denis)
Sat 21 Oct Winner Quarter-final 3 v Winner Quarter-final 4 (Stade de France, Saint-Denis)
Third-place match
Fri 27 Oct Third-place Play-off (Stade de France, Saint-Denis)