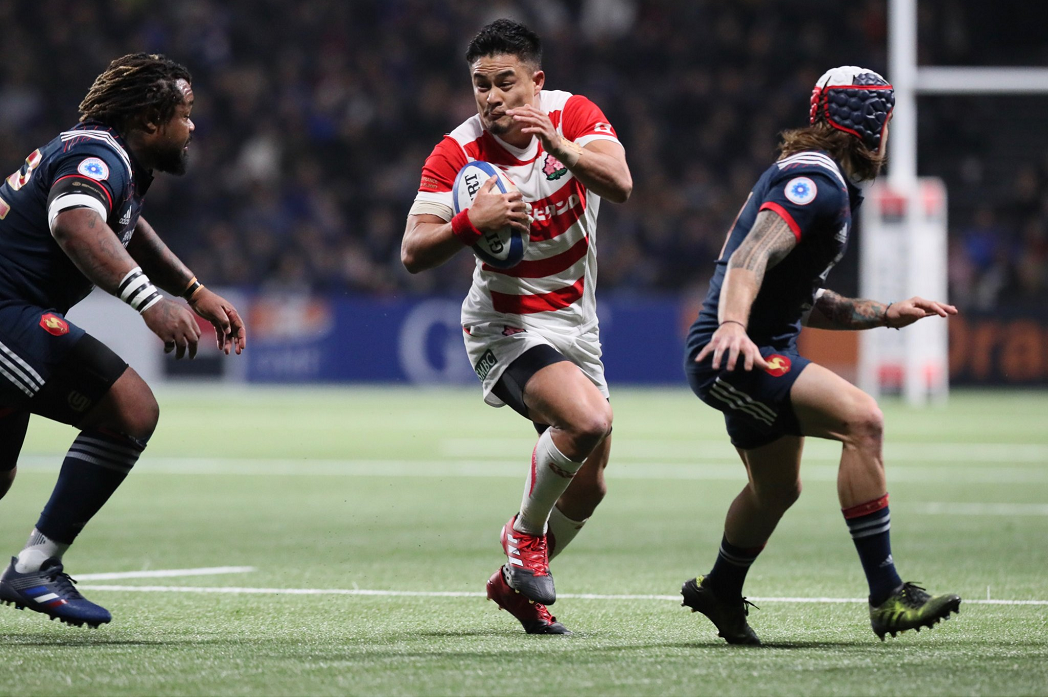 The series for the Lipovitan D Challenge Cup will begin at Toyota Stadium in Aichi Prefecture on July 2, with the teams meeting again on July 9 .  The Brave Blossoms (Japan's men's XV's team) are set to host France in a two-test series but will first play Uruguay in a two-test series in Japan in 2022, the Uruguay Rugby Union has confirmed.
The Japan Rugby Football Union is delighted to announce that the second test match of the Lipovitan D Challenge Cup 2022 between Japan and France will be played at the iconic Japan National Stadium in Tokyo on Saturday, July 9. This follows the first test match of the two-match series between the two sides at Toyota Stadium in Aichi on Saturday, July 2.
Further information including kick-off times, Live streaming TV channels, ticket information and television broadcast details will be announced as soon as they are determined.
"On behalf of the JRFU and the entire Japanese rugby family, I would like to express our sincere delight that the French national team will tour Japan this summer," said JRFU President Shigetaka Mori.
"Les Bleus are playing remarkably well in the Six Nations Championship and continue to develop a potent style of play, combining power and speed with their traditional flair.
"With France due to host the Rugby World Cup in 2023, they are emerging as strong contenders for their home tournament."
Japan reached the quarterfinals of the 2019 World Cup on home soil but did not play in 2020 because of the COVID-19 outbreak, returning to action after 18 months against the British & Irish Lions in June 2021.
The Brave Blossoms won only one of their six matches last year, against Portugal.
"As a result of the global pandemic, Japanese rugby fans have missed out on regular test match rugby being played in Japan," Mori said.
"This series is therefore an important opportunity for us to reconnect with our fans, and I am certain the rugby family in Japan will be looking forward to reliving the enthusiasm and excitement that they experienced during Rugby World Cup 2019."
France were held to a 23-23 draw at home by Japan the last time the teams met in November 2017.
Japan Rugby Union Test Matches 2022
The venues for the France matches have been updated
June 18 – Japan vs Uruguay – Chichibunomiya Rugby Stadium, Tokyo
June 25 – Japan vs Uruguay- Kitakyushu's Mikuni World Stadium, Kyushu
2 July 2022 – Japan vs France – Toyota Stadium, Aichi
9 July 2022 – Japan vs France – National Stadium, Tokyo
For the November 2022 tour, JRFU has already confirmed that the Brave Blossoms will be playing England at Twickenham.
November 12, 2022, England vs Japan @ Twickenham
JRFU 2022 Test Matches Tickets – Japan host France and Uruguay
The Japan Rugby Football Union announced ticketing information in April for the Brave Blossom's 2022 test matches against Uruguay and France as part of the Lipovitan D Challenge Cup 2022, proudly supported by Taisho Pharmaceuticals Co. Ltd.
Tickets for all four test matches will be available online and exclusively at SAKURA CLUB TICKET, TicketRUGBY, and Ticket Pia.
Members of the Japan Rugby Sakura Club can benefit from advanced access tickets sales to all National Team games hosted in Japan. In addition to Japanese, Ticket Pia will also be available in English.
Fans should note that there will be no ticket sales at any of the match venues on match day.