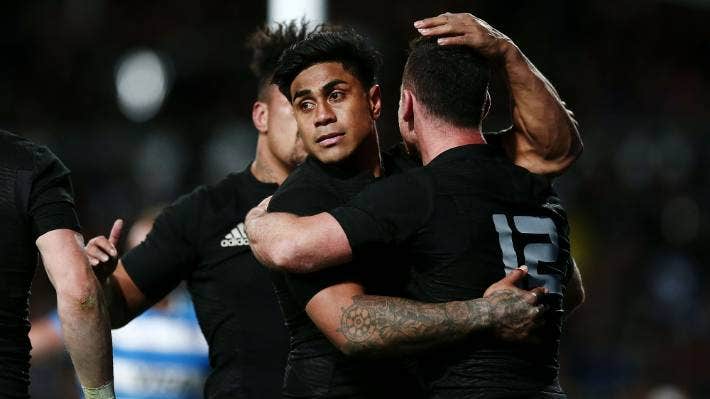 Malakai Fekitoa says he has the support of past and present All Blacks as he embarks on his trailblazing move to play test rugby for Tonga. Fekitoa played 24 tests for New Zealand between 2014 and 2017 before taking his game to Europe, playing for Toulon in France and now Wasps in England.
Not long to go. Can't wait to be back 💪🏾🙏🏾🐝 pic.twitter.com/DJ9KFYRUwY

— Malakai Fekitoa (@MalakaiFekitoa) December 14, 2021
The 29-year-old is determined to give something back to his Pacific Island heritage and used the Olympic sevens program to become eligible to play for Tonga but World Rugby's recently relaxed eligibility rules means other high-profile players could follow his path with an easier route.
Fekitoa, a hard-running midfield back, told the latest edition of the Rugby Journal magazine, he was thrilled with the World Rugby development and explained how he had been encouraged by the positivity of some of his former All Blacks team mates.
"Everyone is really happy for me, even the current All Blacks, guys back home and past All Blacks because I am good friends with a lot of them," Fekitoa said.
"The guys in the current team are supporting my decision. They wish me well, and they are all happy for me. A lot of them are islanders as well. There is a lot of Tongans in the current team and Samoans and they know what it is like.
"They know it is all about the families and the culture. I don't gain anything from going back – we don't get paid a lot of money or anything. But I am going for the right reason, to give back, and I think those guys are happy for me."
Fekitoa now faces the prospect of taking on some of his old test foes at the next World Cup in France in 2023. Tonga are looking to qualify for a place in Pool B alongside world champions South Africa, Ireland and Scotland. australia vs all blacks rugby game
Fekitoa's experience will be grasped by Tonga, and he is up for it.
"I just feel the weight of representing my country now. I am so experienced. I've done everything," he told the Rugby Journal.
He encouraged others to follow his steps, though knows there will be mixed feelings about allegiances from some players.
"I understand some guys are Kiwi at heart, or Australian born and raised, but I think if you haven't played 100 games, why don't you (switch)? Especially some very talented guys who are still under 30," Fekitoa said.