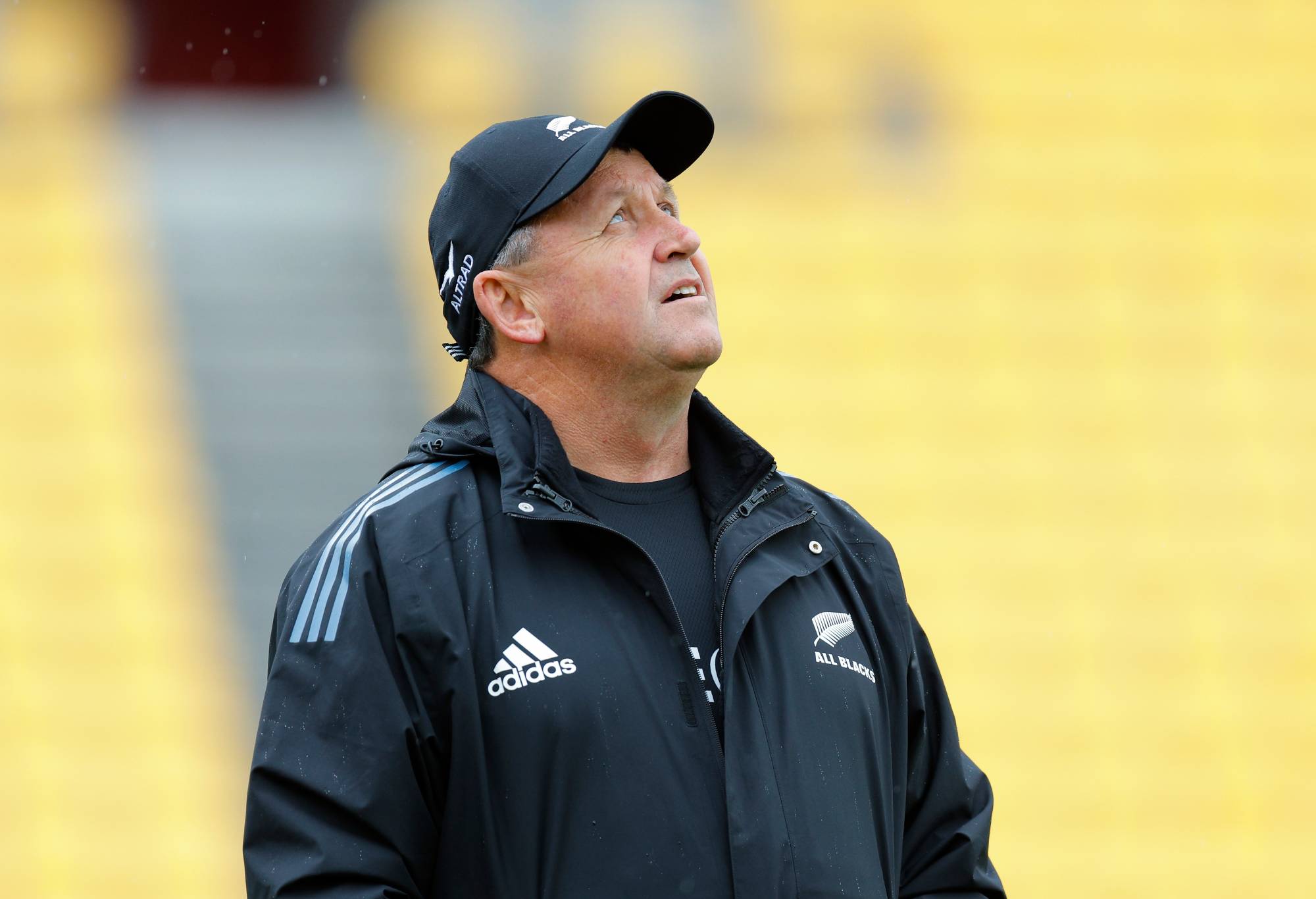 It's not the time to rhyme, the echoes from before drilled in pain again.
Ian Foster states the same riddles with monotone and boredom. He says "I know" a lot, usually on average, in a three-minute interview, about 15 times.
But he doesn't quite know and it shows. I notice he says the exact opposite of what I'm feeling. He talks up the occasion about how big it is and how he's so "excited" but never looks excited especially in the box on the day.
Whilst I feel dread that will soon be bestowed upon me. I feel it coming, a loss, heartache, and another sacred record broken and almost erased of its existence, whilst Foster denies it and hopes.
Foster is a genuine, ethical, likeable guy but when he is part of arguably the worst decision the NZR has ever made true discussion has to happen.
Foster often talks about how big the occasion is and he does it with a smile and says it excites him or it's a "concoction". These are games against Ireland at home and the Boks away. Foster brings up the pressure, talks it up and later negative results come up.
It's surface mentality with the way Foster talks that holds little substance. It's different if one goes deeper into the hard facts, at one with the true pressure and profoundly finds the calmness there, before emerging ready to take it on, in a similar manner to a Zen master who says, "Is this so?"
Foster goes too light here and it backfires because it holds no depth therefore it has no value. Foster is not going to the core and truth but being slightly smug at the pressured occasion, and with a smile saying it excites him. It's the wrong rhythm, a feigned type of frequency and it shows to me he doesn't quite know what he's doing, and it does affect the team, even if it is unconsciously.
On the facade, often an easy way to assess a coach is on his selections. If he can't get that right then it flows on.
The All Black front row, needs youth. The "baby All Blacks" is just fine while they take their journey early. Foster has been way too late with Ethan De Groot and Samisoni Taukei'aho – being dropped and then drip fed in. The youth coming in with perhaps Joe Moody and Owen Franks to add substance to the new wave is a newness they need.
The loose forwards, we all know are wrong except Foster. It should be Ardie Savea at 7, Cullen Grace at 8 and choose a big 6 that fits that mix. Sam Cane on the bench at best (bench fringe).
Cane got the captaincy after going through eight losses in a row for the Chiefs. That's not a good sign at all. You don't want to bring that losing energy into an All Black camp. If Cane could not succeed in the Super then it wasn't his time. Under a new coach, he'll be lucky to make the All Black bench.
In the last game against the Boks Cane made four carries and gained one metre. 10 tackles with two misses. His final touch, a poor pass to the shoulder of Shannon Frizell lead to the Boks' try and created a record loss. He was lucky he was not yellow carded for taking the fullback out in the air. Cleared because it was his own player, Jordie Barrett!
After three years Foster has yet to decide who his first five is. He's like a kid with too many choices – he just wants them all, just like his three 7s – fundamentally that will not work. It's very clear Richie Mo'unga is the one. I think Foster may have just figured it out. But please just make a choice and back it.
The midfield is still muddled, as is the back three that could easily be rectified by putting the best players in their favourite positions. Jordie Barrett at 12. Will Jordan at 15. Rieko Ioane back out to the wing (not Ioane's favourite but it should be).
The All Blacks have a copious amount of depth in certain positions. It's very positive but it isn't if one spreads those players into positions that have no depth. The 7 should be sorted with Ardie Savea number one. Dalton Papalii number two. Sam Cane number three.
The alchemy metamorphosis is a fine art with players emerging better than before in a different position. We have great case studies here with Tana Umaga, Ma'a Nonu and then the ones like Ben Smith who can blend effortlessly between the two – wing and fullback. Foster doesn't have the mastery.
On a side note, Roger Tuivasa-Sheck is not up to it right now and perhaps needs a new breath at 13 in the Super. He needs more space and room to roam. He needs similar conditions to what he had in league. At the moment he's contained and too predictable.I would love to see him play as he did in the NRL.
It's not the collapse of a 100-year-plus empire. The NZR picked a coach that wouldn't respectfully in my view even make the top 20 NZ coaches;
1: Scott Robertson 2: Steve Hansen 3: Jamie Joseph 4: Robbie Deans 5: Joe Schmidt 6: Dave Rennie 7: Tony Brown 8: Leon Macdonald 9: John Mitchell 10: Graham Henry 11: Warren Gatland 12: Vern Cotter 13: Wayne Pivac 14: Kieran Crowley and then eventually Foster would come in somewhere around 22. Put the 22nd-best first five in the All Blacks and see what happens? Having the 22nd-best coach is a lot worse.
Foster has been good and kind to the players' when he was an All Black assistant coach and that kindness has returned to him now. There's a return of that loyalty from the players. I feel this has made the group tight with Foster. In the sense, that if someone has been supportive and helped when you were down or just needed support, it's very natural to return that warmth. It's a genuine, authentic thing to do and there is respect there.
I can understand why the All Black players have backed Foster. They have returned the loyalty.
But I also know, and derailing off the path here slightly, in romantic partnerships, and I've seen it happen; two individuals can come together and one can tame the other's personality where it merges and dulls into the other with no awareness of it.
It happened to me once when I was younger. I was creative and free and a bit different, she cared about image and status and she loved the spontaneity and idiosyncrasies that I gave. We were opposites. But then she reined it in, she loved the rebel but just not after a couple of weeks and around her friends!
She wanted the perfect look, the perfect Sydneysider. I didn't really know until it was all over and the wisest soul (think Matrix oracle) I know said, "Your personality is just coming back. You lost your whole creative spark. That's why you got no creative work. You didn't wow them."
I lost the magic (and employment!). So I found it! I found the truth, a lot more really …but we're here to talk about rugby huh! Which comes back to Foster; Dane Coles said last year "I can't put my finger on it" regarding their form.
Brendon McCullum turned the English cricket team around immediately within a week. The risk taker, the believer, and the innovator joined their group and made them believe, and be their true inner talent, their creator within. He taught them to be in the moment free of expectations and pressure.
Have you ever noticed certain moments whether it's a rain-affected Test match or T20 and a player has a free life almost to just bat and swing and destroy the attack with no consequence? To a degree, I think McCullum installed that feel. He also untangled old beliefs and that gave them knowledge and freedom, whilst playing cricket and probably in their general lives and they were the best versions of themselves. England beat NZ 3-0 and India in the next game.
It shows it can change fast and the influence an innovative leader can have.
I think Foster has integrated his easy-going nature onto the All Blacks. Made them feel fine and cool, brought in fool's gold for them and they believed him. He's dimmed their shine and they haven't quite figured it yet. But their time has come to find their recognition and power. Like how I figured it out there will be a time when the truth hits them and they find the understanding. In the moment it can be hard to figure out what's happening sometimes when there's something dysfunctional happening. The truth to the individual is often revealed a little later.
The once were almighty All Blacks lead by a coach not even in the top 20 NZ coaches, and this is what happens. Foster should have stayed as an assistant. He is simply not strong enough for this All Black role.
NZR needs to be astute and make the change. Get the best of the best. Allow him the opportunity to choose his team and be honoured.
Razor is the man. But NZR messed him around when he could have had a clean slate and a four-year cycle back in 2019. So NZR has to evolve, lose the ego and make it happen. Make it accommodating.
Make up from before and strike with a clean slate; and the dynasty, the magic machine with its ebbs and flows, arguably the best sports team ever on the planet, in any form, can come forth and shine again. The darkness will strike and come back.
Rugby – The Roar