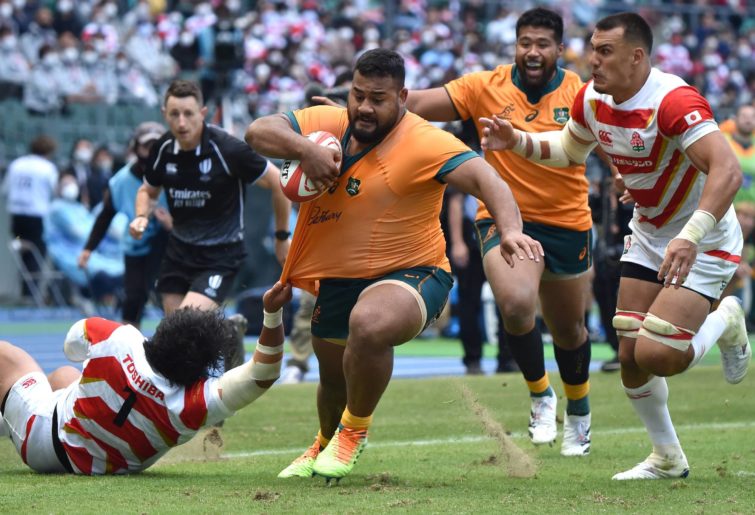 The Wallabies should hold their head high after a stellar performance in Adelaide, but there are five things they must improve on for game two against South Africa.
1. Lineout 
The lineout was a mess, despite bringing in experienced caller Matt Phillip and having all 208cm of Rory Arnold partnering him in the second row.
The Wallabies won just seven of their 13 lineouts, for a poor 53 per cent completion rate, compared with the Springbok's 80 per cent. Folau Fainga'a's wayward throws marred an otherwise good performance. It cost the Wallabies valuable possession, which they did not have the majority of.
It's not a performance that puts Fainga'a out of the starting side, but it does put pressure on him to get it right for Sydney. Consistency is key.
2. Possession and territory
The Wallabies only had 46 per cent possession and 49 per cent territory in what was otherwise a clinical performance. This will not cut it in Sydney.
Australia absorbed lots of pressure in the back end of the first half, but they failed to exit effectively when they did get their hands on the ball. A poor kick-chase when Reece Hodge, Marika Koroibete or Noah Lolesio put boot to ball kept the home side camped in their own half.
Although Hodge and Lolesio had good games, the exit needs to be more effective and that comes down to a strong chase, led by the wingers.
3. Defence
The Wallabies' defence was one of desperation and heroics, but the stats show a reality a little less appealing.
They made 95 of 119 tackles for a below-par 80 per cent completion rate. Compare that with the territory stats and the Springboks' tackle completion rate of 88 per cent, and all of a sudden Dave Rennie has a worry.
The Wallabies are fortunate the seven clean breaks and 24 defenders beaten didn't convert into more points (Australia's stats were four and 14 comparatively).
Although the Springboks offered little in attack, from a deception or creative aspect, there were poor individual reads and basic errors in the Australian defence.
Poor defensive reads in tight led to clean breaks from Lood de Jager and Vincent Koch, the latter leading to Kwagga Smith's try in the 74th minute. Neither break was made by a true finisher, which is worrying and lucky for Rennie's men.
With the departure of their defensive coach and the introduction of Laurie Fisher there are bound to be growing pains, but Rennie will want these defensive stats reversed.
4. Run metres and physicality
More possession will lead to more carries and usually more run metres, but the stats on how effective the Springboks were is surprising.
The Boks made 436 run metres from 92 runs, making for 4.7 metres per run. Compare this with Australia's 280 metres from 82 runs, making 3.4 metres per run.
Big kick-return metres and more line breaks should make this an obvious assessment, but Reenie will be thankful South Africa weren't clinical enough to turn these stats and opportunities into points.
When a team can attack like in Los Pumas did in San Juan they will put points on the Australians.
5. Discipline
The Wallabies conceded 16 penalties to nine. If Handre Pollard slotted a quarter of those, South Africa would have won. That falls on a lack of Springbok leadership, but Rennie will breathe a sigh of relief knowing the old heads had a doozy with decision making.
That Springbok group are used to closing out important games and will not make that mistake two weeks in a row.
Test footy comes down to small margins and discipline is currently hurting this young Wallabies side.
Sports opinion delivered daily 
With these five concerns highlighted, one player should not be carried into the Sydney Test.
Taniela Tupou is physically fit but mentally he is not up to Test standard, contributing just one run in attack. Stats didn't favour him in defence either, with a 50 per cent success rate, and one of his missed tackles leading to Smith's try.
Tupou also dropped the ball when the Wallabies were hot in attack and conceded a penalty in the 16 minutes he was on the field.
Rennie speaks about earning the right to play, but Tupou has been given more chances than James O'Connor and is still a feature in every fixture.
Pone Fa'amausili or Matt Gibbon should be given the bench spot.
To be clear, South Africa played badly. Star playmaker Pollard looked punch drunk, defended badly, attacked poorly, and kicked for goal atrociously.
The Boks deviated from their core gameplan and that is a huge shift. Their best attacking weapons made no impact and turnover king Malcom Marx had little impact.
This is not to take away from the Wallabies' performance, but the Springboks were not on song. This is important for Australia to acknowledge.
The Wallabies looked like the better team on the day and absorbed pressure, and Rennie should commend his players, rewarding strong performances and supporting team growth.
However, Rennie will be drilling his men hard this week to ensure the stats are in their favour in Sydney, because you don't beat the world champs twice without having some things go your way.
Rugby – The Roar