The Crusaders and Highlanders will have a pre-season showdown on Friday 10 February 2023 in Weston, North Otago for the Farmlands Cup.
Through this annual event, Farmlands brings the great rivalry between the Crusaders and Highlanders to a different South Island rural community every year. In the last six years, the prized silverware has travelled to Waimumu, Darfield, Southbridge, Wanaka and Temuka.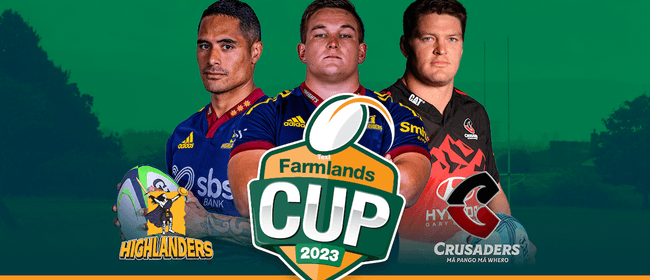 The Valley Rugby Club in Weston (about six kilometres from Oamaru) was set to host some of the biggest names in rugby before Covid-19 interrupted plans. Farmlands is pleased to be able to deliver on its promise to the Weston community.
Farmlands Cup:
Highlanders v Crusaders
5:30pm – Friday 10th February
Weston Park, Oamaru
It's time for the biggest rural rugby game of the year – the Farmlands Cup – and we're coming back to Weston! Come support your team in the first Super Rugby preseason game of the 2023 season against our southern rivals, the Crusaders.
It will be a game filled with excitement, passion and fun as the boys lace up their boots for the first time this year. It's a game for the whole family with a travel friendly kick-off time off 5:30pm and lots of entertainment thanks to Farmlands Cooperative.
Tickets from only $25.00 for adults and $10.00 for children!
Join us for Farmlands Cup: Highlanders v Crusaders in Weston with the team that brings rugby to the regions! The Farmlands Cup is a pre-season highlight for the teams and fans. "The annual Farmlands fixture against the Crusaders marks the start of our rugby calendar for the year and is normally the culmination of a lot of hard work during the pre-season," says Clarke Dermody, Highlanders Head Coach.