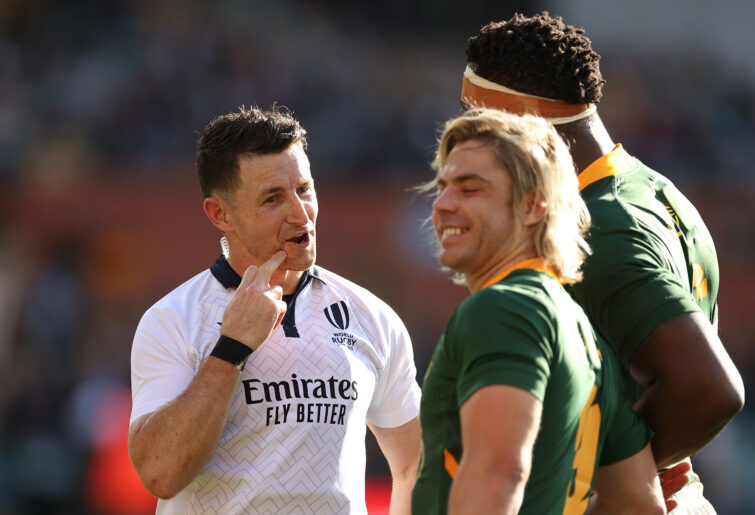 If ever there was a game that may have caused South Africans to be gracious in defeat, this was it.
The Wallabies systematically destroyed the Boks in just about every facet of the Test. The 25-18 final scoreline was flattering to the vanquished visitors in the extreme.
Running rugby was dominant at the Adelaide Oval in the face of a game plan that looks like 'kick-chasey' interrupted by water breaks.
Yet that was not the narrative pedalled by South Africans either on social or conventional media in the wake of a comprehensive defeat. No, sir.
Nick White had his Wiki page changed to reflect a playing position of 'drama queen'. According to John Smit on Twitter, "Yellow 9 stole a little piece of rugby's soul".
Never mind that Faf impersonates Margot Robbie better than just about any male, South African or otherwise, on the planet. Never mind the man is a living, breathing drama magnet.
Nick White should absolutely be embarrassed. But the fact is Faf slapped him while attempting to slap down the ball. If he hadn't missed the ball he probably would have been yellow-carded, anyway.
As for 'Yellow 9 stealing a bit of rugby's soul', no doubt the play-acting was very poor and any fair-minded Australian would say so, just as we called out the French captain last year for similar behaviour that is not befitting of a rugby player.
That said, the Springboks are stealing chunks of the soul of every rugby fan each time they take to the field.
They are jackhammering away at the 'soul of the game'. Kick, chase, knock on, drinks, scrum, collapse, reset and… repeat.
Whenever South Africa conspire to play an entertaining Test or half a Test, they seem to wet themselves with surprise and inexplicably revert to kick-chasey.
It's less about their rugby DNA and more about a cynical win at all costs approach, to hell with entertainment. Who cares about the 'soul of the game' when you're winning, hey Smitty?
Which brings me to my next point: consensus in South Africa is that Marika Koroibete should have been sent from the field, red-carded and cited for possibly the greatest cover tackle of all time.
Huh? Come again?
The footage does not show a no arms tackle. It shows the opposite. The footage does not show a runner preparing to stay on his feet to score a try. It shows Mapimpi in the act of diving for the corner, a metre away.
A left winger covers the entire width of the field to reach the right wing while his team is down to 14 men, extends his left arm to wrap, collides with an opposition player who is leaping for the try line, forces a knock on and stops him one metre out… and we want to punish that?
Roar rugby experts Brett McKay, Jim Tucker and Harry Jones and editor Tony Harper come together for the post-mortem after the Wallabies' incredible 25-17 win over South Africa as well as Argentina's historic 25-18 win over New Zealand in Christchurch.
How can any true rugby fan arrive at that conclusion?
Could it be that South African supporters are only interested in supporting the Boks but have little interest in the game itself? It is difficult to arrive at any other conclusion these days.
After all, Koroibete shouldn't be on the field next game apparently, but they see no problem with their annoying trainers running on and off it!
What a joke.
Koroibete should be lauded. His performance on Saturday was possibly the greatest by a winger since the late Christophe Dominici and Jonah Lomu. That is not hyperbole, he was that good and has been banging on the World XV door for 2-3 seasons.
As for the tackle itself: this was not an Owen Farrell special where he led with his shoulder and his arm was tucked behind his back, Superman-style.
Nor did he fold his arm over his his chest as if it were in a sling before dropping the shoulder.
Those, according to the laws, are the indicators of illegal play. The hallmarks of a 'shoulder charge'. But neither was evident on Saturday as the last minutes of the first half ticked by.
Rather, Koroibete's left arm was extended in an attempt to wrap and only fell away after contact because one winger traveling at speed contacted another doing the same. The referee, the touchies and the TMO saw it that way.
But none of that seems to make an iota of difference to the majority of South Africa, who appear quick to laud boring kick-chasey wins and slow to extend genuine congratulations to those who beat them playing running rugby.
Not only is such an attitude a travesty but it's sad. And it's the reason why most neutrals support whoever is playing the Springboks.
Sports opinion delivered daily 
Rugby – The Roar