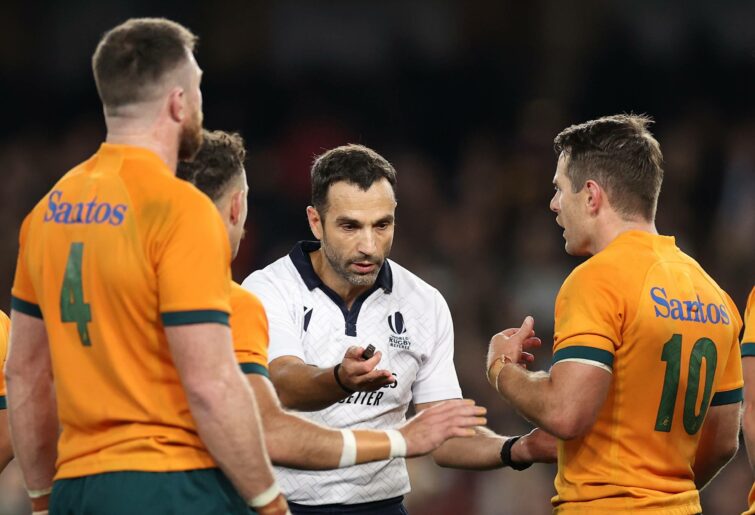 The Sydney Morning Herald described it as "technically correct and utterly absurd". Across the span of the following days, I regretfully spent an inordinate amount of time in heated discussions about that penalty.
It is with great hope writing this article could offer some level of catharsis for me before I fixate on the next contentious rugby issue. Maybe there will be a new crisis du jour if this article gets published after Bledisloe II.
What is that rule on time wasting in this instance?
"A penalty or free-kick must be taken without delay."
Seems fair, you'd think. If we follow this interpretation to the letter, Foley was in the wrong and perhaps should've been penalised earlier.
There may perhaps be precedent for this. In 2005, the Welsh domestic side Ospreys snatched a dramatic win from Connacht having been awarded a kickable penalty for time wasting from Connacht. I can't even find footage of this Celtic League match.
Yet this seemingly is only instance I can find of a winning team losing after being penalised at the death of the match for milking the clock.
My issue here is the lack of consistency. Clock winding is something we've seen all before. The extended lineout plays, team huddles, questioning the referee, tying laces, etc. Perhaps the most egregious example of this are intentional collapsed scrums.
Let's look at a moment earlier in Bledisloe I. At the 69:26 mark, New Zealand were awarded a penalty. Sam Whitelock signed they'll go to for the posts at 69:40.
Richie Mo'unga slotted the ball for three points at 70:51. That's a difference of one minute and 24 seconds from when the penalty was awarded and a difference of one minute and 11 seconds when the All Blacks decided to kick for goal.
As per World Rugby: "The kick must be taken within 60 seconds (playing time) from the time the team indicated their intention to do so, even if the ball rolls over and has to be placed again. Sanction: Kick is disallowed and a scrum is awarded."
So much for clamping down on time wasting. I'm not a great mathematician, but 1 minute and 11 seconds is longer than 60 seconds. If Raynal was consistent, Mo'unga would've been penalised and Australian hopes of claiming Lord Bledisloe's silverware may have still been alive.
While we remain on the subject of tardy halves, conversations have to be taken with 90 seconds from when the try was scored. How often do flyhalves take their time to dwell whatever semi-Zen meditative state they need to be in before hitting the ball with their boot?
Peter Stringer, evidently well versed in the 90-second rule, made a young James O'Connor learn the hard way by calmly striding up to him and removing the ball from the tee after O'Connor opted to use his time laxly preparing for the punt.
It remains an object of interest for all stakeholders in rugby to address time wasting. One on hand, it encourages poor sportsmanship and does a poor job at promoting our game. On the other hand, tired players playing in an intensely physical professional game beaten and bruised after over an hour on the paddock could use the respite.
The Sydney Morning Herald encapsulated my sentiments exactly. It made sense on paper, especially in consideration of repeated warnings from Raynal (it remains a mystery as to whether any of the Wallabies could hear anything over the crowd).
However, players, pundits, and fans alike probably cannot point to similar penalties being dished out in the history of test footy. I still can't say for sure whether that Osprey-Connacht game is an apples-to-apples comparison since I can't see the match for myself.
I have made clear that I am not a massive fan of Sir John Kirwan and the team at Sky Sport NZ's show The Breakdown. But their roundtable discussion on the penalty summarises my thoughts on the matter well.
If we want to cut down to time wasting, we need to reduce the referee's discretion to decide what counts as time wasting. Clocks for scrums, other set pieces, kicks, etc. should be actively considered to prevent another media cycle like this from happening again.
In the meantime, let this disillusioned Wallabies fan ponder what could've been in Mo'unga was pinged for taking his time to go for three. We'll ignore the potential forward passes leading up to our tries.
Sports opinion delivered daily 
Rugby – The Roar