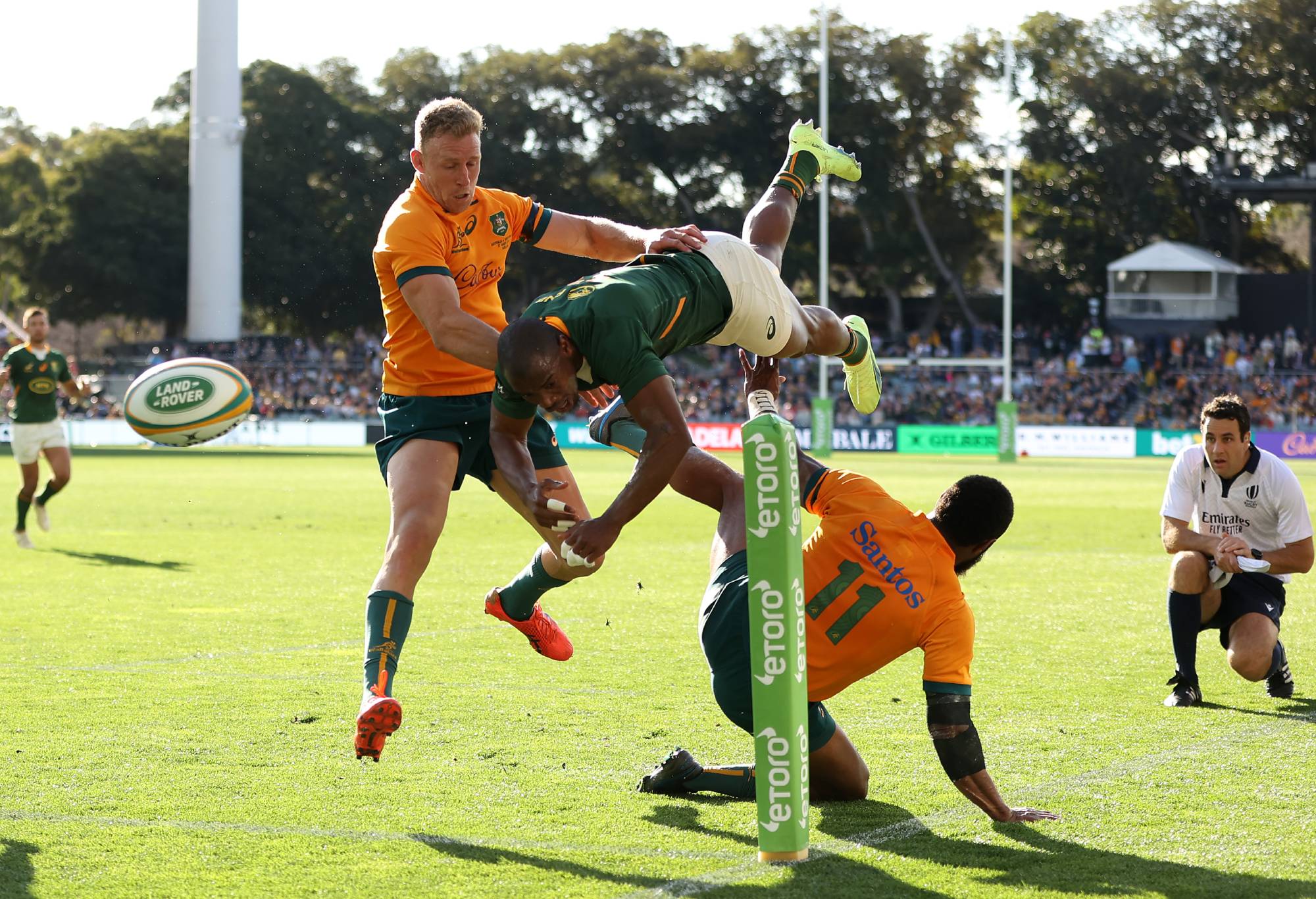 Marika Koroibete's stunning tackle and twinkle-toed try, Noah Lolesio's composure under pressure and Nic White's combativeness, and cheekiness, all contributed to a famous Wallaby win in Adelaide. Here's who starred and who stumbled as the Wallabies beat the Springboks 25-17.
If you haven't seen it yet check out the video leading this story of Koroibete's mad dash along his own try line to send Makazola Mapimpi into orbit at a time Australia were pinned in their own 22 and down man due to a yellow card to Tom Wright.
The Roar expert Harry Jones questioned if the TMO might have had a closer look at Koroibete's arms in the action, but the match officials seemed fine with the brutal hit and the quiet Koroibete is the studliest of studs, letting his actions speak for him.
Wallabies captain James Slipper described the boost the tackle gave his side and Koroibete's impact.
"It's huge. Test match rugby, it is built on big moments," Slipper said. "Normally the team that wins goes well in those big moments and we had quite a few in the back ends of the first half.
"He's a big part of our team. He's a real character and the boys really love playing with him. He's probably the hardest trainer I've ever seen, and some of the stuff he does on the footy field is just phenomenal."
The Roar rugby experts Brett McKay, Jim Tucker and Harry Jones and editor Tony Harper come together for the post-mortem after the Wallabies' incredible 25-17 win over South Africa as well as Argentina's historic 25-18 win over New Zealand in Christchurch
It wasn't just the tackle that led to Koroibete being named man of the match. He scored a stunning try and an earlier hit on Duane Vermeulen rattled the big Bok's rib cage.
"He is such a quiet player off the field, Marika, but he's really found his voice on the field now, demanding to go into first or second receiver," said Tim Horan of the Wallaby's increasing role in the team. At a time when it has been shorn of the the leadership of Quade Cooper and presence of Samu Kerevi, Korobite took both roles on his shoulders.
'He was surgical'
Was this a defining afternoon in the career of flyhalf Noah Lolesio, or another false start? Certainly the young Brumby has done enough to hold the position in Sydney next weekend despite the presence in the squad of Bernard Foley, but he will be wanting a longer run after a stop start career so far.
Lolesio and Dave Rennie agreed that he had been disapponted with his performance in the third Test against England, but he has responded with confidence.
Harry Jones, on The Roar instant reaction podcast, selected him as his stock rising from the win.
"My theme is that the Wallabies were surgeons, almost robotic surgeons," said Jones.
"Noah Lolesio had the biggest rise in his stock because Marika's was was already so high I don't know if it can go higher. He was surgical. His movements were precise. He looked confident on the kicking tee and it's important when you have Handre Pollard missing a few and you have Lolesio hitting them. His direction in the backline was beautiful and he just ran a good game."
Rennie was pleased with Lolesio and Fraser McReight, who has stepped into the Michael Hooper role and came up with two tries with strong support running.
"We're really happy for Noah. As we said going into the game, he's played a lot of big footy, he's played multiple Tests against New Zealand and England and France; so we had confidence that he would do the job and I thought he was excellent," said Rennie.
"And likewise with Fraser, he's really grabbed his opportunity on the back of I guess good work done in front of him, too. A helluva effort for a young 7 to get a double today, and he got his hand on the pill post tackle. So a good performance from both those men."
Rennie was impressed with Lolesio on both sides of the ball.
"We played a big chunk of the game without the ball in that first half, but our ability to react and be clinical when it counted; so you look at Marika's try just after halftime, Noah's understanding of the play, he actually wanted to play rather than slow the ball and try and go round the edge.
"He's a confident kid, we talked a lot about playing flatter and playing on top of the defensive line, smart kicking options, and so it was good to see that from him today."
The invisible slap
Nic White got himself some viral views and tut-tutting headlines for his flop just before halftime that ended with dangerous Faf de Klerk sent to the sin bin.
De Klerk had been doing his usual chirping throughout the game and sarcastically greeting every Australian error, so it must have given the Aussies a lot of pleasure to see him jog off the field after his light scrape on White's face at a scrumbase saw the Brumby No.9 crumple to the ground theatrically.
Jacques Nienaber, the Springboks' coach, said his team failed to react well enough to being a man down and James Slipper just laughed off the battle between the nines.
Jim Tucker, on the instant reaction podcast, chose White as his stock rising.
"If you play South Africa you have to be combative. White was exactly that," said Tucker. "Even down to the phantom slap face that might have got near his face and he went down like he was shot by a rhino gun and got a penalty out of an invisible slap.
"It's fine. That's what you need to beat the Boks. And he was in everything. That beautiful long pass to Tom Wright his room out on the edge was really significant."
Tucker said the performance of Lolesio and White together showed the need for more intelligence in selction.
"It's got to be said that Noah Lolesio has to have Nic White playing beside him, because you can play-make off halfback or five eighth.
"With White on the field he basically play makes 70% of the time, and Noah can grow into his game. Knowing that he's got a guy he knows thoroughly beside him… It gets back to Argentina in San Juan. I would have had taken Tate McDermott and James O'Connor to have a combination. They stuffed that up, I thought.
"You're finding elements of the Wallaby game that are connected and that is halfback and number 10."
Brett McKay, on the instant reaction podcast, praised the effort of the pack, especially Matt Phillip.
"He was absolutely phenomenal," McKay said. "He got through so much grunt work – his scrummaging was good, his line out was work was good. He made a mountain of tackles and he lifted Rory Arnold's game. I think he dragged Jed Holloway along with him as well."
'You have to be clinical'
While the Wallabies fixed their issue of slow starts – crossing through McReight after 1 minute, two seconds, they haven't solved the issue of leaking points at the death.
In their win over England in perth the Poms raced in two late tries when the game was up. While that didn't have an impact, it did when it happened again on Saturday. Failing to secure the bonus point they held has allowed Argentina to go top of The Rugby Championship standings.
"The last 15 minutes' bench effort, soft shoulders, it was really poor. You can't do that.," said Jim Tucker. "It's an 80 minute game, no matter if you've got the game locked up or not. You've got to be clinical. There's bonus points to be had.
"It's mindset. You've got to be clinical. You tell me if the All Blacks are going to blow it like they did in the last 15 minutes. You just put the foot to the floor and absolutely cream, the opposition. There were cries of that in the stands like people going, 'come on, finish them off'."
The big change off the field for the Wallabies this week was the arrival into camp of veteran coach Laurie Fisher and departure of Matt Taylor.
In commentary Justin Harrison said Fisher's work was evident in Australia's precision at the breakdown, but the Brumbies assistant won't be pleased with the late fade out either.
Asked if the coaching change had had a discernible impact, Rennie said: "[Taylor's] a helluva coach, bloody good man. And Laurie comes in, he's experienced and knows a lot of the boys, and so it's been great to get his energy in.
"I think the biggest difference for me from the last game was our ability to deal with the ball in the air and our ability to turn pressure into points. I thought we were far more clinical than our last outing."
Tucker suggested the true worth of the win might not be known until the next few games.
"They have to build on consistency. That's the most important thing and it always has been," Tucker said. "The World Cup is about being good enough to win a quarterfinal a semifinal and a final Yeah, all the Wallabies have shown for two years that on their day they can beat any team in the world. But don't bet on them to win three in a row."
Harry Jones pointed to the pre-game build up by Rugby Australia as his stock falling.
The Wallabies arrived into town less than 48 hours before kick off. While it's fine to have the mentality of what works best, RA is in a compeittive market and needs to more to promote the code. What was pleasing was the crowd in excess of 36,000.
"Adelaide is a stronghold for other sports," said Jones. "It wasn't really clear why the Wallabies were not there earlier in the week. They could have made it more festive. The ground is fantastic. The setting is fantastic. It's the friendliest town. Love it. But I didn't get the sense on Friday when I came in that the town was buzzing. They missed a trick."
Rugby – The Roar