The Springboks and All Blacks will face off in a thrilling pre-World Cup Test at Twickenham on August 25. This matchup will mark another epic chapter in the gold-standard rivalry in test rugby.
The Springboks and All Blacks will face off in a thrilling pre-World Cup Test at Twickenham in August, igniting the most storied rivalry in Test rugby. The Twickenham contest between the All Blacks and the Springboks infographic.
It's important to keep in mind that this match at Twickenham occurs just two weeks before the start of the 2023 Rugby World Cup, and for many touring supporters, it might be the ideal "curtain raiser" before traveling to France for the international tournament.
Read More :: All Blacks vs Springboks Live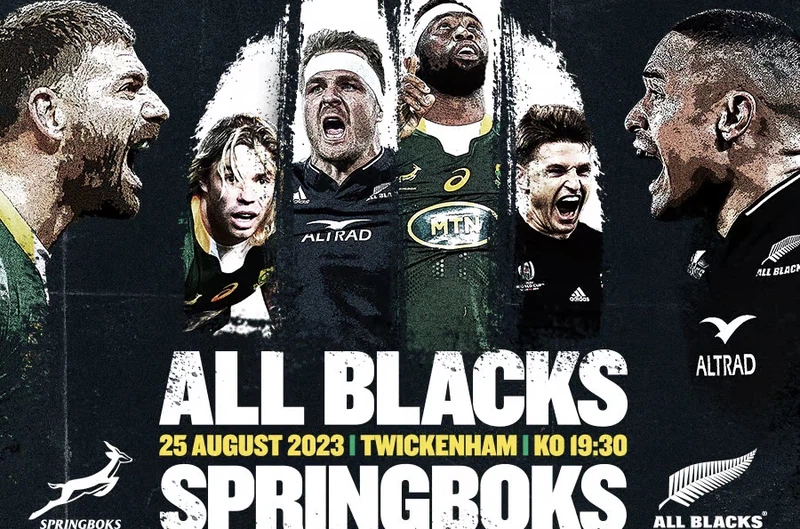 Don't miss the chance to see one of rugby's most storied rivalries; purchase your tickets right away. Tickets for this Test rugby matchup's pinnacle rivalry are available via Ticketmaster and the RFU.
The prestigious Test rugby match between South Africa and New Zealand will have one more game before moving on to the 2023 World Cup, it was confirmed in October of last year.
This time, they will play a one-off exhibition match at Twickenham rather than competing against each other in a specific competition or tournament.
The Test, which is set for Friday, August 25, will be a once-in-a-lifetime experience for supporters as it will be only the second meeting between the Springboks and All Blacks in the "Home of the Rugby" and the eighth meeting between the fierce rivals to be played at a neutral site.
The game has officially been regarded as the last step in both teams' preparation for the major event in France, which begins just two weeks after the match.
Yet playing such a significant match at such a pivotal time in the season carries some risks. A Test of this size being played may have terrible repercussions for either side.
The Springboks and All Blacks are most at risk of suffering untimely injuries because this specific match is always played at breakneck speed and with terrible roughness, especially to key players. For these two World Cup contenders, any injury concern may be fatal.
Every Test match between South Africa and New Zealand is fiercely contested, and there is a chance that a brawl, an act of stupid petulance, a careless tackle, or a hit that is intended to be dangerous could result in yellow or red cards, which would then result in player suspensions at the start of the World Cup.
All Blacks will play South Africa at Twickenham Stadium
On Friday, August 25, at 7:30 p.m. (KO), the All Blacks will take on South Africa at Twickenham Stadium in London as the final stage of their buildup to the Rugby World Cup (RWC) 2023, which begins just two weeks later in Paris.
Just twice have the two fierce rivals faced up at England's rugby stadium, the other being the All Blacks' nail-biting 20-18 semi-final victory at the 2015 RWC.
Ian Foster, the head coach of the All Blacks, felt the test was a perfect warm-up for the team's RWC opening against France a fortnight later.
This game will be a crucial component of our Rugby World Cup preparations. Matches against the Springboks are always fiercely contested, but on this particular occasion, we expect nothing less than a titanic struggle.
The head coach of the Springboks, Jacques Nienaber, stated: "We're thrilled to play this crucial match at the legendary Twickenham before the Rugby World Cup Live.
We have no doubt that the many ardent expat and Springbok supporters in London will show up in big numbers and cheer us on before we try to defend our World Cup title.
The Springboks and All Blacks have one of the greatest rivalries in rugby, so facing them at Twickenham will be a wonderful experience for the players and our supporters, according to SA Rugby Director of Rugby Rassie Erasmus. It will without a doubt be a memorable encounter.
Read More :: SA Rugby unveils new boss
The RFU's CEO, Bill Sweeney, said: "We are excited to welcome two rugby powerhouses from around the world. There are substantial expat populations from both countries in London and elsewhere who will undoubtedly contribute to the exciting atmosphere that is expected at Twickenham Stadium.
All Blacks vs Springboks: Ticket Details
From £55 for adults and £28 for under-16s, reserve your seats and take part in this historic game (Booking Fees apply).