ACT Brumbies vs Fijiana Drua Rugby: The Buildcorp Super W competition returns for 2023 with the new season kicking off on Friday 24 March, the ACT Brumbies set to play the first ever Super W game in Fiji against the defending champion Fijiana Drua.
Scott Fava's side will then play their first of two home games, both at GIO Stadium as part of exciting Super W and Super Rugby Pacific double-headers, against the NSW Waratahs on Saturday 1 April.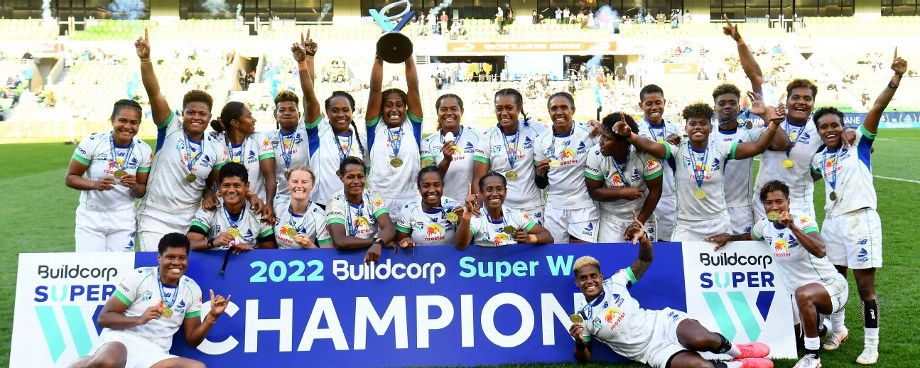 A trip to Queensland to take on the Reds is followed by the Brumbies second home fixture against the Melbourne Rebels on Friday 14 April.
2023 Sydney Sevens Final day LIVE – the men's and women's rugby 7s action

by

Roger Brown

on January 28, 2023 at 5:41 pm

Sydney Sevens Final day: The 2022/23 World Rugby Sevens Series is headed to Sydney, Australia, on 27-29 January for the latest round of the men's and women's rugby 7s action. Reigning Olympic champions New Zealand go into round four top of the women's standings in red-hot form, having won in Hamilton last week. But last year's World Series champs Australia are right behind

Black Ferns Sevens make winning start in Sydney Sevens 2023 tournament

by

Roger Brown

on January 28, 2023 at 5:33 pm

The Black Ferns Sevens side have continued their impressive recent form with two big wins on the opening day of the Sydney Sevens tournament on Friday. The side took out the Hamilton leg of the World Sevens Series last weekend and won both of their matches on the first day of the three-day Sydney tournament,

Six Nations Rugby championship tournament begins in February

by

debrambuhl

on January 28, 2023 at 4:01 pm

The 2023 Six Nations Rugby will another time see the England, France, Ireland, Italy, Scotland and Wales global rugby union groups take each other on over the course of five exciting rugby-packed weekends of fixtures. This is an global competition that takes place annually, with each of the six facets playing each different once. The
All Super W matches will be available to watch exclusively, ad-free and on demand on Stan Sport – with select Saturday double-headers being simulcast on free-to-air on 9GEM.
The Super W teams will play each other once over five rounds, with both Semi-Finals being played at Concord Oval on Sunday 30 April in a double-header that will showcase the best Super W talent in the country.
The Final will be a standalone event on 6 May at a venue to be confirmed.
Great having you over @Fijiana_Drua 🙌🏿

#TosoDrua #PacificAusSports pic.twitter.com/EklvuFeNB5

— Fijian Drua (@Fijian_Drua) December 15, 2022
"The Buildcorp Super W competition gives our players the opportunity to test themselves against the best that Australia and Fiji have to offer," CEO of Rugby Australia Andy Marinos said.
"This will be a crucial season for the best players in Australia, who will be hoping to put their best feet forward ahead of a jam-packed international calendar for the Buildcorp Wallaroos in 2023.
"As part of the golden decade of Rugby in Australia, we see huge potential for growth in the women's game and 2023 looks to be a pivotal season across Super W and the Wallaroos.
2023 Sydney Sevens Final day LIVE – the men's and women's rugby 7s action

by

Roger Brown

on January 28, 2023 at 5:41 pm

Sydney Sevens Final day: The 2022/23 World Rugby Sevens Series is headed to Sydney, Australia, on 27-29 January for the latest round of the men's and women's rugby 7s action. Reigning Olympic champions New Zealand go into round four top of the women's standings in red-hot form, having won in Hamilton last week. But last year's World Series champs Australia are right behind

Black Ferns Sevens make winning start in Sydney Sevens 2023 tournament

by

Roger Brown

on January 28, 2023 at 5:33 pm

The Black Ferns Sevens side have continued their impressive recent form with two big wins on the opening day of the Sydney Sevens tournament on Friday. The side took out the Hamilton leg of the World Sevens Series last weekend and won both of their matches on the first day of the three-day Sydney tournament,
"Our national team's performance at the recent Rugby World Cup was inspiring, and we see that performance as a great opportunity to build the status of the women's game – the competition is a fantastic opportunity for fans to get out and see the Wallaroos stars that made us so proud in New Zealand."