The inclusion of the New Zealand 7s team as NZ All Blacks in this weekend's 46th Fiji Bitter Marist 7s tournament at the ANZ Stadium in Suva, is good for Fijians, says Marist Rugby Club president Lawrence Tikaram.
The Kiwis are spending their third week in Fiji warming up to the continuation of the World Rugby Sevens Series, the Commonwealth Games in England and the Rugby World Cup Sevens 2022 in South Africa later in the year.
NZ is the defending champion of the Commonwealth Games rugby 7s and the World Cup 7s title holder.
Forty-eight men's, 12 women's and 16 under-21 teams will compete in the event. Teams will play in a new format where winners wil proceed up the rungs, while the losers will fight for survival.
Marist Rugby Club President Lawrence Tikaram has outlined the new format they are adopting in this year's Fiji Bitter Marist 7s tournament at the ANZ Stadium, Suva.
When to Live Stream 46th Marist 7s Rugby tournament ?
The 46th Fiji Bitter Marist 7s starts on Thursday.
The tournament starts on Thursday, March 24 and ends on Saturday, March 26.
The New Zealand 7s men's team are pooled with
Marist, Police White and Malake in next weekend's Fiji Bitter Marist 7s tournament at the ANZ Stadium, Suva.
Also, playing are the Fijian men's 7s squad- Fijian Babaas and Fijian Warriors.
#Marist7s
Day1🇫🇯終わり😎

今日
U21-MEN'S
WOMEN'S

明日
MEN'S

7:30からスタートして🌞
20:30過ぎに終わります🌝

朝から晩までラグビー🏉
さすがフィジー🇫🇯
NZ代表も参加しています🇳🇿

大会はあと2日間✌️#前半が延びるとハーフタイムがなくなることを知らなかった#フィジアンスタイル#私は好き pic.twitter.com/ugP5UmNt07

— 桑井亜乃 / AnoKuwai (@ANO1020) March 24, 2022
Marist 7s Rugby Format
The teams' will only know the teams they play in the first game, the rest of the game will be determined by the outcome of the first game, where winners will meet winners and losers will face losers.
All teams will play their three pool games on Friday before pre eliminations on Saturday morning then the first round of elimination.
The top six teams will have bye and the other 20 teams will fight for 10 spots.
Those 10 winners will play the six winners for the second elimination and then move on to the shield, bowl and plate finals.
All the other teams will have one additional game on Saturday.
Women's and Under-18 semifinals will be held on Friday while the finals will be played on Saturday.
Tickets will be on sale at the Fiji Sports Council from tomorrow.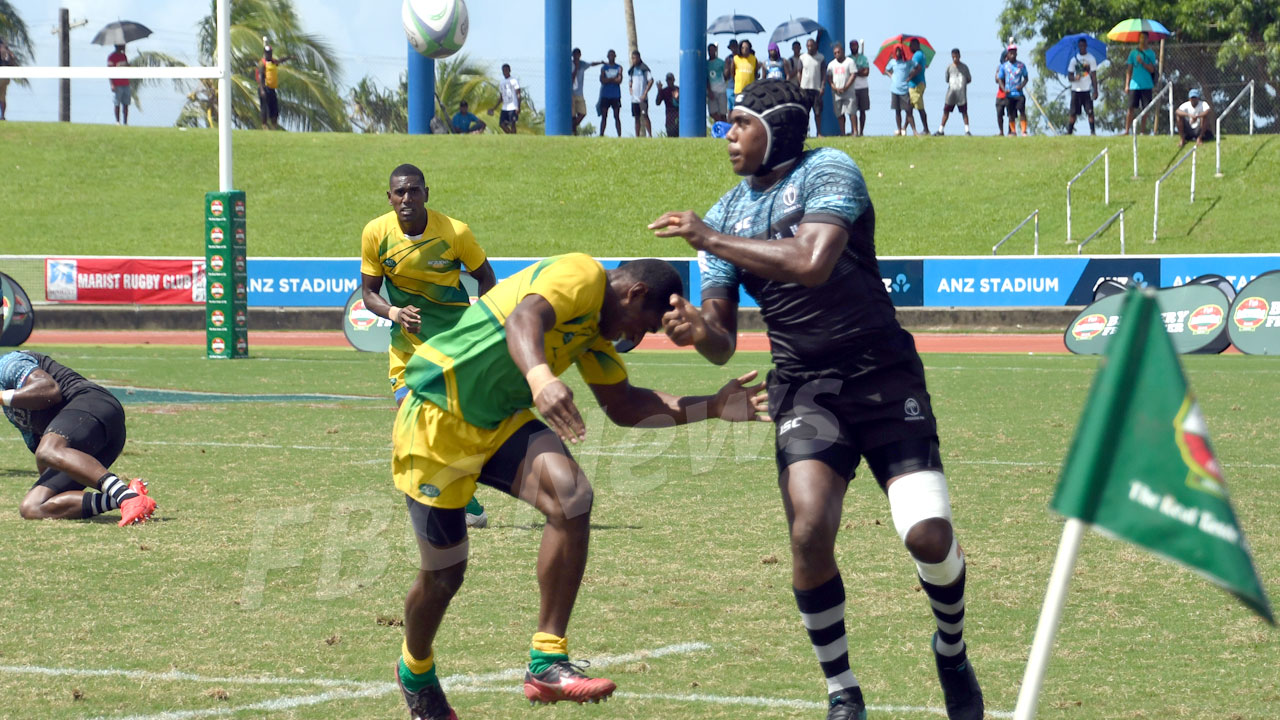 Marist 7s Ticket Prices
Day One: Ground and Embankment $5, Grandstand $5.
Day Two: Ground $7, Embankment $10, Grandstand $20
Day Three: Ground $8, Embankment $12, Grandstand $25
Marist 7s  Rugby Men's Pools
White Pool A: Tabadamu, Maravu Taveuni, Qauia, Natewa Bay:
Blue Pool B: NZ, Marist, Police White, Malake;
Red Pool C: Fiji Warriors, Wadigi Salvo, Lionhearts, Senikau;
Red Pool D: Raiwasa Taveuni, Mount Crusaders, Roots Exil, Nawaka Black; Blue Pool E: Police Blue, Navy, Devo Babaas, St Peter's Namosi;
White Pool F: Army Green, Lami Cavaliers, New Born Waibasaga, Nahehevia; White Pool G: Blue Diamond, Bua, Service Labasa, Eteni Rukunirara:
Blue Pool H: Ratu Filise, Navutulevu, Moala Vonokula, Veiyasan Provider;
Red Pool I: Fire, Dominion Brothers, Nasonini Babaas, Nacula YB;
Red Pool J: Wardens, Wainisuka, Sting Ray, Gaunavou Nadroga;
Blue Pool K: Fiji Barbarians, Army Red, Daveta, Caginivaturu;
White Pool L: Uluinakau, Caucau, Nailaga, Saunaka.
Marist Sevens  Women's Pools
Pool A: Police, Savusavu, Wardens, Eteni Rukunirara;
Pool B: Seahawks, St Theresa, Waitui Waidroka, Marist 2;
Pool C: Army, Marist, Valkyries, Fire.
U18-U21 Pools
Pool A: Vuda Kings, Ravuka Sharks, Western Marine, Cautata Eagles
Pool B: Dominion Brothers, Namuaniwaqa, Service- Labasa, Cloud Break Bros
Pool C: Navakawau, Belovula, Navatuvula, Seekadah Babaas
Pool D: Saunivalu, Cuvu Blues, Ba River, Waqadra Brothers.
Note : the 2023 Fiji Bitter Marist 7s will be held from the 24th to the 26th of March next year at the ANZ Stadium.
Day 3 Marist 7s 2022 Schedule Men's
| | | | | |
| --- | --- | --- | --- | --- |
| Mens | 8:58AM | Nasonini Babas | – | Nacula Young Boys |
| Mens | 9:18AM | Uluinakau | – | Caucau Rugby |
| Mens | 9:18AM | Sydney Nailaga | – | Saunaka Rugby |
| Mens | 9:35AM | Tabadamu | – | Maravu Taveuni |
| Mens | 9:35AM | Qauia | – | Natewa Bay |
| Mens | 9:52AM | Fiji Barbarians | – | Army Red |
| Mens | 9:52AM | Daveta | – | Caginivaturu Explore Inn |
| Mens | 10:12AM | NZ All Blalcks | – | Marist |
| Mens | 10:12AM | Police White | – | Malake |
| Mens | 10:29AM | Wardens | – | Wainisuka |
| Mens | 10:29AM | Sting Ray | – | Gaunavou |
| Mens | 10:46AM | Fiji Warriors | – | Wadigi Salvo |
| Mens | 10:46AM | Lionhearts | – | Senikau |
| Mens | 11:00AM | Army Green | – | New Born waiBasaga |
| Mens | 11:23AM | Blue Diamond | – | Fiji Bitter Service Labasa |
| Mens | 11:40AM | Police Blue | – | Devo Babas |
| Mens | 12:00PM | Ratu Felise | – | Veiyasana Providers |