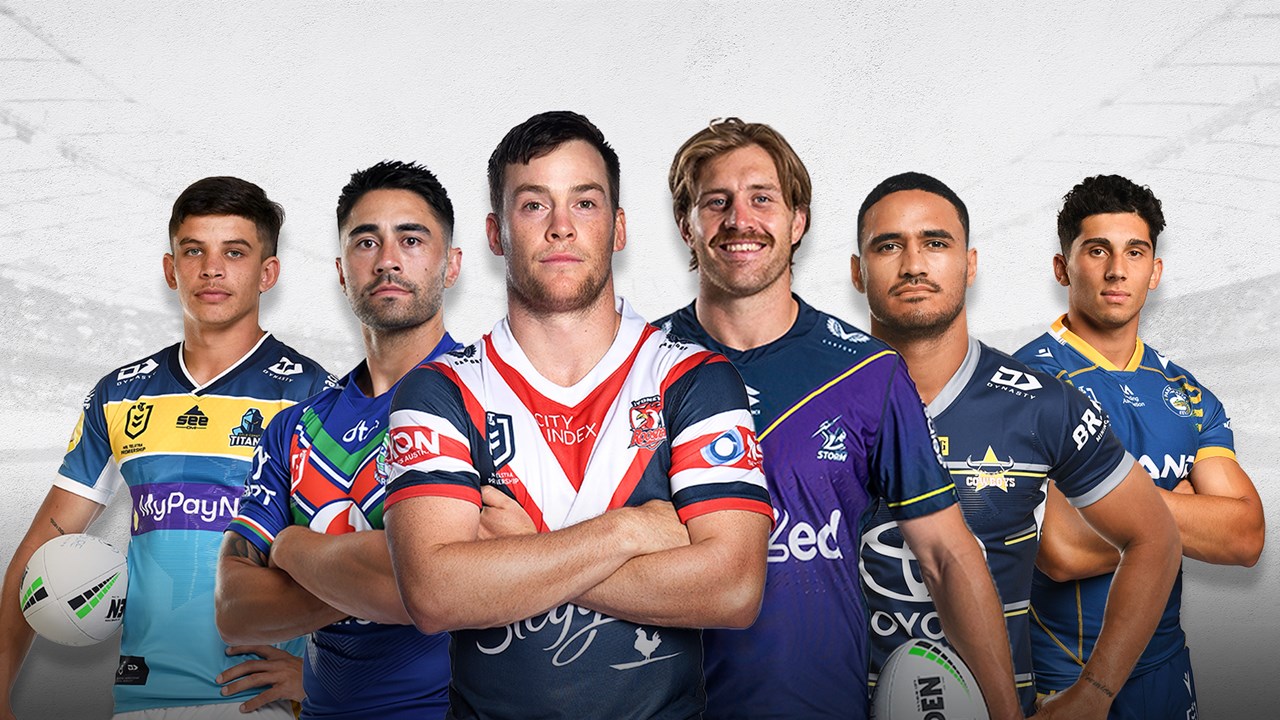 The 2022 NRL season will be the 115th season of professional rugby league in Australia and the 25th season run by the National Rugby League.  The 2022 NRL season is about to get underway with the first round of trial matches, giving fans an early glimpse into how their side will fare in the premiership race.
This year marks the first time that every NRL game will be available to watch live. It was no more than 5 years ago there were zero options to watch trial games outside of the annual Charity Shield fixture. Then in the years since then, some preseason matches have ended up being shown for free on NRL.com and Facebook, albeit on poor streams that often dropped out.
2022 National Rugby League
Duration
March 10 – October 2, 2022
Teams
16
How to live stream and watch NRL – Television, Radio and Online
If you want to watch or live stream the 2022 NRL season online, on television or radio you are in luck.
This page is the ultimate guide on how to catch every match of the home-and-away season, and the finals.
With each state having different coverage of the competition, it can get quite confusing at times to keep an eye on your favourite team.
Here is where The Roar comes in. This is our definitive guide as to where you catch the NRL on television, radio, and live streaming online.
R1 Rewind – David Fifita CHARGES through! 💥 pic.twitter.com/V6GIHZb7hj

— NRL (@NRL) March 7, 2022
NRL Schedule 2022
Here you can find the 2022 National Rugby League Draw! Every NRL game in 2022 will be listed here for you!
Bookmark this page to see where your team plays and against who in 2022!
ROUND 1
Thursday, March 10
Panthers vs Sea Eagles, 8.05pm at BlueBet Stadium
Friday, March 11
Raiders vs Sharks, 6pm at GIO Stadium
Broncos vs Rabbitohs, 8.05pm at Suncorp Stadium
Saturday, March 12
Roosters vs Knights, 3pm at Sydney Cricket Ground
Warriors vs Dragons, 5.30pm at Sunshine Coast Stadium
Wests Tigers vs Storm, 7.35pm at CommBank Stadium
Sunday, March 13
Eels vs Titans, 4.05pm at CommBank Stadium
Cowboys vs Bulldogs, 6.15pm at Queensland Country Bank Stadium
ROUND 2
Thursday, March 17
Storm vs Rabbitohs, 8.05pm at AAMI Park
Friday, March 18
Dragons vs Panthers, 6pm at Netstrata Jubilee Stadium
Roosters vs Sea Eagles, 8.05pm at Central Coast Stadium
Saturday, March 19
Titans vs Warriors, 3pm at Cbus Super Stadium
Sharks vs Eels Points, 5.30pm at PointsBet Stadium
Cowboys vs Raiders, 7.35pm at Qld Country Bank Stadium
Sunday, March 20
Knights vs Wests Tigers, 4.05pm at McDonald Jones Stadium
Bulldogs vs Broncos, 6.15pm at Stadium Australia
ROUND 3
Thursday, March 24
Dragons vs Sharks, 8.05pm at WIN Stadium
Friday, March 25
Wests Tigers vs Warriors, 6pm at Campbelltown Stadium
Rabbitohs vs Roosters, 8.05pm at Stadium Australia
Saturday, March 26
Panthers vs Knights, 3pm at Carrington Park
Storm vs Eels, 5.30pm at AAMI Park
Raiders vs Titans, 7.35pm at GIO Stadium
Sunday, March 27
Broncos vs Cowboys, 4.05pm at Suncorp Stadium
Sea Eagles vs Bulldogs, 6.15pm at 4 Pines Park
ROUND 4
Thursday, March 31
Titans vs Wests Tigers, 8.05pm at Cbus Super Stadium
Friday, April 1
Sharks vs Knights, 6pm at PointsBet Stadium
Panthers vs Rabbitohs, 8.05pm at BlueBet Stadium
Saturday, April 2
Warriors vs Broncos, 3pm at Moreton Daily Stadium, Redcliffe
Sea Eagles vs Raiders, 5.30pm at Glen Willow Stadium, Mudgee
Cowboys vs Roosters, 7.35pm at Qld Country Bank Stadium
Sunday, April 3
Storm vs Bulldogs, 4.05pm at AAMI Park
Eels vs Dragons, 6.15pm at CommBank Stadium
ROUND 5
Thursday, April 7
Knights vs Sea Eagles, 7.50pm at McDonald Jones Stadium
Friday, April 8
Warriors vs Cowboys, 6pm at Moreton Daily Stadium
Broncos vs Roosters, 7.55pm at Suncorp Stadium
Saturday, April 9
Raiders vs Storm, 3pm at McDonalds Park, Wagga Wagga
Rabbitohs vs Dragons, 5.30pm at Stadium Australia
Titans vs Eels, 7.35pm at Cbus Super Stadium
Sunday, April 10
Sharks vs Wests Tigers, 4.05pm at PointsBet Stadium
Bulldogs vs Panthers, 6.15pm at CommBank Stadium
ROUND 6
Thursday, April 14
Raiders vs Cowboys, 7.50pm at GIO Stadium
Friday, April 15
Rabbitohs vs Bulldogs, 4pm at Stadium
Panthers vs Broncos, 7.55pm at BlueBet Stadium
Saturday, April 16
Sea Eagles vs Titans, 5.30pm at 4 Pines Park
Storm vs Sharks, 7.35pm at AAMI Park
Sunday, April 17
Roosters vs Warriors, 2pm at Sydney Cricket Ground
Dragons vs Knights, 4.05pm at WIN Stadium
Monday, April 18
Eels vs Wests Tigers, 4pm at CommBank Stadium
ROUND 7
Thursday, April 21
Sharks vs Sea Eagles, 7.50pm at PointsBet Stadium
Friday, April 22
Broncos vs Bulldogs, 7.55pm at Suncorp Stadium
Saturday, April 23
Cowboys vs Titans, 5.30pm at Qld Country Bank Stadium
Wests Tigers vs Rabbitohs, 7.35pm at CommBank Stadium
Sunday, April 24
Knights vs Eels, 2pm at McDonald Jones Stadium
Panthers vs Raiders, 4.05pm at BlueBet Stadium
Monday, April 25
Dragons vs Roosters, 4pm at Sydney Cricket Ground
Storm vs Warriors, 7pm at AAMI Park
ROUND 8
Thursday, April 28
Broncos vs Sharks, 7.50pm at Suncorp Stadium
Friday, April 29
Titans vs Panthers, 6pm at Cbus Super Stadium
Rabbitohs vs Sea Eagles, 7.55pm at Central Coast Stadium
Saturday, April 30
Warriors vs Raiders, 3pm at Moreton Daily Stadium
Bulldogs vs Roosters, 5.30pm at Stadium Australia
Eels vs Cowboys, 7.35pm at TIO Stadium, Darwin
Sunday, May 1
Knights vs Storm, 2pm at McDonald Jones Stadium
Dragons vs Wests Tigers, 4.05pm at WIN Stadium
ROUND 9
Thursday, May 5
Rabbitohs vs Broncos, 7.50pma at Stadium Australia
Friday, May 6
Raiders vs Bulldogs, 6pm at GIO Stadium
Panthers vs Eels, 7.55pm at BlueBet Stadium
Saturday, May 7
Sea Eagles vs Wests Tigers, 3pm at 4 Pines Park
Roosters vs Titans, 5.30pm at BB Print Stadium, Mackay
Cowboys vs Knights, 7.35pm at Qld Country Bank Stadium
Sunday, May 8
Storm vs Dragons, 2pm at AAMI Park
Sharks vs Warriors, 4.05pm at PointsBet Stadium
ROUND 10 – MAGIC ROUND
Friday, May 13
Bulldogs vs Knights, 6pm at Suncorp Stadium
Sea Eagles vs Broncos, 8.05pm at Suncorp Stadium
Saturday, May 14
Warriors vs Rabbitohs, 3pm at Suncorp Stadium
Titans vs Dragons, 5.30pm at Suncorp Stadium
Storm vs Panthers, 7.45pm at Suncorp Stadium
Sunday, May 15
Sharks vs Raiders, 1.50pm at Suncorp Stadium
Roosters vs Eels, 4.05pm at Suncorp Stadium
Wests Tigers vs Cowboys, 6.25pm at Suncorp Stadium
ROUND 11
Thursday, May 19
Knights vs Broncos, 7.50pm at McDonald Jones Stadium
Friday, May 20
Wests Tigers vs Bulldogs, 6pm at Leichhardt Oval
Eels vs Sea Eagles, 7.55pm at CommBank Stadium
Saturday, May 21
Dragons vs Warriors, 3pm at Netstrata Jubilee Stadium
Cowboys vs Storm, 5.30pm at Qld Country Bank Stadium
Roosters vs Panthers, 7.35pm at Sydney Cricket Ground
Sunday, May 22
Rabbitohs vs Raiders, 2pm at Apex Oval, Dubbo
Titans vs Sharks, 4.05pm at Cbus Super Stadium
ROUND 12
Thursday, May 26
Storm vs Sea Eagles, 7.50pm at AAMI Park
Friday, May 27
Panthers vs Cowboys, 6pm at BlueBet Stadium
Broncos vs Titans, 7.55pm at Suncorp Stadium
Saturday, May 28
Warriors vs Knights, 3pm at Moreton Daily Stadium
Rabbitohs vs Wests Tigers, 5.30pm at Stadium Australia
Sharks vs Roosters, 7.35pm at PointsBet Stadium
Sunday, May 29
Bulldogs vs Dragons, 2pm at Belmore Sports Ground
Raiders vs Eels, 4.05pm at GIO Stadium
ROUND 13
Thursday, June 2
Titans vs Cowboys, 7.50pm at Cbus Super Stadium
Friday, June 3
Panthers vs Bulldogs, 7.55pm at BlueBet Stadium
Saturday, June 4
Sea Eagles vs Warriors, 7.35pm at 4 Pines Park
Sunday, June 5
Raiders vs Roosters, 4.05pm at GIO Stadium
Byes: Broncos, Dragons, Eels, Knights, Rabbitohs, Sharks, Storm, Wests Tigers
ROUND 14
Friday, June 10
Cowboys vs Dragons, 7.55pm at Qld Country Bank Stadium
Saturday, June 11
Titans vs Rabbitohs, 3pm at Cbus Super Stadium
Roosters vs Storm, 5.30pm at Sydney Cricket Ground*
Broncos vs Raiders, 7.35pm at Suncorp Stadium
Sunday, June 12
Wests Tigers vs Sea Eagles, 2pm at Campbelltown Stadium
Knights vs Panthers, 4.05pm at McDonald Jones Stadium
Warriors vs Sharks, 6.15pm at Moreton Daily Stadium
Monday, June 13
Bulldogs vs Eels,4pm at Stadium Australia
ROUND 15
Thursday, June 16
Dragons vs Rabbitohs, 7.50pm at WIN Stadium
Friday, June 17
Sea Eagles vs Cowboys, 6pm at 4 Pines Park
Storm vs Broncos, 7.55pm at AAMI Park
Saturday, June 18
Sharks vs Titans, 3pm at C.ex Coffs International Stadium
Warriors vs Panthers, 5.30pm at Mt Smart Stadium**
Eels vs Roosters, 7.35pm at CommBank Stadium
Sunday, June 19
Raiders vs Knights, 2pm at GIO Stadium
Bulldogs vs Wests Tigers, 4.05pm at CommBank Stadium
ROUND 16
Thursday, June 30
Sea Eagles vs Storm, 7.50pm at 4 Pines Park
Friday, July 1
Knights vs Titans, 6pm at McDonald Jones Stadium
Panthers vs Roosters, 7.55pm at BlueBet Stadium
Saturday, July 2
Bulldogs vs Sharks, 3pm at CommBank Stadium
Cowboys vs Broncos, 5.30pm at Qld Country Bank Stadium
Rabbitohs vs Eels, 7.35pm at Stadium Australia
Sunday, July 3
Warriors vs Wests Tigers, 2pm at Mt Smart Stadium**
Dragons vs Raiders, 4.05pm at WIN Stadium
ROUND 17
Thursday, July 7
Sharks vs Storm, 7.50pm at PointsBet Stadium
Friday, July 8
Knights vs Rabbitohs, 7.55pm at McDonald Jones Stadium
Saturday, July 9
Wests Tigers vs Eels, 7.35pm at Leichhardt Oval
Sunday, July 10
Broncos vs Dragons, 4.05pm at Suncorp Stadium
Byes: Bulldogs, Cowboys, Panthers, Raiders, Roosters, Sea Eagles, Titans, Warriors
ROUND 18
Friday, Jul 15
Cowboys vs. Sharks Qld Country Bank Stadium (Fox) 6:00pm
Eels vs. Warriors CommBank Stadium (Nine / Fox) 7:55pm
Saturday, Jul 16
Roosters vs. Dragons Sydney Cricket Ground* (Fox) 3:00pm
Sea Eagles vs. Knights 4 Pines Park (Fox) 5:30pm
Titans vs. Broncos Cbus Super Stadium (Fox) 7:35pm
Sunday, Jul 17
Wests Tigers vs. Panthers CommBank Stadium (Fox) 2:00pm
Storm vs. Raiders AAMI Park (Nine / Fox) 4:05pm
Bulldogs vs. Rabbitohs Stadium Australia (Fox) 6:15pm
ROUND 19
Thursday, Jul 21
Eels vs. Broncos CommBank Stadium (Nine / Fox) 7:50pm
Friday, Jul 22
Dragons vs. Sea Eagles Netstrata Jubilee Stadium (Fox) 6:00pm
Knights vs. Roosters McDonald Jones Stadium (Nine / Fox) 7:55pm
Saturday, Jul 23
Raiders vs. Warriors GIO Stadium (Fox) 3:00pm
Panthers vs. Sharks BlueBet Stadium (Fox) 5:30pm
Rabbitohs vs. Storm Stadium Australia (Fox) 7:35pm
Sunday, Jul 24
Bulldogs vs. Titans CommBank Stadium (Fox) 2:00pm
Cowboys vs. Wests Tigers Qld Country Bank Stadium (Nine / Fox) 4:05pm
ROUND 20
Thursday, Jul 28
Sea Eagles vs. Roosters 4 Pines Park (Nine / Fox) 7:50pm
Friday, Jul 29
Warriors vs. Storm Mt Smart Stadium** (Fox) 6:00pm
Eels vs. Panthers CommBank Stadium (Nine / Fox) 7:55pm
Saturday, Jul 30
Titans vs. Raiders Cbus Super Stadium (Fox) 3:00pm
Sharks vs. Rabbitohs PointsBet Stadium (Fox) 5:30pm
Broncos vs. Wests Tigers Suncorp Stadium (Fox) 7:35pm
Sunday, Jul 31
Knights vs. Bulldogs McDonald Jones Stadium (Fox) 2:00pm
Dragons vs. Cowboys Netstrata Jubilee Stadium (Nine / Fox) 4:05pm
ROUND 21
Thursday, Aug 4
Roosters vs. Broncos Sydney Cricket Ground* (Nine / Fox) 7:50pm
Friday, Aug 5
Storm vs. Titans AAMI Park (Fox) 6:00pm
Sea Eagles vs. Eels 4 Pines Park (Nine / Fox) 7:55pm
Saturday, Aug 6
Rabbitohs vs. Warriors Sunshine Coast Stadium (Fox) 3:00pm
Raiders vs. Panthers GIO Stadium (Fox) 5:30pm
Sharks vs. Dragons PointsBet Stadium (Fox / Nine) 7:35pm
Sunday, Aug 7
Bulldogs vs. Cowboys Salter Oval, Bundaberg (Fox) 2:00pm
Wests Tigers vs. Knights Campbelltown Stadium (Nine / Fox) 4:05pm
ROUND 22
Thursday, Aug 11
Panthers vs. Storm BlueBet Stadium (Nine / Fox) 7:50pm
Friday, Aug 12
Warriors vs. Bulldogs Mt Smart Stadium** (Fox) 6:00pm
Eels vs. Rabbitohs CommBank Stadium (Nine / Fox) 7:55pm
Saturday, Aug 13
Roosters vs. Cowboys Sydney Cricket Ground* (Fox) 3:00pm
Wests Tigers vs. Sharks Scully Park, Tamworth (Fox) 5:30pm
Broncos vs. Knights Suncorp Stadium (Fox / Nine) 7:35pm
Sunday, Aug 14
Raiders vs. Dragons GIO Stadium (Fox) 2:00pm
Titans vs. Sea Eagles Cbus Super Stadium (Nine / Fox) 4:05pm
ROUND 23
Thursday, Aug 18
Rabbitohs vs. Panthers Stadium Australia (Nine / Fox) 7:50pm
Friday, Aug 19
Cowboys vs. Warriors Qld Country Bank Stadium (Fox) 6:00pm
Broncos vs. Storm Suncorp Stadium (Nine / Fox) 7:55pm
Saturday, Aug 20
Eels vs. Bulldogs CommBank Stadium (Fox) 3:00pm
Sea Eagles vs. Sharks 4 Pines Park (Fox) 5:30pm
Roosters vs. Wests Tigers Sydney Cricket Ground* (Fox / Nine) 7:35pm
Sunday, Aug 21
Dragons vs. Titans WIN Stadium (Fox) 2:00pm
Knights vs. Raiders McDonald Jones Stadium (Nine / Fox) 4:05pm
ROUND 24
Thursday, Aug 25
Broncos vs. Eels Suncorp Stadium (Nine / Fox) 7:50pm
Friday, Aug 26
Panthers vs. Warriors BlueBet Stadium (Fox) 6:00pm
Storm vs. Roosters AAMI Park (Nine / Fox) 7:55pm
Saturday, Aug 27
Raiders vs. Sea Eagles GIO Stadium (Fox) 3:00pm
Sharks vs. Bulldogs PointsBet Stadium (Fox) 5:30pm
Rabbitohs vs. Cowboys Stadium Australia (Fox / Nine) 7:35pm
Sunday, Aug 28
Wests Tigers vs. Dragons CommBank Stadium (Fox) 2:00pm
Titans vs. Knights Cbus Super Stadium (Nine / Fox) 4:05pm
ROUND 25
Thursday, Sep 1
Eels vs. Storm CommBank Stadium (Nine / Fox) 7:50pm
Friday, Sep 2
Bulldogs vs. Sea Eagles Stadium Australia (Fox) 6:00pm
Roosters vs. Rabbitohs TBC (Nine / Fox) 7:55pm
Saturday, Sep 3
Warriors vs. Titans Mt Smart Stadium** (Fox) 3:00pm
Dragons vs. Broncos Netstrata Jubilee Stadium (Fox) 5:30pm
Cowboys vs. Panthers Qld Country Bank Stadium (Fox / Nine) 7:35pm
Sunday, Sep 4
Knights vs. Sharks McDonald Jones Stadium (Fox) 2:00pm
Wests Tigers vs. Raiders Leichhardt Oval (Nine / Fox) 4:05pm
State Of Origin Game One – June 8th in Sydney
State Of Origin Game Two – June 26th in Perth
State Of Origin Game Three – July 13th in Brisbane