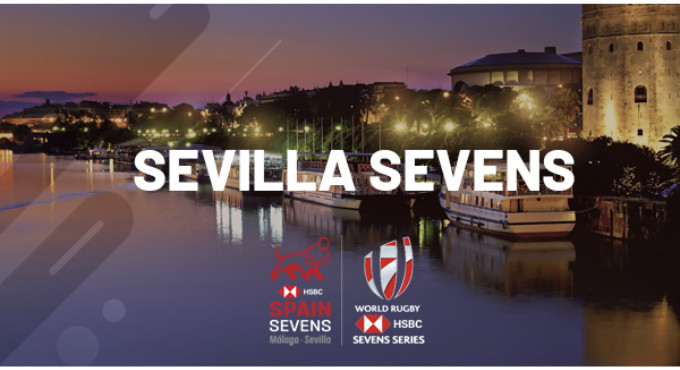 World Rugby Seville Sevens second tournament is being held at Estadio La Cartuja in Seville on 28–30 January 2022. All times in Central European Time (GMT+01:00). The pools were scheduled as follows. With Malaga Sevens capping off the tournament with two outstanding finals match, fans and teams now prepare for Seville.
📍 Next stop: Seville #Spain7s | #HSBC7s pic.twitter.com/G9Z9ayccy9

— World Rugby Sevens (@WorldRugby7s) January 26, 2022
The HSBC World Rugby Sevens Series took place in Malaga for the inaugural Spanish leg. We saw the USA women take home the hardware after beating Russia in the finals. While the Blitzboks 7s took home their third championship trophy winning all three Sevens Series events, so far.
Spain Seville Sevens Schedule 2022
Friday 28 January
Canada 7s vs Scotland 7s
Australia 7s vs Kenya 7s
France 7s vs Wales 7s
England 7s vs Japan 7s
Ireland 7s vs Germany 7s
Argentina 7s vs Jamaica 7s
USA 7s vs Spain 7s
South Africa 7s vs Samoa 7s
Saturday 29 January
Canada 7s vs Kenya 7s
Australia 7s vs Scotland 7s
France 7s vs Japan 7s
England 7s vs Wales 7s
Ireland 7s vs Jamaica 7s
Argentina 7s vs Germany 7s
South Africa 7s vs Spain 7s
USA 7s vs Samoa 7s
Scotland 7s vs Kenya 7s
Australia 7s vs Canada 7s
Wales 7s vs Japan 7s
England 7s vs France 7s
Germany 7s vs Jamaica 7s
Argentina 7s vs Ireland 7s
South Africa 7s vs USA 7s
Spain 7s vs Samoa 7s
The teams are set to move to Seville for the fourth and final round of the Spanish leg next weekend.
A new addition to the line up has been announced, as Poland will be replacing Fiji in the women's event.
The pools have been set based on the results of the Malaga leg which sees Pool A with USA, Canada, England and Portugal for the womens.
Pool B will be Russia, Ireland Poland, and Brazil.
Pool C will have the series leader Australia, along with Olympic silver medalists France, Spain and Belgium.
For the men's tournament, Fiji has confirmed that they will not be able to participate in the later leg of the series.
The unbeatable South Africans will be in Pool A with USA, and hosts Spain in a three team pool.
Pool B will have their challenger, Argentina who are with Ireland, Germany and Jamaica.
While Pool C will see the English squad go up against, France, Wales and Japan.
Pool D will have Australia, Canada, Scotland and Kenya to finish the list.
We can't wait for another exciting weekend of rugby sevens. Stay tuned for more updates.