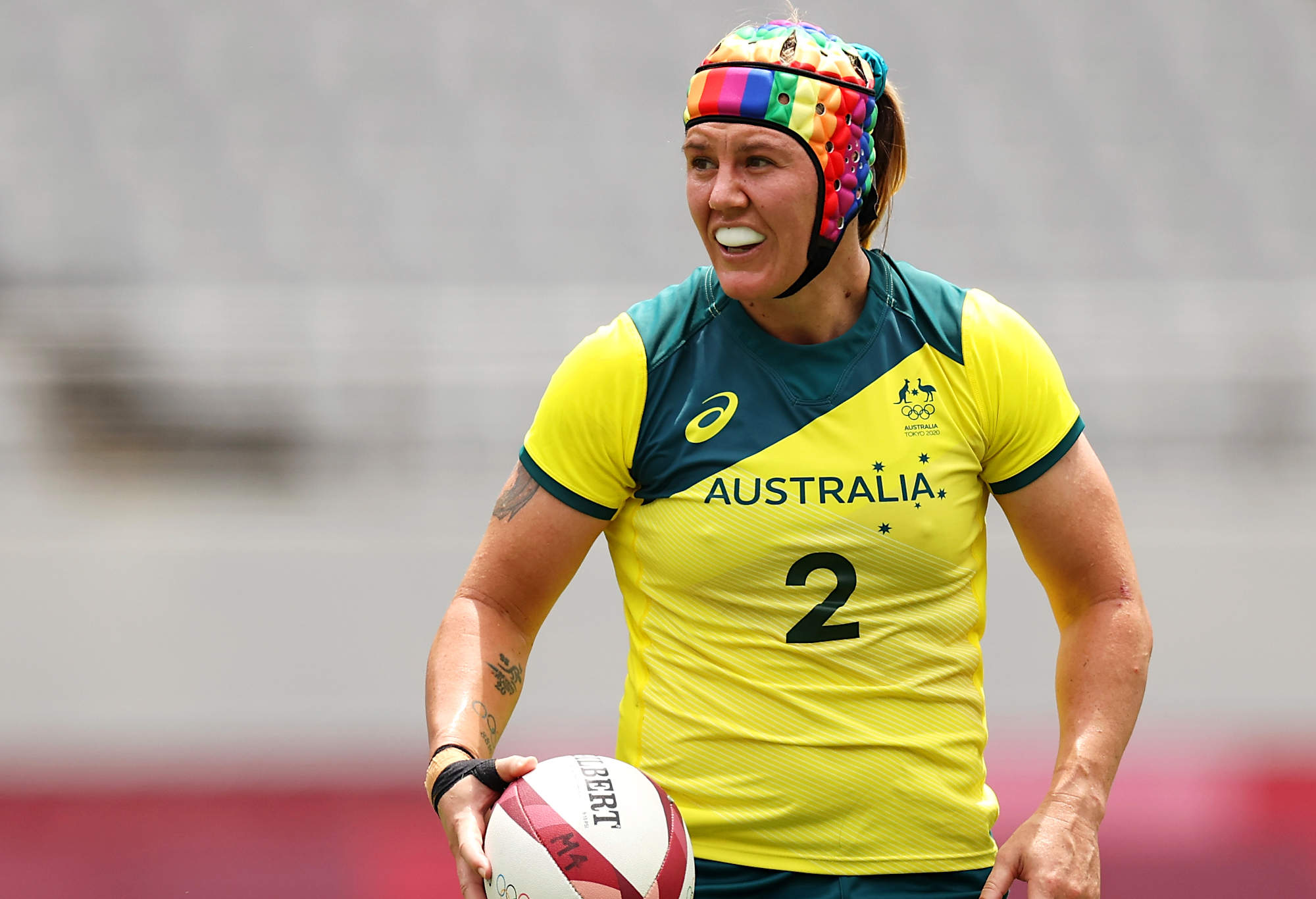 Sharni Williams has been called in for her fourth World Cup after the Wallaroos have announced a 32-player squad for next month's tournament. 
Shannon Parry, who will also play in her fourth World Cup, will captain a squad for the event in New Zealand on October 8 which is largely unchanged from the one which played the Kiwis in the O'Reilly Cup in August.
Williams, an Olympic and Commonwealth Games gold medallist, will play in the Sevens World Cup in Cape Town this month.
Bienne Terita will also join the Wallaroos after competing in South Africa – the 19-year-old rising star scored two tries in her Wallaroos debut against the Black Ferns in Adelaide last month.
Wallaroos coach Jay Tregonning believes the squad has experience and depth and they can show their "continued improvement" at the World Cup.
"It is important to acknowledge the whole squad, including those that have missed out on selection," he said.
"Although disappointed, the players that have missed out have continued to train hard in their state-based training sessions and are committed to helping make their teammates stronger."
Terita will be in contention for a spot on the wings with Ivania Wong, Mahalia Murphy and Maya Stewart, while Pauline Piliae-Rasabale and Lori Cramer will share fullback duties.
Williams is vying with Georgina Friedrichs, Cecilia Smith and Siokapesi Palu for the two centre berths while Arabella McKenzie and Trilleen Pomare are Tregonning's options at fly-half.
Veteran halfback Iliseva Batibasaga played in her first Rugby World Cup in 2006 and joins Layne Morgan in contention for the No.9 jersey this time around.
In the forwards, Parry will start in the back row alongside Emily Chancellor, Grace Hamilton, Grace Kemp or Piper Duck.
Front-row stocks are well served by props Liz Patu, Emily Robinson, Bree-Anna Cheatham, Madison Schuck, Bridie O'Gorman and Eva Karpani alongside Ashley Marsters, Adiana Talaki, and Tania Naden at hooker.
With Michaela Leonard, Atasi Lafai, Sera Naiqama, and Kaitlan Leaney the options at lock, Tregonning has plenty of experience to call upon.
The Wallaroos have been drawn in Pool A up against New Zealand, Scotland, and Wales. They kick off their campaign against the hosts to open the tournament on October 8 at Auckland's Eden Park.
Wallaroos World Cup squad
Props
Liz Patu – Queensland Reds
Emily Robinson – NSW Waratahs
Bree-Anna Cheatham – Queensland Reds
Madison Schuck – Queensland Reds
Bridie O'Gorman – NSW Waratahs
Eva Karpani – NSW Waratahs
Hookers
Ashley Marsters – Melbourne Rebels
Adiana Talakai – NSW Waratahs
Tania Naden – ACT Brumbies
Locks
Michaela Leonard – ACT Brumbies
Sera Naiqama – NSW Waratahs
Atasi Lafai – NSW Waratahs
Kaitlan Leaney – NSW Waratahs
Back Row
Shannon Parry (Captain) – Queensland Reds
Emily Chancellor – NSW Waratahs
Grace Hamilton – NSW Waratahs
Grace Kemp – ACT Brumbies
Piper Duck – NSW Waratahs
Halfback
Iliseva Batibasaga – NSW Waratahs
Layne Morgan – NSW Waratahs
Fly-Half
Arabella McKenzie – NSW Waratahs
Trilleen Pomare – Western Force
Centres
Siokapesi Palu – ACT Brumbies
Cecilia Smith – Queensland Reds
Georgina Friedrichs – NSW Waratahs
Sharni Williams – Aussie 7s
Wings
Mahalia Murphy – NSW Waratahs
Ivania Wong – Queensland Reds
Bienne Terita – Aussie 7s
Maya Stewart – NSW Waratahs
Fullbacks
Pauline Piliae-Rasabale – NSW Waratahs
Lori Cramer – NSW Waratahs
Rugby – The Roar