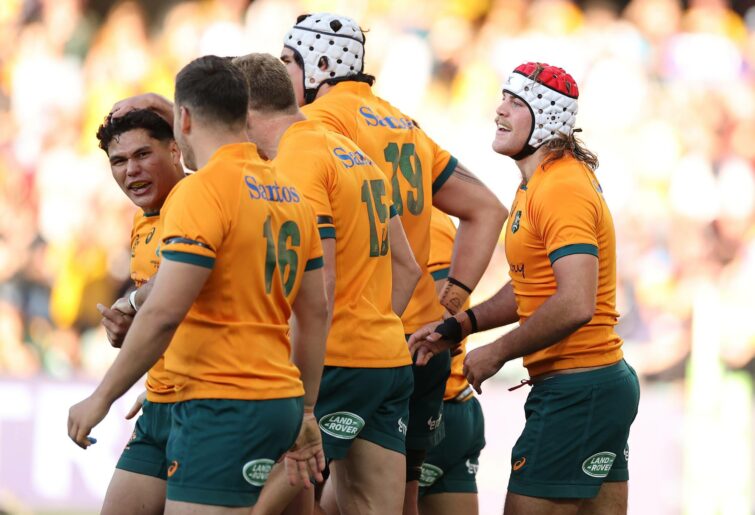 The Wallabies have bounced back from a bad loss in Argentina to achieve an excellent win against the world champion Springboks in Adelaide, emphatically demonstrating what a formidable, exciting team that they are when Dave Rennie's vision comes together.
That they won without star playmaker Quade Cooper and blockbusting centre Samu Kerevi, the duo that many attributed their two wins against the South Africans in 2021 to, as well as stalwart captain Michael Hooper amongst others makes it clear that Rennie, his coaching staff and the Super Rugby franchises are successfully building the depth to be taken seriously at the 2023 World Cup in France.
In the dozen or so Test matches between now and when the Wallabies kick off their World Cup campaign, Wallabies supporters should expect this side to have their share of ups and downs. These games are called Tests for a reason: they are the pinnacle of rugby union where national teams compete to test themselves and their tactics against one another, which is why international rugby is such an engaging game.
These tier-one teams the Wallabies are facing are all really, really good and the Wallabies have been given a few lessons through losses this year. First Eddie Jones's England found their measure, using staunch and clever defence to nudge past the Wallabies and win the mid-year series in Australia.
Then, after the Wallabies carved them up the week before, Michael Cheika's Pumas responded with a high kicking game that taught the Wallabies another harsh lesson that they have immediately responded to with better work under the high ball against the Springboks.
This week it was South Africa's turn to learn the lesson, perhaps being that when they face a team that practices attacking rugby, that they find it hard to keep up with their traditional forward-dominated game.
In particular the Boks didn't seem to have an answer to fast flanker Fraser McReight. It begs the question whether their own player of that type, Quagga Smith, should be sitting on the bench while McReight is running rampant between breakdowns and in support of attacking backs.
Will the Wallabies keep their noses ahead of the Springboks next week, or will the world champs adapt and dish out a lesson or two of their own? Who knows, it could go either way, but what Australian supporters can be confident in is that we have a team that have the attitude, ability and the coaching smarts to give them a great chance of making it 2-0 against the Boks in 2022.
It is also clear that while there will undoubtedly be ups and downs over the next year, that the Wallabies are headed in the right direction, with supporters and the press being able to afford to enjoy the ride.
Australians typically have a lot to say about what their sporting representatives should or shouldn't be doing, rugby supporters probably more so than most, which is a great part of the fun. However, we can tend to get a bit histrionic over a loss, especially if it is a bad one like against the Pumas, a collective character trait that we can perhaps afford to moderate over the next year and a bit.
Pointed questions are justified when a coach is failing week-in, week-out to learn lessons, failing to maintain standards and adapt methods that aren't working, but rather making excuses for failure.
However, what we have seen from Dave Rennie this year is that he is not that coach. Rennie is completely professional in taking responsibility for analysing and correcting problems and is prepared to make the tough decisions about inclusions and exclusions in the squad.
Furthermore, his players and coaches by and large seem equally committed.
So, perhaps those of us who like throw in our two bobs worth should be trying extra hard to maintain a tone that promotes enjoyment and understanding of the game for all, rather than making too much of a fuss if the Wallabies hit a rough patch.
These men wouldn't be elite rugby coaches and players if they didn't want to win even more than we want them to and they have shown that they have the capacity to beat the best and they certainly should not be spending time second guessing what will keep fans happy.
Sports opinion delivered daily 
Rennie and his men have reasonably earned our trust and support while they enjoy their journey towards France 2023, which we will enjoy with them.
Rugby – The Roar