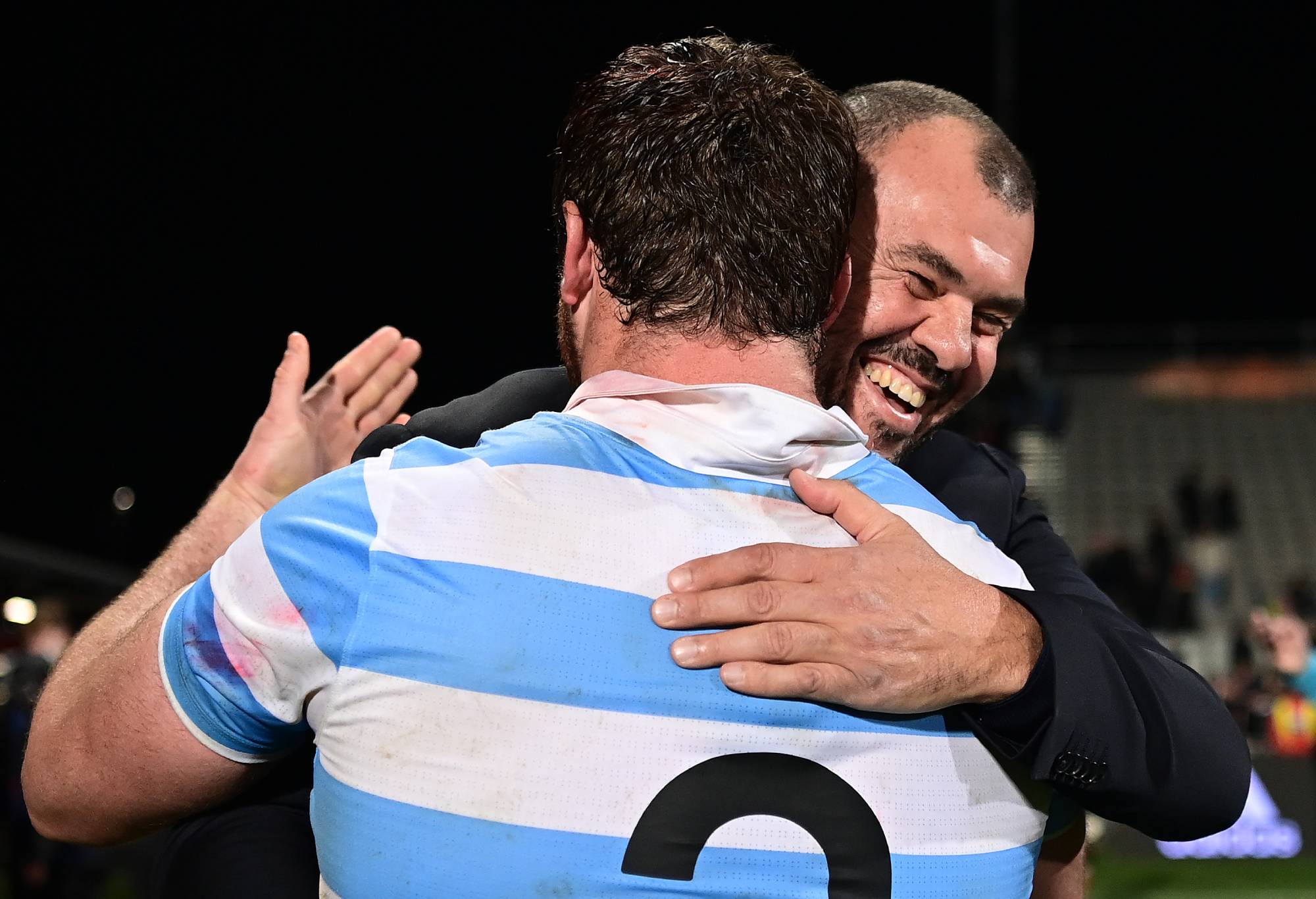 Hamilton and Sydney do not join in many sentences outside rugby. One occupies a stunning harbour and boasts a dozen celebrity chefs in the world's top 50 restaurants; global techniques often start here. Hamilton is more of a well done burger and chips at six place.
But this Saturday, the cowbell village and the harbour city are twin billing as the next chapter in this year's fascinating Rugby Championship.
Having conquered the South Island, Argentina can win three on the trot and a rare double in New Zealand. If that happens, the All Blacks will be staring at the worst Rugby Championship in their storied history.
Or the home team, led by local Chief darlings Sam Cane and Brodie Retallick, could square it up, 2-2, with Michael Cheika's upstarts.
Meanwhile, in the gleaming new Allianz Stadium in Sydney, an unchanged Wallaby side welcomes a new-look 8-change Bok team who will start 24-year old utility back Damian Willemse at flyhalf, and are without a recognised goal kicker or a backup lock on the bench.
If the Boks rise, it will be the first time in nine years on Aussie soil. It could also knot the tournament into a two wins for everyone traffic jam.
But the continuity of the Wallabies should result in a sweep and slight separation between the top two and bottom two teams.
So, who faces the most pressure in this round?
Argentina
All of the light in the rugby world is shining brightly at the moment on Michael Cheika. A seven-try Wallaby-walloping and a gritty victory in the deep heartland of Kiwi rugby; every move he makes seems to be coming off.
A league defence coach in David Kidwell, a young Felipe Contepomi, interchangeable loosies, a wing kicker, a utility back at ten, and a game plan which changes more from game to game than the other three: can it last or will it run into a chastening lesson?
We had Cheika on The Roar Rugby Podcast this week and I found him to be a frank, realistic man who knows where he is strong and where he needs help. But he often protects his teams from the outside pressure by putting it on himself.
Hence, I pick him as the man in the Argentina camp with the most self-imposed stress. Back it up and he will truly be on top of the rugby world. I reckon he wants this one, badly.
Santiago Carreras was not a Test flyhalf until recently which means shortening and punishing his decisions will be a focus of Cane's lads.
Ten is the loneliest number in rugby. If it goes pear-shaped, they'll make a meal of Carreras.
If the Pumas are to go on and whitewash the All Blacks, it will most likely mean Carreras had a good match. Concomitantly, if they go down to a loss. Knowing that equals pressure.
New Zealand
Codie Taylor was the only player to be dropped by under-fire Ian Foster for this weekend. His lineout throwing was horrendous.
So, Dane Coles is under the pump. His throwing has not been grand, either. His general play has not been as fiery or fast as it used to be. If he is to reassert his place in the 23, this is the moment.
But, he's throwing into a Puma pack with five lineout operators on the pitch at all times.
Combine Coles' desperation to regain his spot with the excellence of the Argentine jumpers and you have the perfect ingredients for a pressure pie. The All Blacks are at their best when their lineout is on song. Late game wobbles —rightly or wrongly — will be put on Coles.
Sam Cane is not in the clear, just because he was the winning captain at Ellis Park. There is a sense he lacks All Black captain fire and fervour.
Also, the Pumas loosies are as good as any in the world in 2022. If Cane is outplayed again, the whispers will grow louder: "drop Cane."
At home, he will want to win the shoulder battle on the deck, and show a composed confidence in the collision.
South Africa
Damian Willemse is in the same boat as Carreras: a fine athlete and strong 12-like tackler with good instincts and a big boot (in Willemse's case: both boots). But he is still a utility back leading one of the most watched and strictest judged sides in world rugby.
Nail this, lead an upset in New South Wales in front of a loud and sold out stadium, and Willemse has perhaps become the backup flyhalf for the Springboks (and is already the fullback apparent for the World Cup next year).
Expectations create pressure. Willemse has handled pressure this year: slotting the winner in the URC semi final after the hooter to knock Ulster out, playing injured in the title match, and being part of the saviour contingent in the Wales series. He was also one of the few Boks who emerged from Ellis Park with credit.
But this is next level.
The other Bok with a lot of weight on his back is Thor: Duane Vermeulen. There is a sense he may have lost more than just one step. If so, this would be the place and time to get back in.
The game will likely be tight when he runs on: these two teams have no mastery over each other. If he wants to be part of the French story next year, this would be a fine time to show his unique worth.
Nobody is more respected inside the team and coaching staff, but his two efforts so far have underwhelmed. With Jasper Wiese, Elrigh Louw, Evan Roos and three or four more in Bok contention, No. 8 is a stacked position.
Australia
The other Thor, the Tongan variety, Taniela Tupou, has been poor. His fitness, motivation, and commitment have all come under scrutiny.
He is up against different Bomb Squad this week: Steven Kitshoff starts. So, Tupou should grab his chance or the murmurs will grow.
Finally, Rory Arnold is a Giteau Gotcha pick. But he has not shown much, at all. He is good at maul defence, but his lineout work has been less than stellar.
A Test against Lood de Jager and Eben Etzebeth is not for the faint of heart. Arnold will want to rise.
I will be at this match and look forward to the forward battle.
Who will meet the moment?
Sports opinion delivered daily 
Rugby – The Roar