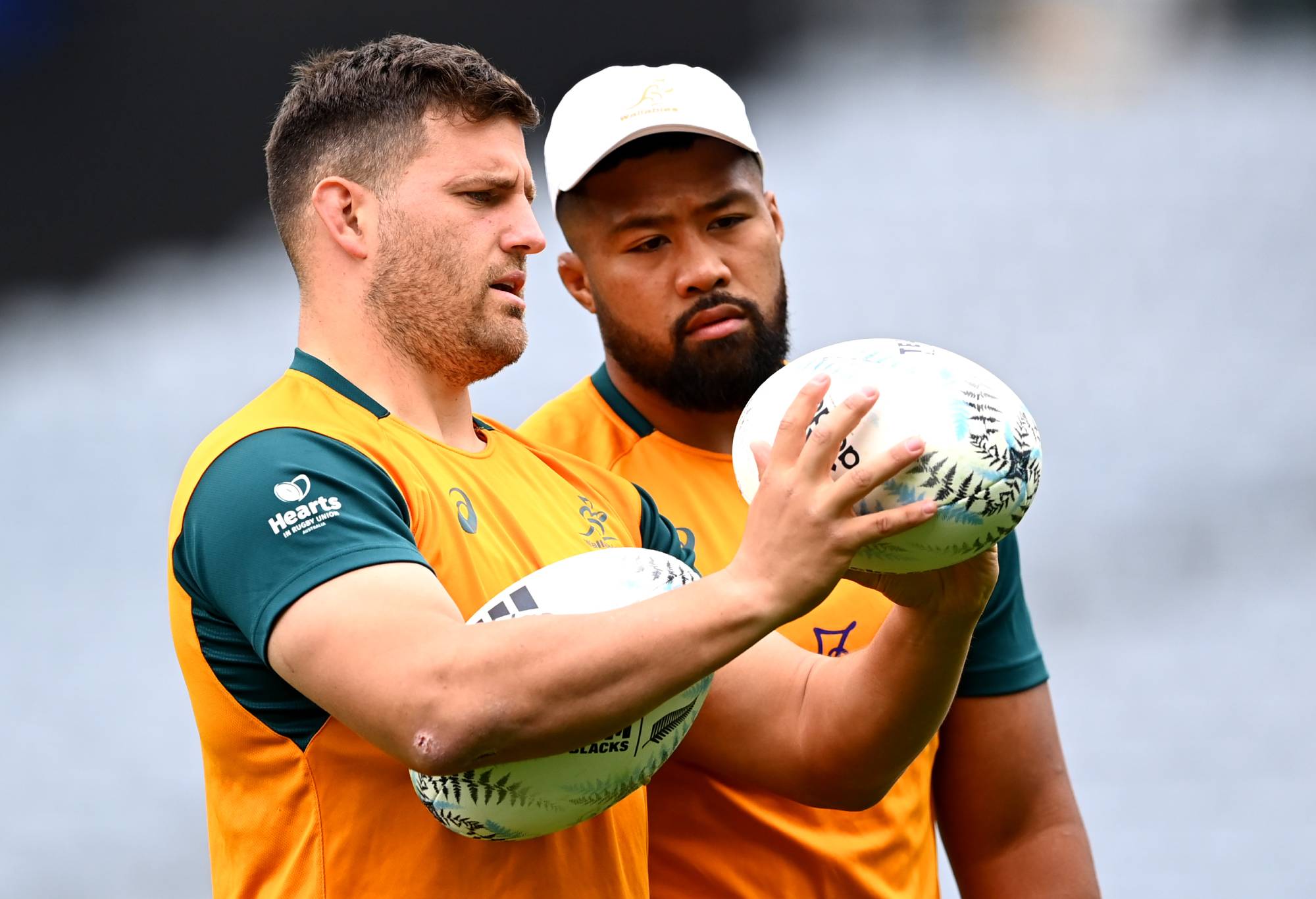 Last week, before Round Five, I named Bernard Foley and Andrew Kellaway as being under pressure, as well as Hoskins Sotutu and Damian Willemse, among others.
Foley rose and then became a frontrunner for trivia question fodder in ten years. Kellaway failed to finish or feed an unmarked teammate, but then finished very well (if forwardly) twice. Sotutu featured, but grubbered away on a overlap break. Willemse was very good till knocked out.
As the past Pumps have shown, being listed here is an opportunity to be Man of the Match, the player of the moment, and lift the entire team. Who feels it this week?
Australia
Doe-eyed Bernard Foley looks like a 1945 RAF pilot scanning the horizon for Luftwaffe targets. His soft eyelashes are boarding school, always on the verge of daydreaming, his kicking action is old school, and his pauses are pregnant.
All eyes will be on him for sarcasm as the very same Marvel Stadium referee – he who shall remain nameless – assists at Eden Park and judges Foley's shortish exits.
It was a marvel of sorts to see Foley grow into Bledisloe I, marshal his forces, rally the force, and pinpoint weaknesses in the All Blacks' defensive cordon.
But can he back it up at the graveyard of Wallabies past and present?
Sometimes when a sportsman tries too hard, it gets too hard. The 'Iceman' has a lot of reputational motivation here, but that can play into New Zealand hands. Will Jordan and Rieko Ioane only need a sniff and they will run intercepts to the house.
The lineout seems to be the coffin of visitors to Eden Park. Dave Porecki has been spot on at set piece. Thus, pressure is on backup Wallaby hooker, Folau Fainga'a.
Fainga'a's aim has not been true. Even his made tosses have been a bit on the wobbly side.
The All Blacks are an underrated talking team. Fainga'a will be targeted with every bit of South Island encouragement as he goes to the sideline to gather his wits.
A Test team can overcome a wobbly scrum or a dodgy ref easier than a dicey lineout. As the preferred launch pad for attack for just about every team, being robbed here is deadly and the All Blacks can lift two defensive towers and have a solo jumper at the back.
Heaping more pressure on Fainga'a: the Wallaby locks are all new. Three second rowers: 11 caps, total. Against the old larcenous firm of Brodie Retallick and Sam Whitelock, who've been interlocked for over seven years. One stands square at lineout and comes forward. The other takes a Victor Matfield sideways stance with plenty of room to dance.
The worst thing on the tee in golf is to have too many swing thoughts. Best for Fainga'a to boil it down to one: hit Jed or Frost at the peak. Repeat.
New Zealand
With the Bledisloe in the bag, the lesser goal of The Rugby Championship (has any competition ever had a more pretentious and unsexy name?) presents. Everything sets up for a coronation.
The All Blacks lose at Eden Park about as often as World Rugby admits one of their refs mucked up a material call.
Retallick & Whitelock versus Frost, Neville & Holloway is like Magic Circle barristers up against Better Call Saul. He can't even find his wig.
One Barrett (Scott) is out but another is back in and Beaudy loves to torment Australia.
But being the favourite imputes stress. Being the All Blacks in 2022 and looking like the All Blacks is not a sure thing. Can they put together a third win in a row?
The home team also has to reckon the Springboks will notch another big win over the Pumas in the Republic. So, there is scoreboard pressure; there is "why aren't we up by more" angst.
I'll nominate the clean-shorn Jordie Barrett at No.12 as the first Kiwi under the pump.
The midfield turnstile keeps turning and go-forward is now entrusted to the best fullback in the tournament so far. (This may allow a Puma or Bok 15 to sneak into the Team of the Tourney next week).
He was a decent midfielder for the Hurricanes this season, but the Wallabies are smash and grab tacklers and Jordie will need to place the pill well or get snaffled or walked over.
He will also get hit harder than he has in a while if the Aussie loosies smell a slow pass and close the gap.
His brother Beauden is the other man under pressure. One of the best players in the world in the last decade, his 2020s have not been roaring. Nobody is quite sure of why a lightning-thinking footballer like him isn't handling rush defences well, but he is not. At fullback, he is freer to create, but if the All Blacks are to score enough tries, he may try to do too much.
Two Barretts in 'new' positions under heat at the spiritual home of New Zealand rugby. They almost always deliver.
South Africa

For the Springboks, flyhalf (or as I like to call him, flank-half) Francois Philippus Lodewyk Steyn will welcome the pressure, as he has his whole long career. He's 35, 6 foot 3, ranges from 115 to 120 kg depending on the continent and was voted "worst teammate to wrestle" by his fellow Boks, who adore him.
Capped at 19 as a wing, Frans has 76 caps now. He has played more at inside centre than flyhalf or fullback (a 7:2:1 ratio), but the remarkable thing about him is his win-loss record at every level being significantly better than his team's overall record, whether in the Currie Cup or Top14 or Super Rugby, but also at Test level.
He may be the most talented Bok in history, actually. His self-belief is legendary.
He is unbeaten by Wales, the side which gives the Boks fits, he holds a 50-50 record against the All Blacks, and his World Cup marks are unbelievable. The pressure on Frans is mostly about World Cups. A two-time winner, absent from the final defeats in 2011 and 2015, he could set a new standard next year for players by being a three-time winner.
But if the Rugby Championship is on the line, there is one sure thing: Frans will not be afraid to win, he will want the kick for poles or the corner (and nobody ever had to warn him for wasting time!), and if he loses, he will go down hard and take a few with him.
The assistant referees will need to be on their toes, because the 50-22 was made for Frans.
Siya Kolisi is the starting captain for the Boks and he will need to 'out-skipper' the excellent Juan Montoya. He typically empties his tank and hands the band to his best friend Eben Etzebeth.
But starting fast has been the key in this tournament. Chasers have caught the early leader only to fade again at the end. Thus, Kolisi will need to treat each of those early minutes as being as crucial as the last ten. Just because South Africa may need a bonus point and a big spread does not mean kicking to the corner all the time.
Take six shots in the first half to be up 18-0 and the second half will present as a try-scoring bonanza.
Kick to the corner and come up empty, or only be up 10-7 or so, and the first half of the second stanza will be spent trying to secure the win.
Argentina
One more game for hopelessly overplayed Argentina! Julian Montoya went deep into the last season of club rugby in England: all the way to the grand final. This means that he and Leicester teammate Jasper Wiese are on about 36 or 37 matches in a 12-month period.
Loose forwards Marcos Kremer and Pablo Matera top the tables in carries and tackles: this takes a toll.
Tomas Lavanini looks out on his very large feet.
The backs can recover, but these Pumas are now up against 14 hard Bok forwards who never relent. Also, the South Africans look at this match as a World Cup knockout prep: a must win.
The first true must win of the season except for the third match against Wales. Plus, there is a personal edge to how the Boks are seeing things lately: it shows and it works.
So, it is in the pack I will find the Pumas under the pump.
Puma props placed under the pump: it matters not who they are. Eduardo Bello has had a good tournament in general play. Tetaz Chaparro, too.
But they will have a proper prop examination at Kings Park. The first two pack downs will tell a big story. If Frans Malherbe, Steven Kitshoff and Malcolm Marx, powered by Etzebeth and Lood de Jager, with an assist from Pieter-Steph du Toit on the blindside, push the Pumas back, look out.
The quickest path to doom in South Africa is to have a wobbly scrum with a strict ref.
The final week is upon us. All teams have a chance, but the two leaders are fully motivated to settle scores and win a cup.
Rugby – The Roar