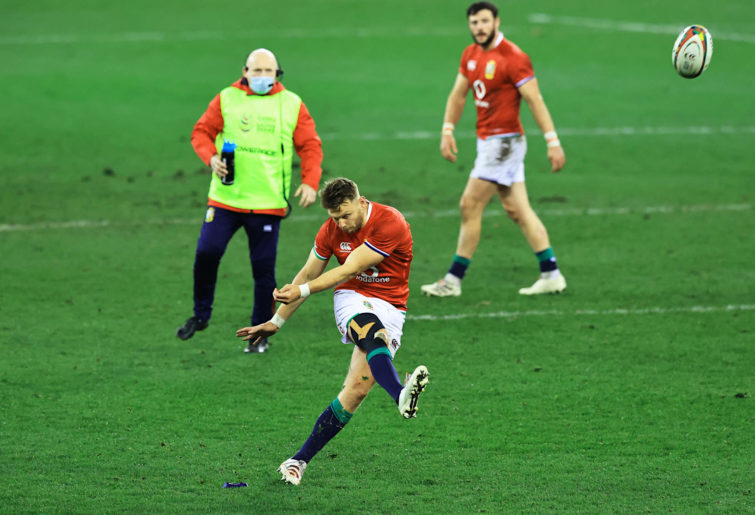 Rugby is a sport full of great people and great experiences. It is a terrific sport to play, and – albeit allowing for challenges in recent years around stoppages – for the most part it remains a rewarding sport to watch.
At every level of the game – amateur and professional, at home and abroad – rugby provides kinship and a sense of shared fellowship. Walk into a rugby club anywhere in the world, and all anyone has to do is state their allegiance to be assured of a warm welcome and a cold beer.
Over time however, rugby has also had its share of villians. People who have shown disregard for the game, for their opponent, and sometimes, match officials. People who fans have loved to hate.
For Australians, the name Richard Loe immediately comes to mind; infamous for dropping his forearm into the face of Wallaby Paul Carozza, in 1992.
While Loe escaped sanction for that act, things caught up with him later that year, when he was found guilty and suspended for six months for inserting his fingers into the eyes of Otago fullback Greg Cooper with what the judiciary described as "considerable force."
Another well-known villain is Springbok lock, Bakkies Botha. Over the course of his career, Botha received suspensions totalling 26 weeks, for attacks on Wallabies Brendon Cannon and Phil Waugh, Lion Adam Jones and, for good measure, a 2009 headbutt on Jimmy Cowan.
Also in 2009, Harlequins winger Tom Williams was at the centre of the 'bloodgate' scandal, using a capsule of blood to feign injury and allow for a replacement in their Heineken Cup match against Leinster.
Coach Dean Richards received a three-year suspension for masterminding the scheme; a rare, infamous case of blatant cheating.
Two high-profile international players with good reputations were South Africa's Percy Montgomery and England's Neil Back. Yet both bought the sport – and themselves – into disrepute by being suspended for six months each, for pushing match officials to the ground.
Peter Clohessy was capped 54 times for Ireland in the 1990s and was regarded as a hard nut, front-rower. In a 1995 Six Nations match against France he kicked Olivier Roumat in the head and was suspended for six months.
"I kind of just landed on his head with my boot," Clohessy would later explain.
Rugby's list of rogues goes on. What about Cheetahs' centre Nico Lee, banned for 13 weeks in 2019 for emptying the contents of his nose onto a Connacht opponent?
Joe Marler is a popular figure in the game, yet he was suspended for 23 weeks in total, for crimes as diverse as kicking, elbowing, shoulder charging, bringing the game into disrepute, and then finally, a 10-week stretch for applying a squirrel grip to Alun-Wyn Jones.
Marler is kindergarten grade however, compared to England teammate Dylan Hartley. Hartley's suspensions totalled 60 weeks, and covered the spectrum from eye-gouging, biting, elbowing, striking, headbutting and referee abuse.
Leaving them all in the shade though, is Springbok Johan le Roux, suspended in 1994 for 18 months, for biting All Black Sean Fitzpatrick's ear.
If the act wasn't shocking enough, le Roux doubled down afterwards, saying; "For an 18-month suspension, I feel I probably should have torn it off. Then at least I could say, 'look, I've returned to South Africa with the guy's ear'."
You don't have to maim someone on the field to be classed as a rugby villain. In 2019, UK online publication Ruck announced its "10 most hated people in rugby"; a list that included two referees, Wayne Barnes and Craig Joubert, and three rugby media men, Austin Healy, Stuart Barnes and Stephen Jones.
Luckily for Bryce Lawrence, Ruck does not have a South African version.
Only last month, Ruck followed up with their "five most disliked rugby players in the world", with the minor placings filled by Owen Farrell, Peter O'Mahoney, Eben Etzebeth and Dan Biggar.
At the top of both lists is Australia's Israel Folau, despite his not having played for the Wallabies since 2018. Folau's ranking is no surprise, although he is an interesting case because of his ability to polarise; one suspects he might also figure highly in a poll of the most liked players.
What of rugby's coaches? Eddie Jones and Michael Cheika have at times generated plenty of hate mail, although not to the level of Rassie Erasmus in 2021, after his calculated attack on Australian referee, Nic Berry.
Given the lengths Erasmus was prepared to go to, to trash rugby's unwritten code of not attacking the referee, for the sake of providing his team an advantage in a tight series, and for his lack of contrition in the aftermath, he may well be rugby's greatest villain of the professional era.
That was, at least, until now.
For anyone living in New Zealand, or with links to New Zealand, there isn't a more reviled figure, a more toxic brand in rugby, than Ian Foster.
Which of the above crimes then, appear on Foster's rap sheet? Cheating, eye-gouging, ear-biting, ball-grabbing, elbowing, snotting, referee abuse or homophobic social media posts? You know the answer… none.
Sports opinion delivered daily 
Foster doesn't even qualify on the basis being irritating or unlikeable. In fact, one of the constants throughout the recent turmoil in New Zealand rugby has been people falling over each other to state what a thoroughly decent person he is.
My personal experience with Foster consists of a couple of quick chats after a press conference; again, all good-humoured and magnanimous. Oh, and he did take a catch off my loopy, part-time off-spin in a cricket match against Bay of Plenty – some 35 years ago no less – which not only confirms his status as a good bloke but a member of a very select club.
So, why the pile on? And why so vicious?
New Zealanders have grown accustomed to the All Blacks winning. With expectations of a winning percentage above 80 per cent baked in, losing successive matches last year, and then three on the trot this year to Ireland and South Africa, doesn't cut the mustard.
Not only have the results been below par, Foster's All Blacks have, temporarily at least, lost the ability to thrill audiences. The forward pack dominates nobody, the backline has lost its fluency and potency and, worst of all, the team is no longer feared by opponents.
Selection arguments rage; mostly about Rieko Ioane not being an international centre, and Sam Cane not being Richie McCaw.
Whatever expectations might be set, it is perfectly reasonable that there should be disquiet and concern about the downwards path the All Blacks have been taking.
The tentative nature of their play reflects a lack of combination in the front row, loose forwards and midfield, a drop-off in skill execution, and a lack of clarity around tactical direction.
Much of the blame has been laid at the feet of assistant coaches John Plumtree and Brad Mooar, albeit they were Foster's hand-picked men. Whatever their respective abilities and those of new additions Jason Ryan and Joe Schmidt, Foster cannot escape criticism for this messy situation.
Foster may well be guilty of being slow to react; to changes in approach from his opposition, to the need to evolve the All Blacks' game plan, and to identify and act upon any weakness in his coaching and playing group.
Almost certainly, this is a function of what others see as his strength; his loyalty and solidity. If he is to take this team forward successfully, he will need to accept these recent events as a wake-up call, and find a happy medium between urgency and steadiness.
Animosity towards Foster is heightened because there is a popular heir apparent in Scott Robertson.
With the narrative boiled down to "Foster can't coach, Razor can", there is a sense of despair amongst Robertson supporters that NZ Rugby is deliberately and wantonly driving their man overseas, to be "lost" from New Zealand rugby, because the All Blacks door has been slammed shut.
To be clear, NZ Rugby CEO Mark Robinson re-confirming Foster as head coach of the All Blacks until after the 2023 World Cup changes nothing for Robertson. This is exactly the same position he has been in all along. He is contracted for the same period to the Crusaders, and would reasonably have expected to continue in that role.
Despite the angst and hysteria from media and fans, one fact remains conveniently overlooked. Since Foster was appointed to replace Steve Hansen, the All Blacks coaching position has never been vacant.
Nor should Robertson going overseas for a period be viewed as a loss or 'fail' for New Zealand rugby. It is the norm these days for coaches from all countries to gain international experience and be better coaches for it when they return home.
Robertson is 48 and, save for two years in charge of the NZ Under 20 side, has always coached in the Crusaders system.
From a distance, it is apparent that much of the vitriol shown towards Foster by sections of the media more accurately represents frustration at the way NZ Rugby has operated in recent times.
The All Blacks machine is a heavily protected one, and there has developed amongst media a sense (often justified) of being subservient and, on occasion, treated with disrespect.
It should thus come as no surprise that when results don't go the All Blacks way, hard questions are asked, and in the process, some chickens come home to roost.
Nevertheless, perspective has too often been lost.
Last week, a prominent New Zealand rugby writer tried to point out that criticism of Foster was never personal, it was only ever criticism of Foster's "coaching ability and judgement".
When you're the coach of the All Blacks – or any professional team for that matter – your coaching ability and judgement is your identity. Of course it was personal.
Despite the All Blacks' brave and impressive win last weekend, Foster has already been stripped of legitimacy for this and future wins. These will be credited to Ryan or Schmidt; in spite of Foster, not because of Foster, who will retain responsibility only for the losses.
One irony is that by getting his team to perform in Johannesburg, and withstanding everything that has been thrown at him with good grace, Foster has demonstrated exactly the qualities and strength of character being asked of someone in his position.
But it might behove critics to remember that no matter the entitlement and ownership that New Zealanders feel over the All Blacks, no matter the lack of real information upon which most people pass judgment, no matter the fact that the All Blacks have no god-given right to beat top-class sides like Ireland and South Africa on any given day, there are people at the heart of all of this.
Last week, former North Queensland Cowboys coach Paul Green, said by his friend Justin Langer to have "lost purpose" since losing his job, committed suicide at his family home.
Ex-Essendon AFL coach James Hird survived a suicide attempt after he was exiled following his club being caught up in a drugs scandal.
Also last week, Essendon coach Ben Rutten was treated shamefully by his own board, and the media, where it was announced (presumptively and incorrectly) that he would be replaced by Alistair Clarkson.
Instead, Rutten was forced to suffer the ignominy of coaching one final match before being put out of his misery yesterday.
Professional coaching is a gig where only tough men and women need apply. Even so, no job should be this tough, this worthy of hate, of the type Foster has been subjected to.
Foster is accountable for the All Blacks' performance, and when they lose, he is rightly open to constructive criticism, and ultimately, scrutiny of his position.
When the All Blacks win – at Ellis Park, against the World Cup champions, by playing brave, combative and skilful rugby – Foster should also be open to constructive praise.
When does a coach losing a few games warrant inclusion on rugby's list of villains? Never.
Rugby – The Roar