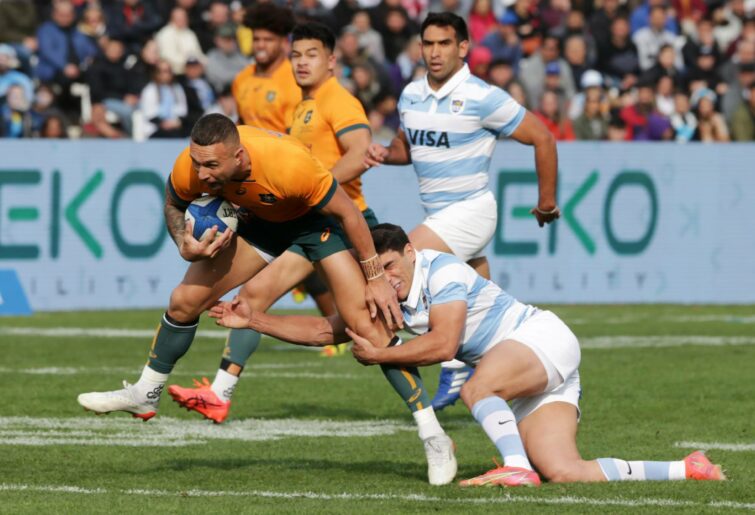 You would have thought the rugby pitches used in Mendoza and Mbombela on the weekend were a different size. On one, players were able to kick, run and pass into space; on the other, it was as if every blade of grass was spoken for.
More on how the Springboks denied the All Blacks space and time on their way to a dominant 26-10 win, later.
The Wallabies' 41-26 bonus-point victory over Argentina signalled an emerging maturity, which bodes well for the continuing development of Dave Rennie's side.
Argentina brought it early, Pablo Matera scoring off an inside ball after a late-arriving Alan Ala'alatoa was left with too much space to fill, one man off the ruck.
But despite the early concession, and a half-time deficit of 19-10, there was never a sense of panic or disorganisation, and the Wallabies – helped by impetus from a superior bench, and reversing the penalty count – finished the match off impressively.
Rebuilding from the 2019 World Cup disappointment, there can be no doubt about the strength of character Rennie has welded into this side. Test matches have been won with 14 men, and despite Australian rugby not having the depth of talent of some other leading nations, a steady stream of injuries to important players has been met with squad men stepping up and doing a job.
Only those in the inner sanctum will truly know the impact that Michael Hooper's late withdrawl had on the psyche of the team. The easy thing to say is that it had a galvanising and inspirational effect, with players rolling their sleeves up an extra inch to get it done for their wounded leader.
But these were not the same circumstances as Hooper tweaking a hammy and limping off the training track. Teammates would quite reasonably have been reflecting and processing and the reasons behind Hooper's withdrawl, to the point of questioning the team environment and their own feelings and perspective on life as a rugby professional.
Throw in the loss of the team's playmaker Quade Cooper – who looked to be in fine fettle – and a lesser side would have been entitled to lose focus. Instead, it was Argentina who foundered.
In a frustrating first half, many of the familiar Wallabies trademarks were in evidence; soft penalties for offside, tackling while on the ground and a pass to an unmarked man finding the touchline instead going to hand.
What was different this time however, was the Wallabies not doubling down on their shortcomings. Their second-half set-piece execution was sharper, and most of the lazy discipline issues were dealt with.
Best of all, the Wallabies played smart. Nic White often directed play down a loaded blind-side, enabling the Wallabies to find a rhythm that suited them, and which eventually drew penalties from referee Mike Adamson; a man not averse to handing them out.
Even though there were 30 penalties blown in total, there was a sense of Adamson enjoying himself and, unlike the players who were exhausted at full-time, still having a few more left in him!
Coming out of the half-time reset, good decisions were made by the Wallabies. Goals were kicked when it was right to do so and, in a Brumbies-like way, the try-line was found three times from attacking lineouts.
That clarity in decision-making extended beyond the 80 minutes. With the option available to end the game at any point, the Wallabies – admittedly with the security of an 8-point lead – put it on themselves to extract a bonus point from the match.
With both teams having run themselves to a standstill, it was Len Ikitau whose name went on the scoresheet, although the real value wasn't the extra ladder point. The combination of fatigued starters and cold bench players trying too hard to impress often leads to messy outcomes, but the self-belief and confidence the Wallabies will take from executing under these conditions cannot be overstated.
Of the starters, Rob Valetini found himself engaged earlier and more often than he was able to achieve against England, and while Hunter Paisami isn't Samu Kerevi, he showed nuances to his game that nicely complemented his usual fizz.
Both late replacements, Folau Fainga'a and Fraser McReight, grew nicely into the match, and Reece Hodge did exactly what was required of a bench player covering six positions. There is a lot to like too, about how Tom Wright is gaining in confidence at the back and how he is starting to demonstrate some deft distribution skills.
At halfback, White was the archetypical Jekyll and Hyde; gaining massive chunks of territory with some impressive kicking, before giving away successive penalties for nothing more than losing his composure.
While the Pumas' bench couldn't foot it with the visitors, theirs was by no means a poor performance. The 9-point half-time lead was well deserved, and the flowing counter-attack try scored by Juan Martin Gonzales, sparked by winger Santiago Cordero, was an absolute beauty.
Flyhalf Santiago Carreras impressed in the opening forty, only to prove the age-old adage in the second half, that a flyhalf can only influence proceedings as much as his forward pack provides him with the platform to do so.
Argentina will be disappointed by the flow of penalties against them in the second half, which is about the only area where the two Test matches aligned. It is clearer than ever that in modern rugby, no side can afford to allow penalties to accumulate on top of each other.
Whether those penalties are a result of pressure forcing mistakes and desperate reactions, or the other way around, is really of little consequence. What matters – as the All Blacks found out to their detriment – is that if you're on the wrong side of the first five penalties, you have no hope of achieving anything like the positive start that they would have spoken about all week.
With the Springboks so ruthlessly efficient, the opening turned on the tiniest of detail. In his haste to rush up and cause havoc, Faf de Klerk knocked himself out and the All Blacks, in possession, were forced to go to a scrum re-start after de Klerk was attended to. A free kick for an early engagement later, they were pinned in their defensive half, where they were to spend most of the next forty minutes.
What was particularly fascinating about this battle was that there were no surprises. It was clear before the match what both sides would bring, and so it proved. It was thus down to who could best impose their style on the other.
In reality, this was always going to be the Springboks, because their game plan has the fewest moving parts, and it is second nature for the same group of players who have been delivering it for the last three years.
Sports opinion delivered daily 
When the motivation levels are set right – which they invariably are against the All Blacks – an uncompromising set piece, contestable high kicking, high-pressure defence, and accumulation of points on offer all add up to a bullet-proof strategy.
Near their best, the Springboks acted like a vacuum packing machine, sucking all of the space from the pitch. That the All Blacks knew exactly what was coming at them made little difference, because so much of their physical and mental energy needed to be devoted to countering the Springboks.
In that respect, the All Blacks were manful; both their scrum and lineout more than functional, and their first-up tackling much improved from what they showed against Ireland.
The Springboks were far better equipped to deal with what they knew was coming to them. Forced to live off scraps and half-chances, at no stage in the match were the All Blacks able to mount any concerted pressure in the attacking zone.
Call this the deadly triumvirate; ill-discipline, skill errors at vital moments, and not enough heads up play to direct runners away from wherever Malcolm Marx was stationed.
Marx, quite deservedly took all of the plaudits in his 50th test match. But it was the set-up of the defensive line – subtly forcing ball carriers into seams where their support runners can become disconnected, and the quality of the first-up tackling – that laid all of the groundwork.
In truth, South Africa's compressed defence has troubled New Zealand for years. It can be worked around if the initial ball transfers are slick and secure, and there are runners coming into the space at pace and on the right angle.
But the All Blacks' passing execution and handling is not what it was. And shown 'fools' gold' on the outside, the way around it is never to lob high, loopy passes; the kind which made a career for Bryan Habana on the intercept, or which simply allow defenders to slide across and force runners over the touchline.
To their credit, the All Blacks on a few occasions did look for inside runners, but it's one thing to bend the wall of steel and another thing to be able to break it.
Other concerns? Beauden Barrett pop-gunning hard won penalty kicks no more than 20m down the touchline, simply doesn't cut it any more. With Codie Taylor and Dane Coles' error rate off the chart, Samisoni Taukei'aho must be invested in fully and a demand made of Asafo Aumua that he realise his early potential.
That same urgent reassessment must be made at tight head; nobody believes that new assistant coach Jason Ryan is turning Angus Ta'avao and Tyrell Lomax into World Cup winning props.
But that's getting beyond the here and now. What the All Blacks can work on before next week is a counter to the contestable Springboks kicking game; safe in the knowledge that there will be more of the same thrown at them at Ellis Park.
Fifteen times the Springboks lobbed the ball up high as an offensive tactic. Seven balls were contested and won – including the try to Kurt-Lee Arendse – four were contested and won by the All Blacks, and four were too deep to be properly contested.
That ratio really tells the story of the Test match; the Boks recovering half of their kicks with the All Blacks' defence out of formation or, in the case of the other half, giving up possession only where they had the All Blacks were corralled into parts of the field where they offered no threat.
As if to hammer home the clinical nature of this aerial assault, it was no coincidence that not a single kick was sent in the direction of Will Jordan; identified as New Zealand's most potent attacking weapon, and frozen right out of the match.
By contrast, New Zealand kicked only three times in similar situations, none of which were able to be contested, let alone recovered. In fact, the only kick contested and recovered was from a kick-off, by Caleb Clarke. Slim pickings indeed.
If the All Blacks are to do anything next week, they simply must find a way to keep the Springboks guessing, or turn some of that same pressure back on them.
Nearing the end of the match, one of the nine contestable kicks from halfback Jaden Hendrikse led to an ugly incident; Arendse charging into Beauden Barrett as he leapt to catch the ball, flipping Barrett and causing him to land on his head, from a height.
Players at all levels of the game have done well in recent years to remove what was a blight on the game; attacking players running recklessly into contests like this at pace, claiming no intent to injure, while doing just that.
Arendse was a fine contributor to this match, but this was an awful action which has no part in the game. His suspension should be lengthy, and will be well deserved, but if it makes other players at all levels think more carefully about how and when to enter the catching zone, perhaps some good will come of it.
This incident also makes a mockery of the 20-minute red card pushed for so hard by Australia and New Zealand. Rugby must always retain the ability to send players off for the whole time remaining in the match, and punish sides numerically, when there are fouls as serious as this one.
As for the future of New Zealand rugby, beyond all of the noise and exhortations from fans and media for the coach's head to be delivered on a platter, the immediate prognosis actually looks quite straightforward.
Another loss in Johannesburg will mark the end of Foster's run with the All Blacks; a win will potentially rank as one of the All Blacks' greatest comebacks, and will buy him at least the rest of the Rugby Championships.
In the meantime, there is a sense that impossibly high expectations are being set for Scott Robertson. But that's a story for another day.
Rugby – The Roar