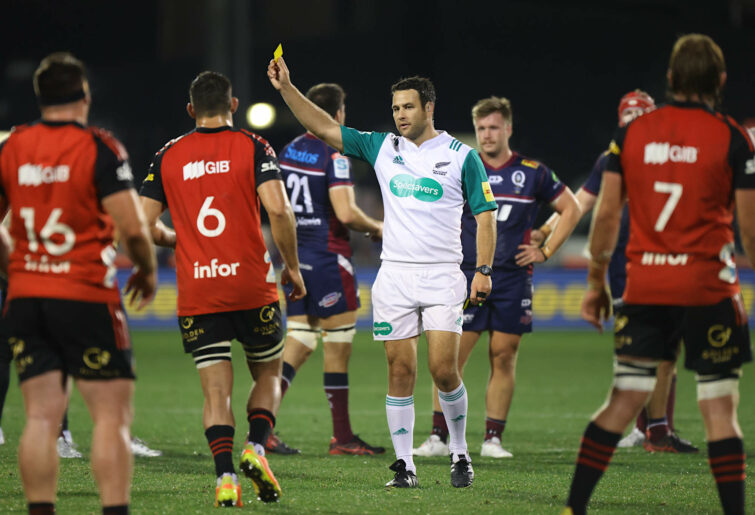 Rugby wouldn't be rugby without a north versus south divide over something or other.
While these flash points often feel intense, invariably things settle and the rugby caravan moves on without lasting damage done to the fabric of the game.
The latest stoush – Australia and New Zealand defiantly continuing on with 20-minute red cards, and World Rugby and northern hemisphere nations insisting that transgressors pay full freight for their misdeeds – is different.
Why so? If rugby is to flourish into the future, after this generation has drained its last pints and shut down its Twitter accounts, the existential challenge that is head injury must be solved.
And it can only be solved if all parties are furiously aligned.
The general view from the north is that Australia and New Zealand are watering down efforts to lower tackle heights at precisely the same time concern about head injuries in rugby has never been higher.
The counter-view is that rugby in these parts competes for eyeballs in a highly competitive market, and paying audiences are overwhelmingly in favour of contests not being reduced to 15 versus 14. More particularly, when current frameworks provide for red cards that, in some instances, are for accidental collisions.
This kind of binary framing is unhelpful, because it conflates two separate issues into one. The incidence of concussion, the construct of rugby's laws, application of the laws (refereeing), and the judicial process are all linked, but they are also separate and distinct.
Blunt use of any of the latter to effect change on the former might be well-intentioned, but is flawed.
One of the biggest problems with the whole concussion debate right now is how it has been framed as a refereeing issue.
Let's pluck out an obvious starting point. 'Does rugby want or need to minimize incidences of concussion?'
Another important discussion point might be: 'Does rugby want or need more accuracy and consistency in refereeing?'
These are not the same question. Most people would answer yes to both, but a solution to the second question – to what extent this is actually possible – does not automatically address the first.
The story that captures the headlines thus becomes the inequity in the recent treatment of Angus Ta'avao and Andrew Porter, not what is the best way to prevent the injuries suffered by Garry Ringrose and Brodie Retallick.
In allowing itself to become bogged down arguing the toss around initial points of contact, degrees of force, absorption, the ball-carrier dropping in height and so on, rugby is in danger of losing focus on the bigger picture.
Last week, a new research paper published in 'Frontiers in Neurology' nailed that big picture.
The paper, compiled by nine researchers across six different countries, detailed how "there was a consistent association between repetitive head impacts and CTE", and that "there was a plausible mechanism between the cause and the effect, and that greater exposure led to greater incidence".
Lead author Chris Nowinski, CEO of the Concussion Legacy Foundation, said the analysis "gives us the highest scientific confidence that repeated head impacts cause CTE".
Geoff Parkes joins Harry Jones and Brett McKay on The Roar Rugby Podcast
Since 2011, rugby (along with a number of other sports) has employed assessment and return to play processes and protocols recommended by the global Concussion in Sport Group (CISG).
Discontent has grown about potential conflicts of interest – the vast majority of members have been or are employed by various sports – and the group's reticence to acknowledge the links between head injury and CTE.
Earlier this year, the CISG was rocked by plagiarism allegations against its chair, Dr. Paul McCrory, who subsequently resigned.
This felt like a watershed moment; an opportunity for the CISG to produce a new concussion statement that more accurately reflects the latest research and current concerns, or an opportunity for World Rugby to step out of CISG's shadow of convenience, and forge a bolder path forward, demonstrating a willingness to protect players and the future of the sport.
No longer can World Rugby hide in the grey area that is conflicting or yet to be determined science. Causation is causation, and if the age-old argument 'we didn't know what we were dealing with' ever did apply, it applies no longer.
Six recent Test matches in Australia and New Zealand, involving England and Ireland, delivered 12 failed HIAs or notable head injuries.
Seventy-five times capped, triple grand-slam winning Welsh second-rower Ryan Jones, aged only 41, has just announced that he suffering from early onset dementia and probable CTE.
There are many others suffering like Jones. He joins a host of other recently retired, afflicted players attached to an action against World Rugby, which appears destined to be run through the UK courts.
In this environment it isn't hard to imagine players all around the globe wondering if their own experiences with concussion represent a ticking bomb. And to imagine how increasingly negative publicity influences parents, and what impact this will have on junior, and eventually adult, participation rates.
Sports opinion delivered daily 
This is World Rugby's problem to fix, and the longer it takes to do so, the more the sport will be damaged.
What makes the issue so difficult – and why much of the noise around referees and cards is misplaced – is that the danger to rugby comes from a place far broader in scope than that what is posed by high-contact foul play.
Of major concern is the accumulation of sub-concussive hits, including those suffered by junior players before their brains are fully developed, and also the accumulation of seemingly minor 'head knocks' collected by players whilst training.
With respect to how the game is played, data collated and released recently by Ross Tucker of 'Science in Sport' details how the risk of concussion to either the ball carrier or tackler increases markedly if both players enter contact upright, compared to instances where the tackler is bent and the ball carrier is upright.
In this regard, the focus on getting tacklers to lower their body height is easily understood.
But there remains significant risk in all cases, including where the tackler and/or the ball runner are bent over. Thus, while it is important to address foul play, it is crucial not to conflate this into the issuing of different types of red cards being the solution, or even a major part of the solution, to the concussion problem.
What is far more likely to change matters is leading thinkers and coaches in the game continuing to come together to work on ways to modify behaviours, so that upright tackling is eliminated, and the safest tacking techniques are employed.
That this might result in more off-loading and ball movement, and a depowering of the gain-line collision would naturally force consideration and examination of flow-on effects, and likely lead to other law changes and modifications.
Complex and difficult for sure, but nothing less than what will be required.
It feels almost inevitable that contact rugby will be disallowed for juniors and gradually introduced for teenagers, after age 14.
Given concerning research around the deleterious effects of concussion on females, contact in girls and women's rugby will potentially be even more severely curtailed. Expect contact minutes during training, at all levels, to be strictly limited.
Foul play will remain an important consideration, but with respect to the current red card debate there is no evidence that full-match red cards versus 20-minute red cards serve as a greater deterrent or change player behaviour, or are more effective in preventing concussions.
Particularly so when the red card – once reserved for egregious acts of foul play – is now a catch-all for everything from intentional kicking and eye gouging through to unintentional head clashes.
This is precisely why the legal system recognises different levels of culpability with respect to homicide. Distinctions are made not because these effectively deter people from killing each other, but because they more appropriately reflect degrees of culpability and intent.
What is ironic is that fans are not so much being frustrated and turned off the game by the extent of the head injuries – at least not yet – but more so by the ham-fisted way in which the game is dealing with the issue.
It is not downplaying the importance of acting on concussion to recognise that there is a real opportunity cost in tasking match officials with assessing each event via a clunky, time-consuming framework which detracts from the overall rugby experience.
Particularly so for fans who are live at matches, who are often in the dark about what is unfolding.
Match officials have been forced into the role of 'concussion removalist'. This places expectations upon them that are grossly unfair and which have no hope of being satisfied.
Rugby's law book is complicated enough as it is; let the officials focus on that, have them send players off for the whole game who commit the gravest fouls, and have everything else dealt with by a yellow card and a citing and judiciary process. One with appropriately lengthy suspensions that will drive change in player behaviour.
So, if it is not the referee's job to solve the concussion problem, whose is it?
It is for World Rugby to form a full understanding of the issue, develop a comprehensive plan that appropriately covers all areas of the game (professional, amateur and junior), and to administer and communicate in such a way that all of rugby's stakeholders – players, coaches, administrators, medics, match officials, judiciary, media, parents and fans – combat the issue in a cohesive, joined-up manner.
World Rugby might believe they are doing that already but, despite best intentions, that is patently not the case. The concussion issue is galloping ahead of the ability of the game to grasp what is required and act upon it.
Witness the incoherence surrounding World Rugby's recent announcement of a mandatory 12-day stand-down for players who are concussed or fail an HIA.
Within days, Ireland's Johnathan Sexton was being navigated through a series of return to play exemptions that saw him take the field in the second Test against New Zealand, a week after he failed an HIA in the first.
Whatever justification offered by Sexton and Ireland's medical staff, such an outcome merely fosters cynicism and confusion and, more broadly, waters down efforts to educate people on the issue.
It is time for World Rugby to appoint a concussion commissioner. This needs to be a highly visible, high-level appointee on the same level as director of rugby Phil Davies, charged with overarching responsibility on all matters relating to head injury.
This is not to downplay work currently being done across areas including medical research and data collection, legal, laws, coaching and refereeing, but to ensure that actions are better coordinated and that rugby's responses to the issue are proactive rather than reactive.
One reason sports have been slow and cautious is because of concerns over legal liability. This is where a change in policy may potentially be interpreted as acknowledgment that prior policy was deficient, thus opening the door for legal action.
Conversely, with all of the money and legal might at its disposal, there should be no impediment to World Rugby being able to demonstrate appropriate responses given the information it had at its disposal – then and now.
In this respect, new research coming to light is helpful, in that it offers World Rugby new markers from which it can fairly reset its policies and operating frameworks.
One of the Concussion Commissioner's responsibilities must be to ensure better communication. Rugby badly needs a simple, honed common message that is easily understood and repeated by everyone in the game.
The commissioner must also strive to ensure that broadcast media steps up to the plate. By all means let supposed expert TV commentators argue the toss on tactics and selection etc, but there must be no space for commentators to spout misinformation and ill-informed personal opinion on a matter this serious.
It is precisely because there is an information and communication vacuum that the current debate has become mired in such a hopeless and ultimately irrelevant spiral around the worth of 20-minute red cards versus full red cards.
Neither of these is a solution.
Rugby can, and must, do better.
Rugby – The Roar