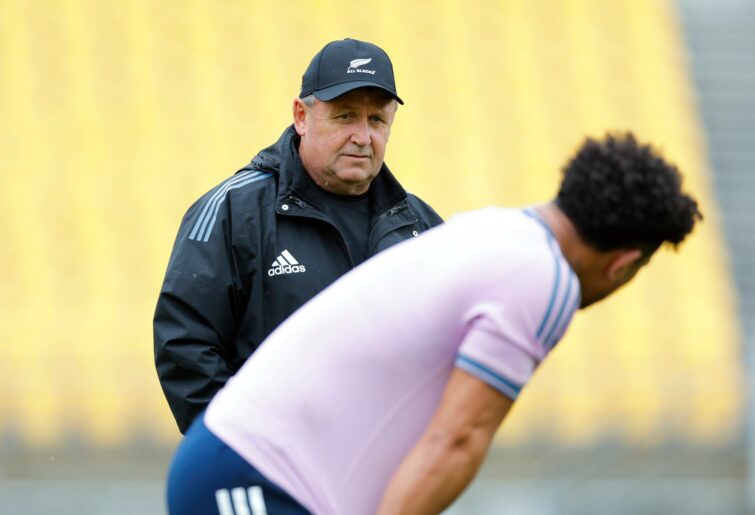 The teams in The Rugby Championship have now played four games across two weeks and have one win each to their name.
What do we know now that we didn't know a fortnight ago?
Across the four teams is two narratives: they've been either emphatic and disappointing, or underwhelming and resurgent. What was up in Round 1 fell back to earth in Round 2. What sunk more than swam is now full of wind with the spinnaker set. Who will be what come Round 3 is anyone's guess.
But the beauty of these mini-tours within the 2022 edition of The Rugby Championship is that we've seen these very narratives emerge. The smaller-series-within-a-tournament means that the redemption story was right there waiting a week later. Teams made adjustments and prospered, while others fiddled and faltered.
The tournament sits wonderfully close, though the expectation remains that someone will blow it apart. It feels like at least one reputation is set to be seriously dented in the next round of short tours.
So, which teams are in the same place as at the start of the tournament, and which teams are already different? And is the answer simply, 'all of them'?
Question 1: After one win and one loss, what most concerns you about your team, and what are you most pleased about?
Digger
What concerns me most about the All Blacks is consistency – both consistency of selection and performance, though they mostly go hand in hand.
While there have been a few changes around the side in the coaching ranks and a limited window for fresh ideas to be tested with a view to the next World Cup, it is my hope that after such a positive performance that they will tinker very little, if at all and allow this same starting side at least another opportunity to further develop.
I feel like a number of changes will undo or stall the momentum created.
What has pleased me the most is the lineout. I thought this maybe a real problem area for the All Blacks but have been more than a little surprised to see this phase become a real strength and in the last test at least, to shade a quality opposition like they did.
It's a pivotal area of the game to have nailed down and the performances in the opening matches have been high quality.
Geoff
Despite a superb win at Ellis Park, the All Blacks still have plenty of concerns, with backline cohesion somewhere near the top of the list.
But probably the biggest concern is that the things that worked so well against the Springboks – better loose forward combination, more assertive attacking cleanout, more clinical exit plays, overall lift in intensity – will be ticked off as done, and the side will revert to some of the side to side, behind the advantage line play that has served them so poorly in recent times.
The most pleasing thing by far is that – love him or hate him – the coaching saga around Ian Foster has finally been resolved.
The big concern for the Wallabies is that if more losses accumulate, regardless of the nature of any such losses or the extent of the injury list, the narrative will become the security of Dave Rennie's tenure.
It shouldn't be an issue, but as we've seen in New Zealand, and around Eddie Jones too in England, that's the way things roll these days.
But after such a poor performance in San Juan, I'm struggling to find too many things to be pleased about.
Len Ikitau is going well at centre and Nick Frost looks like he'll be a keeper at Test level; let's try that.
Harry
Lukhanyo Am and Damian Willemse: smart, confident rugby players who are in top form. They please me.
Also, the fact tries are being scored. I'm also pleased to report Springbok vice-captain Handre Pollard has been perfect off the tee. If that continues, my imminent visits to Bok-Wallaby Tests in Adelaide and Sydney will probably end happily.
Happy endings are good. But also, happy beginnings.
My concern about the South African coaching squad is their analysis. The Test in Mbombela was won by staking an early lead, breaking the All Blacks' attack with a Marxist redistribution, and squeezing it until a consolation try was all they had to show for it.
So, they changed the starting line-up by benching the man of the match, and when a third string hooker was roped in due to injury, they were stubborn and arrogant. Just put Marx back in next to 50-cap Frans Malherbe and scrum. Stop being tricky and half-clever.
Down 0-15 with an underpowered Diesel Duane, and only a half hour in, we have to trot out Marx-Wiese to hit the turbo button. A half hour later, running on fumes, up 23-21, we have nothing left in the rush D.
If your start (and the All Blacks' inability to solve Marx) was your strength, just stick to it and make the visitors prove they can solve it.
Would it have mattered? Yes. Joseph Dweba and Duane Vermeulen were noticeably off.
Nobes
I am quite satisfied with what Los Pumas have done so far despite losing the first game, in which I think at least a bonus point could have been won.
I like the way the set pieces are and I am especially happy with a substantial improvement in the scrum where Los Pumas came into these series with a serious deficiency.
I think that the unfortunate loss of Nicolas Sanchez has generated a new way of attacking using the wings and fullback, helping Santiago Carreras and Gonzalo Bertranou to generate piercing attacks, something that was also a deficit.
It is worth noting the good use of the kicks by several of the players has produced good field position as well as clinical attacks.
Sports opinion delivered daily 
The entry of young players like Tomas Gallo who have been encouraged to develop their game and have had a positive impact on the team. I am quite pleased also with the rotation of players that instead of disarming a team from one game to another, they have been dosing strategically.
I also think that there are many issues to resolve, starting with the defence where the new system has not been able to synchronise well enough, and Los Pumas leave many points when they have to defend in their own 22 metres.
The centre of the field is not well covered yet and both centres have not been as decisive as I would like both in defence and attack. I would like to see more offensive tackles and more ball recoveries since the statistics of the same is misleading and should not be read as a good job being done in that aspect of the game.
Brett
Oh, it's the consistent inconsistency, for sure.
And it's the same as it ever was, I suppose. This time last year, the Wallabies started The Rugby Championship with a loss and then a thumping to New Zealand, and then went on a run of five straight wins.
They were heady days. Wallabies fans were happy on Sundays and started looking forward to weekends again.
This year it's been similar, albeit starting with a really good win before the thumping arrived.
And the worry now is what comes against South Africa in Adelaide and Sydney, and then what sort of state New Zealand are going to be in by Melbourne and Auckland.
It's the consistent inconsistency. Again. Or perhaps, still.
It's the inability to string performances together. The inability to chase games after poor starts (again, they've not led at halftime in their last eight straight games).
The fact that we Wallabies fans just don't know what we're going to get the next time they take the field. It's not much fun at the moment.
What pleased me? Well, they're still scoring some really good tries, and only one has come from a lineout drive, which is interesting, considering their stated maul ambitions. And they're 21 from 22 from the kicking tee, which is encouraging.
Question 2: Which of the other three teams have you had to change your thinking about, two games in?
Digger
Argentina. It is easy to lose sight of the Pumas here in NZ, because they receive little attention and the focus always tends to be on the Bledisloe and what the old foe are up to.
But their performances to date should have put a few on notice. They have plenty of pace, a sharp attack, solid set piece and look a considerable challenge.
Their loose trio is arguably the form unit of the competition thus far and when a player of Agustin Creevy's quality can play off the bench, that is some growing depth.
Their remaining opponents in the Championship had best tread carefully, and I'm really looking forward to how they fare in New Zealand.
Geoff
No change of thinking about Argentina. We already know what they're capable of on a good day, they have one of the best loose forward combos in the business, and coach Cheika has them playing with belief.
What I was surprised with, is how easily South Africa conceded to the All Blacks at the breakdown in Johannesburg.
Since 2019 the Boks have employed an immensely strong defensive wall, but with the pace and intensity of the match high, fatigued defenders were not always available to slow the recycle or to plug every hole, allowing the ABs continuity in attack that hadn't been there in Round 1.
Harry
Argentina's depth surprises me. I thought Nico Sanchez's injury would be an issue. It's not! His understudy is a natural athlete.
Young flanker Gonzalez can't stop scoring tries. Guido Petti will come back in soon and suddenly, Los Pumas has a lock stock. Twenty-three-year-old Thomas Gallo looks the goods.
Juan Imhoff, meet Ponce de Leon.
Gonzalo Bertranou brings pace.
I had Argentina to go winless, Australia to win three, NZ four, and SA five.
I'll stick with that, but it could also be two, three, three, and four and in a different order.
On the latest edition of The Roar Rugby Podcast, Tim Horan joins Brett McKay and Harry Jones. Listen now or save it for later.
Nobes
What has surprised me the most is the attack by the specialised press towards the Wallabies coaches and especially towards Ian Foster from New Zealand.
It is striking that the most decisive factor in the defeat of the Springboks was the selection of players by Rassie Erasmus and that he did not have the same criticism as that of his peers from Australia and New Zealand.
This was a clear mistake by a coach more than a mistake by the players. That Mr Foster's head continued to be requested after a resounding victory at Ellis Park, which was a great achievement, seemed reckless or at least striking.
Dave Rennie for his part had to face many problems in his team of different kinds, and his players after three weeks away from Australia were more thinking about their return home than about the game.
A note of colour is that I found the two complete teams, Wallabies and Los Pumas, at the Buenos Aires airport traveling together to Australia on a charter flight. I imagine Michael Cheika was a little confused on the plane not knowing who to talk to more, with the Australians or the Argentines.
Brett
It was really intriguing to see Los Pumas flick out a different tool from the Swiss Army Gameplan last week, and use it so well, but the biggest surprise to me is probably South Africa.
They were pushed by Wales in July, the way I saw it, but they were never really in danger of losing that series, despite what a couple of the scoreboards said.
So, they were in decent form by the time the All Blacks arrived. But no one saw that performance in Mbombela coming.
It was ruthless, efficient, clinical, devastating, and it lasted 80 minutes. It was probably their best performance since the 2019 Rugby World Cup final. And then came the fall.
By Ellis Park, they were just none of the above. They let NZ play in ways they just never entertained the week before, and the embattled All Blacks didn't need much invitation. Dare I say it, it was Wallabies-like in its inconsistency.
I just hope the Ellis Park version arrives in Adelaide, and not the Mbombela version.
OVER TO YOU: What worries you and what pleases you about your team?
And which team has surprised you most over the opening two rounds?
Rugby – The Roar