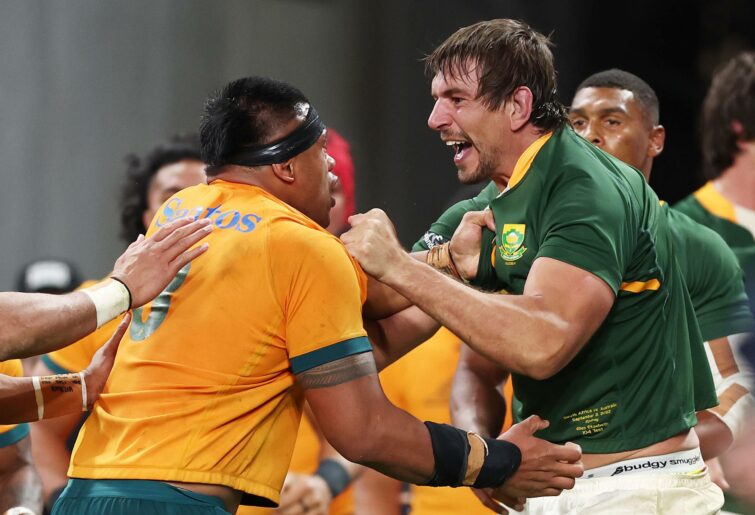 So, it's getting quite ridiculous now. A team can look like a world beater one week and a provincial team the next, and for a nice change, this actually applies to all four teams across The Rugby Championship and not just the Wallabies.
But riddle me this, Batman: why is it so?
Why have we never seen a Rugby Championship so locked up as this year's is after four rounds? And can we definitely say that things will somehow start making sense in the next round of games the weekend after next? I'm not sure we can.
It's the proverbial riddle inside a mystery wrapped in an enigma. As puzzling as a chameleon inside a packet of Skittles, or so Google tells me the young people say.
So, we should definitely talk about it this week…
Question 1: In the context of your team, (attempt to) explain why consistency has been so hard to come by, and why they've been so up and down in this year's tournament.
Harry
Maybe it's playing two Tests back to back in one country. The easier midweek travel may allow more adjustments? Or it could be the selection volatility? It's untippable!
Jacques Nienaber and his boss Rassie Erasmus know if their squad can win the World Cup in 2023, having won in 2019 and lost by two points to the best All Black team ever in a 2015 semi-final they will go down as the greatest South African team of the professional era. This affects everything.
The World Cupping of Bok rugby has infected team selection all season. Also, Jaco Johan lost an entire year due to COVID effects, and are therefore trying things this year they would have liked to do in 2020 and 2021.
That's one reason for the up-down. But the others are more "normal" and longstanding: South African rugby teams have not done well in Australia for most of this century. Just winning at all, in Sydney, is probably a good sign.
Why is that? An obsession with the All Blacks? An odd tendency to depart from proper Bok rugby against the Aussies? Travel in general?
As for the Boks' history with the All Blacks, it is also rare to win 2-0 against them. So, a 2-2 record is about normal; with two wins to be expected against Argentina as depth issues become more critical.
Also, New Zealand and South Africa have not been blown out yet. The Pumas (in Hamilton) and the Wallabies (in San Juan) were spanked. That seems important to note.
Nobes
In the case of Los Pumas, it is that they have always been the weakest team of the four and each victory requires physical and, above all, mental wear and tear that is impossible to maintain with just a week off.
In the first game against the Wallabies in Mendoza, Los Pumas were very good for most of the game and then lost their way. At that moment it seemed to me that one of the reasons could have been the short time the team had been working with the new coaches.
After the win in San Juan, they travelled to Australia where they had a very good week together before going to Christchurch and spending a second week preparing for the match against the All Blacks, and the match went very well.
Just a week later they faced the men in black who were under a lot of pressure and who came out to play with everything they had.
The All Blacks increased their performance by 20 per cent and Los Pumas lowered it by the same amount, which is evident in the final result.
Brett
Argh, I don't know, and honestly, why have I posed another difficult bloody question for a third straight week?
Anyone who can solve the conundrum of Wallabies inconsistency will instantly be rewarded with a high-paying coaching consultancy, a Knighthood from World Rugby, and the keys to Ballymore and Concord Oval.
It's almost certainly mental, but it's practically condescending to frame it so broadly. It's almost certainly attitude, but you can't really slap attitude back into players anymore. It's almost certainly more complicated than those two catch-all descriptions. You don't know either are slightly off until they just suddenly very obviously are.
But what's not complicated is that the Wallabies played a really excellent game in Adelaide, and then one week later, 22 of those same 23 players turned out whatever the polar opposite of 'really excellent' is.
Listen to Matt To'ouma's chat with Brett McKay and Harry Jones here or on your podcast app of choice
In Adelaide they played with pace and a good amount of accuracy and a solid but not great set piece, and they were much better than the final scoreboard showed. In Sydney seven days later, their performance was on par with three-dollar condiments. It was illogical and it was affronting.
And no one can really say why, and now we're all left in this holding pattern wondering what on earth we're going to get in Melbourne this time next week. And we can only wonder, because they're just as likely to be excellent again as they could stink.
That doesn't answer the question, but I'm coming to get the keys anyway.
Digger
The All Blacks struggles for consistency I would put down to two major factors: selections and game plan.
While a number of the selections are forced through injury and whatnot, a few, particularly in the front row, blindside and first five ignored the form players and core strengths for the roles and the lethargy to make the required changes certainly contributed to the inconsistent showings while the game plan has seemed to chop and change each week, clearly by design.
As an example, to change our approach from Ellis Park to Christchurch in the following game was quite gobsmacking, especially with the authority displayed in Hamilton the very next week.
Taking what clearly works and applying it each week will certainly lead to more consistent performances.
Geoff
The All Blacks' seeming lack of consistency rests purely around their game plan.
They got things wrong in Nelspruit, and then in Johannesburg – admittedly with the added motivation of playing for Ian Foster's career – they worked out how to transfer the pressure away from themselves and being hostage to the high kick, and got the big Springbok forwards gasping early, rendering them unable to compete as fiercely at the breakdown.
The loss in Christchurch wasn't so much a huge fall back – the ABs played well in the first half – but they lost focus in the second and didn't vary their game enough. That coincided with the Pumas defending as well as any team has against them in recent memory, and Emiliano Boffelli kicking all of his goals.
As in South Africa, the specifics of the game plan were drilled down deep for the return match, a much more varied and balanced approach was taken, and it was executed with precision.
As for the Wallabies, they are the kings of inconsistency. Injury has played a major role, but the bottom line is that they still aren't quite good enough to play at their best, every week. Unfortunately, it's hard to see that changing in the immediate future.
Question 2: Four rounds in, what has been your favourite moment in TRC2022 so far?
Harry
Being in Adelaide and Sydney, in sun and in rain, in the open at an oval and then in a gleaming edifice, hearing the roar of the crowd and the duelling views, seeing Test rugby Down Under.
On my birthday, I went to a club knockout match at Easts Rugby Club in heavy rain and loved the vibe. Big old locks swearing and nippy wings tackling and sloppy lineouts and beers.
Then, to the brand new Allianz Stadium, where I was able to celebrate four good Boks tries, a couple with key offloads by big forwards, with fans all around us. A day to remember.
Nobes
Without a doubt, the triumph in New Zealand. Winning for the first time during a tournament against the All Blacks on home soil is a taste difficult to forget and a mark forever in the history of Argentine rugby.
For me, Los Pumas have already met my expectations in this tournament, but they do not believe the same and it is a great incentive if they win one of the two games against the Springboks.
That would mean that they beat all the participants at least once which is a great advance in thinking about the near future with the World Cup very close and future Championships.
They are steps forward that may seem irrelevant to many, but for Argentine rugby it is very significant.
Brett
This one's much easier. And anyone (everyone) not recognising this moment needs to be slapped in the face with a fish of significant wetness and physique.
It's a bog standard ruck in the looming shadows at the southern end of the Adelaide Oval, about 40 metres out from the South African line. A humble scrumhalf, soldiering on after an unwilful double attack of unprovoked violence upon his person and eternal aspersions upon his character, passes to the short side where he finds his captain, standing unusually flat and motionless, way too close to the line for a man of his experience.
But James Slipper is far from flat and motionless. He is cunning and pokerfaced and is about to go 4D chess on the Springbok defenders in a way that they will not believe ever happened. They prefer not to speak of it now.
From the far side of the ruck, a young flyhalf begins a run, crescent moon in shape, toward the short side and approaching his captain's impending playmaking greatness.
In a moment of rare Wallabies sync in recent weeks, crescent moon run intersects perfectly with playmaking greatness. Defenders are left snatching at air, gazing at each other confused and mostly amazed. Their gaze meets that of Slipper's who returns with a wink and nod.
A flanker from the openside latches onto a flick pass and the try is scored. Celebrations ensue both on-ground and off, while Slipper simply grins and begins pondering whether this highlight should be on permanent loop in the team room, or just saved for the team bus and hijacking review sessions.
Under normal circumstances, you'd say loosehead props shouldn't throw passes like this.
But these aren't normal circumstances, and this wasn't even Slipper's first moment of playmaking greatness this year.
Not content with sewing up the clear moment of Super Rugby, in that Adelaide moment, James Slipper locked down the international rugby moment of 2022 as well.
There will be other moments, probably, but everyone knows it's a race for second now. The fight has been stopped, the title already awarded. No further correspondence will be entered into.
Digger
Sorry, Brett, one moment is madness and I cannot isolate anything in particular.
But to rattle a few of my personal favourites off, the All Blacks turnaround victory at Ellis Park; Marika Koroibete's miraculous try-saving tackle in Adelaide, and just his overall enthusiasm and work rate; Pablo and Dane not getting along; Sam Cane answering his critics in Hamilton, and the rejuvenation of the All Blacks front row.
The Pumas back row, full stop, and Ardie Savea's form have all been clear highlights from this season's Championship.
Geoff
I'm going to cheat and pick two. Firstly, David Havili's try in Johannesburg, which iced one of the All Blacks' best wins in recent years, particularly given that it came with such low expectations, with all of the noise and turmoil surrounding the team and the coaching group.
Sports opinion delivered daily 
The other is Marika Koroibete's tackle in Adelaide, for its sheer exhibition of hard work, fearlessness, and the sight of Makazole Mapimpi flying off in the direction of the Victor Richardson gates.
And for the bizarre social media storm that followed, where so many people – who saw something I didn't – argued that Koroibete should have been sent off. Yes, his technique was awry, but he did everything the law asked him to do with respect to attempting to wrap an arm.
Partisanship is an important and vital part of rugby. But sometimes, you just have to ignore the colour of the shirt and recognise and enjoy the moment for what it is.
OVER TO YOU: How do you try and explain your team's inconsistency through The Rugby Championship?
And what's been your favourite moment of the TRC so far?
Rugby – The Roar