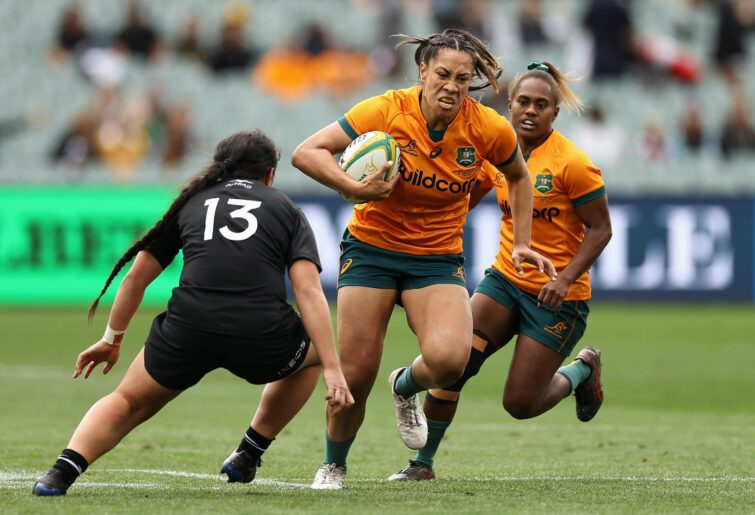 This morning while I waited for my coffee, big, awkward, uncomfortable tears started falling in the middle of the café.
An hour later as I went for a morning walk with my dog they hadn't stopped.
When I dialled in for our first team meeting of the day, I was asked why my voice is croaky.
With shaking fingers and red eyes, I decided to try and wrap language around the utter devastation I felt, and feel, with Rugby Australia once again.
As a default, my life is coloured by energy, enthusiasm and optimism. I value resilience, tenacity and curiosity more than most things.
But after reading the latest in the papers regarding Rugby Australia's bid to secure a number of NRL players ahead of the Men's World Cup in 2027, with an incredible $10m bid over five years for Rooster Joseph Suaalii, I crumbled.
I'm sure Suaalii is very talented, and I know the media often distorts and amplifies the facts. But I also know there's often a great deal of truth buried in stories, and that if Rugby Australia was to make a play for a handful of NRL players, there would need to be serious money on the table.
Money, that Rugby Australia has repeatedly claimed to not have available for years when it comes to the women's game.
This isn't a piece about gender equality or equal pay for equal play, although that too is an important dialogue to have. This is an explanation of WHY treating one gender so carelessly, as 'less than', is dangerous and genuinely causes serious harm in our society.
I've been involved with rugby for over a decade. In that time I've experienced dozens of degrading comments about women in sport, but more specifically just about women. I've experienced comments that in a workplace,would amount to sexual harassment from my male teammates, multiple old boys, board members and sponsors.
I've had my butt pinched more times than I can count, been called sweetie when I shared an unwelcome opinion and constantly been made to feel unsafe and like a second-class citizen because I am a female.
5 months ago after a rugby luncheon I was assured by a potential sponsor that if I returned home with him after the pub 'we could get the deal done'.
These experiences have been degrading and often left me feeling ashamed of myself.
I am one woman, amongst thousands who play all across Australia.
I love rugby, because despite all of the horrible, heartbreaking experiences, I have met some of my best friends (male and female), work colleagues and mentors through the game. I see its potential to create connection and build empowered leaders and I feel hope for what could be.
But it's becoming increasingly unpalatable to continue hoping, and to encourage women and girls to participate in the sport.
A study of leadership, organisational culture and high-performing teams tells us that every time leaders make choices they reaffirm a cultural norm or a value held by the organisation.
Unfortunately, devastatingly, the cultural norm Rugby Australia continues to reaffirm is that from their perspective, woman are 'less than' men.
As a society, we are outspokenly against gendered violence, sexual assault and domestic violence, but we're not willing to address the underlying attitudes that normalise these behaviours.
I'm hyper-aware of sexist humour and chauvinistic attitudes, regularly being told I need to 'lighten up', 'take a joke', and 'just deal with it' because the older generation doesn't know better.
I physically have to swallow back bile and make a concerted effort to take deep breaths when this happens. Because that 'humour' and those 'old school' attitudes thrown around so casually, cloak decades of underlying messaging and misogyny that has caused genuine harm for women and girls everywhere.
I've personally experienced the devastating consequences of what happens when young men take on the belief that women are 'less than' them. My ultimate goal for every person playing rugby is that they find a safe place to belong, without risk or fear of harassment/abuse because of their gender, identity, sexuality, race or religion.
At an international level, our Wallaroos are entering World Cup as amateur athletes, only last year moving to participation agreements with 'allowances' that pay a minimal amount to cover their time off work.
Meanwhile, media reports prior to COVID note that top earning Wallabies were on $500-$600k per annum, with Israel Folau reportedly on an insane $2.2 million back in 2018.
During 2020/21, the Wallaroos had all of their test matches cancelled 'because of COVID' only to watch on as the Wallabies continued to play uninterrupted.
Investment in the marketing and comms around Wallaroos events and profiles has also fallen short.
When asked about plans and deadlines to make the women's program professional in April this year, Rugby Australia's CEO Andy Marinos commented:
"We've got to work hard towards the 2025 World Cup in England".
"We won't be held to a timeline, but it's a priority."
This, for me, is unacceptable.
The leadership, culture and values endorsed by Rugby Australia are unacceptable.
The attitudes of the few in power are continuing to have real and damaging effects for women involved in the game, and this needs to change.
In the words of Bejamin Franklin:
"Justice will not be served until those who are unaffected are as outraged as those who are."
I hope you too, are just as outraged as me. Because we all deserve better.
Rugby – The Roar