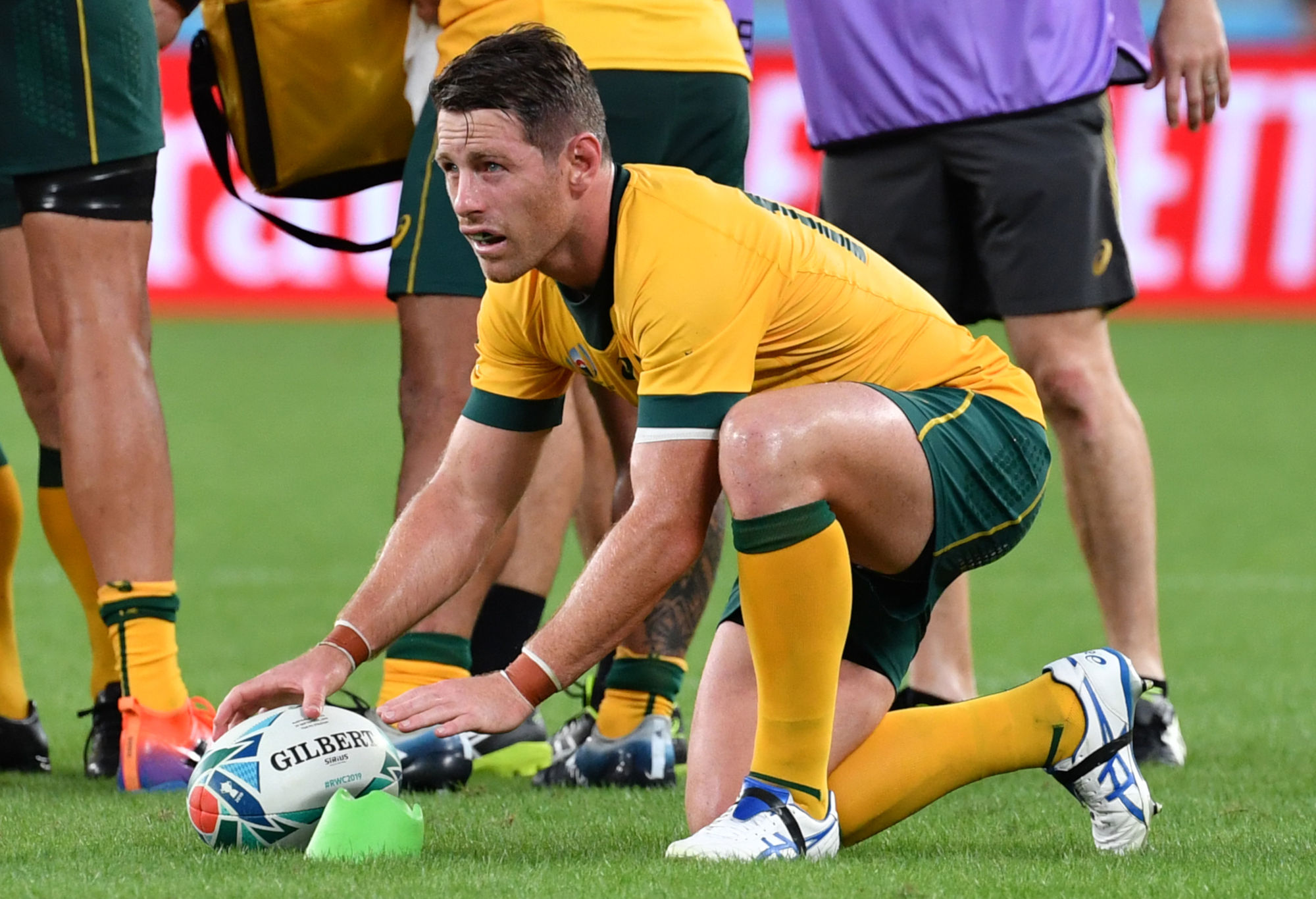 Bernard Foley says another World Cup is on his radar after he finally answered the Wallabies call a year after Dave Rennie first tried to bring him back into the fold.
Foley was named this week in the Wallabies squad to prepare for their two Rugby Championship matches against South Africa having last worn the gold jersey at the 2019 World Cup.
He says he's coming back into camp with a wider world view on his craft having spent the ensuing time playing with and against different nationalities in Japan.
Foley was open about his reluctance to come back when contacted by Rennie last year. Instead Quade Cooper was brought back in and he quickly showed the benefits of his experience, leading the Wallabies to back-to-back victories over the Boks.
Cooper's impact gives a template for Foley to follow and even though he's unlikely to feature in the match in Adelaide on Saturday due to a short time back in training, Rennie will be hoping he can be a positive force in a problematic position.
"I was really impressed with how he came back in and just the experience and the composure he was able to add to the side," Foley said of Cooper's impact 12 months ago.
"I think we saw all the players around him lift and and grow in stature and confidence by having that experience, and that voice, that calmness next to them and directing the team around.
"I thought he'd done a wonderful job last year and even this year. Speaking with the guys, his influence and effect on the team has been massive. Really sad to see his injury come up at that time. But that opportunity falls on me now."
It's an opportunity Foley thought had probably passed him by after his 71 caps.
"I suppose I always hoped and thought about it, but I never thought the opportunity would come back up, especially leaving, going overseas and knowing that the eligibility laws have the ability to change," said Foley.
"I had to be content with not getting the opportunity again when I left in 2019 so to now get the opportunity to be back here in the squad and get to wear the colours … I'm grateful and excited about having that second opportunity.
"Experiences over there have hopefully allowed me to see a more worldly game and how other teams and other players approach the game and their trends and objectives in how they play footy.
"I've been lucky enough to play with All Blacks, South Africans and Japanese players. We all brought a different flavour and being around those guys and has taught me a lot about the rigours of playing footy and how the mindsets and intentions change wherever you are playing the game."
He credits his time away as having helped him hone his role.
"It's really that management and control; how you can understand momentum and territory and moments within games and then how you can put the team in the right places," said Foley.
"That's probably something I've been lucky enough to work with different people from different backgrounds and understanding of the game and thinkings of the game. So, for me, it's really just trying to get better as a game controller and caller."
Foley said he first talked to Rennie straight after the French series last year, about the time the coach also sat down for a coffee with Cooper.
"We had a really good conversation, open chat, about whether that was the right timing or somewhere else down the line," Foley said.
"For me, just coming back from overseas, being in bubbles, and having a bit of family stuff meant it was probably not the right time and I wasn't probably in the right mindset. But it gave me time to reflect and dive down to what I needed and lit the fire again about coming in."
Rennie kept the line of communication open.
"We had open chats, throughout the rest of that season and the start of this season," Foley revealed. "To have that call up and chat three weeks ago, I was pretty eager and jumped at the opportunity to come back in."
Asked to pinpoint a key reason for changing his mind, Foley said: "Whether it was an ego thing or whether it was something that was really driving that ambition inside me to come in and reflect on when I was in here before and how I'd do things differently, and where I've learned and grown – to come back and really add to the team. The time is right now."
Foley says he has no expectations around game time in the Springboks series.
"We're only day one in the program, so really I'm just coming in here, trying to learn the language, the strategies, how the  team want to play and getting to know and connect with the players," he said. "No real objectives as such, just to be involved where I can, be a part of the squad and help out where I can and get to know them and introduce myself is my main priority of the month."
That Rennie needed to call him up, and Cooper before him, points to a lack of depth in the mid range of No.10 talent.
Ben Donaldson has been brought in to train with the team but outside the official squad, while there is a gulf in age and experience between Noah Lolesio, Cooper and Foley.
"I suppose there is a bit of a void there of players through that middle section," Foley said.
"I'm not really sure and that's probably not for me to talk about, but how we can develop these young guys now is really exciting.
"I've done a couple of sessions with Ben Donaldson and Tane Edmed, now in here with Noah, and really excited because I see these guys as immensely talented. They've got the composure, they've got the mentality and probably the rugby IQ to  run teams, they just need that experience and that time in the saddle to really understand their craft, master their craft, and be able to steer teams around."
Lolesio has had a disrupted Wallabies career so far – coming in and out of the team and squad and not yet doing enough for Rennie to fully commit to him.
"It's difficult just being young and being in these environments," Foley said.
"But I'm really impressed coming in yesterday, meeting him, just how composed and confident he is. I don't think [his confidence] has been knocked around or anything like that.
"I think he's a guy who can come in and call the shots and I'm really excited to look forward to working with him and just seeing how he sees the game and how he's going to run."
The 2019 World Cup was a humbling experience for Foley as Australia were thrashed by England in their quarterfinal, having lost in the group stages to Wales.
"I've had time to reflect on it; I think we were probably in a place [in 2019] where we cared too much, we were trying to force it to happen, we were trying too hard to change the outcomes and to really go in there and have an unbelievable tournament," said Foley.
"The intent was alright, the purpose was spot on, but just execution and how we carried it out and how we weren't able to circuit-break ourselves enough through those couple of years leading up to it, and in that 2019 World Cup [was lacking].
"That's probably what I've really enjoyed being back in here and really understanding that there is only a finite amount of time you're in this jersey and in this program and doing what we get to do.
"So really make the most of it, enjoy it and have fun, but work hard and really appreciate the opportunity that we have."
There is still a lack of total clarity over what Foley's opportunity is. Playing with Kubota Spears in Japan is likely to limit him to the next four Tests this year – none of Australia's Japan based players were released for the northern hemisphere tour at the end of last year.
"I haven't really discussed that with the club," said Foley. "They've been really supportive of me coming in here and really excited for me to be back in the Test arena. But I haven't really discussed that in length yet, so I'm really just trying to take it week by week, get through this week and I'm sure those discussions will be had."
If Rennie calls next year to invite Foley to the World Cup, it's likely to be a shorter conversation.
"There is a finite amount of time but it is on the radar," he said. "I'm literally just in here, day one trying to connect with the guys, understand how they want to play. There's a lot of footy, a lot of time between now and then."
Rugby – The Roar