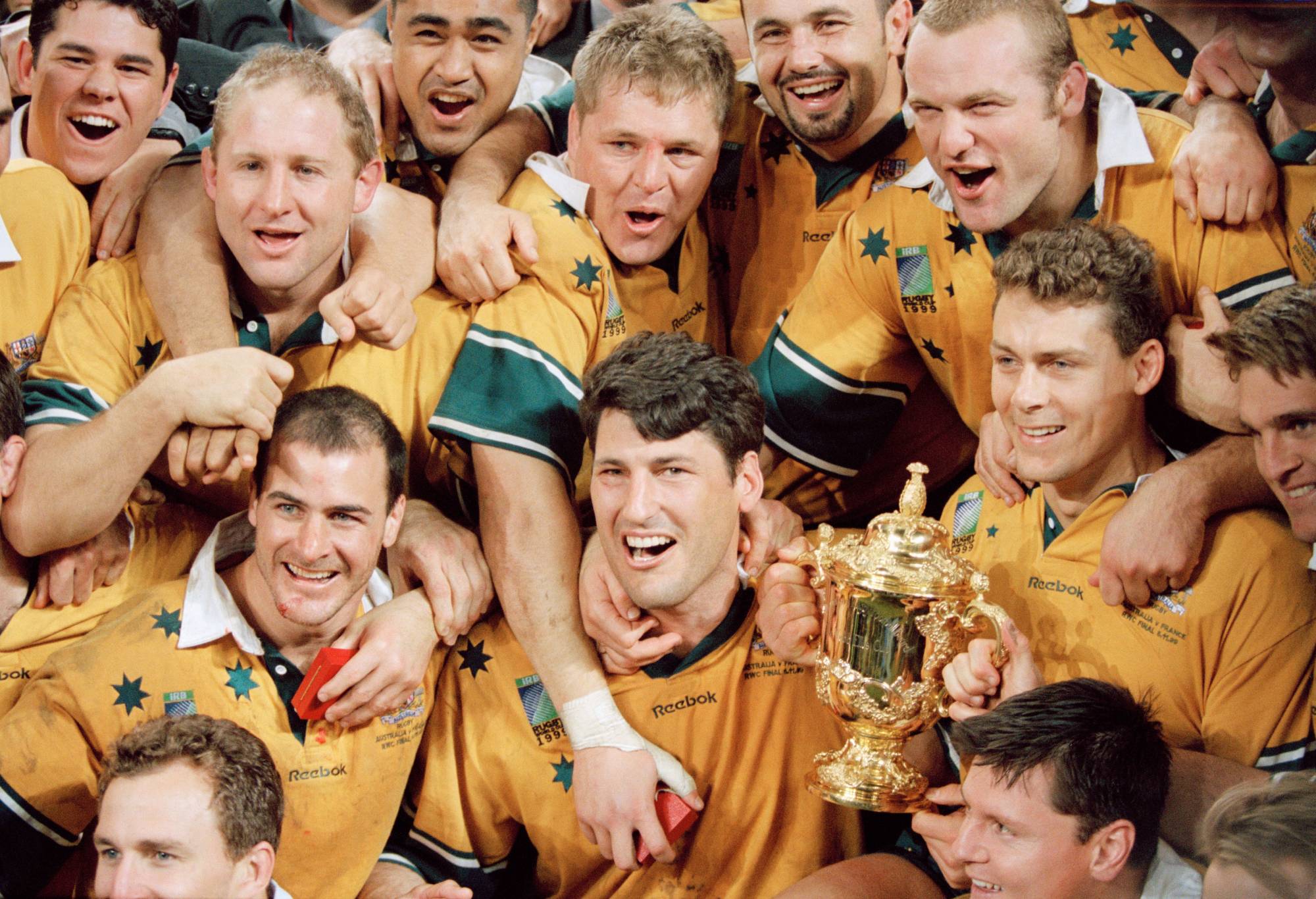 The last time Australian rugby's top brass had cash to splash, they went for the biggest names in the NRL game.
Some of the recruiting targets were a success, many of them were not.
In the lead-up to hosting the 2027 World Cup, Rugby Australia is again looking to roll the dice on recruiting rugby league stars to help not only improve the Wallabies' chances but also create extra publicity for the marquee event so crucial to the sport's future in this country.
More than a quarter of a century ago, as the then Australian Rugby Union geared up for the 2003 World Cup on home soil, it was a much different ball game. 
Rugby was riding the crest of a wave that had been building since the 1991 World Cup victory, gathered momentum throughout the decade as Rod Macqueen and John Eales led a golden generation to the '99 trophy and the expectation that they'd be very strong chances of defending their crown four years later.
The ARU wanted to not only poach the NRL's best and brightest talent, it wanted to supplant the rival rugby code as the dominant winter sport in the northern states before conquering the rest of the nation.
Wendell Sailor, Lote Tuqiri, Mat Rogers and Andrew Walker made the switch and rugby league's most dominant player Andrew Johns in 2004 went within a whisker of following them. 
Mark Gasnier ummed and ahhed about trying rugby, Timana Tahu eventually did, poor old Nathan Blacklock gave it a try but was a fish out of water at the Waratahs.
Apart from Johns, who didn't jump ship, all these NRL stars have one thing in common – they didn't stay for the rest of their career, they all returned to the league of second/third/countless chances.
RA chairman Hamish McLennan has been bullish recently about a hit list of NRL players they want to target with the likes of Matt Burton and Joseph Suaalii among the prominent names that have been mentioned.
With the lure of potentially competing against the British & Irish Lions on their 2025 tour also in rugby's favour, McLennan has every right to puff his chest out and be confident his code can make a dent in the NRL ranks.
But they need to be judicious with their spending. Rugby's rusted-on fan base will not want to see another repeat of the early 2000s where league players, more specifically their managers, used union as little more than a bargaining chip to drive up their client's asking price.
Rogers, Sailor and Tuqiri, in particular, gave the Wallabies strong service over several years but rugby should be looking to sign players who they are confident will stay the course and retire in the 15-player code rather than use it as a mid-career earnings booster without having any particular affinity for the sport.
It's hard to read much into the Israel Folau situation in more recent times. He was a mercenary wherever he went. At a time when the Storm were not yet caught for rorting the salary cap, they couldn't convince him to stay and he left Melbourne for a better deal at the Broncos.
They in turn were blindsided when he accepted the publicity stunt mega deal to go to the GWS Giants, who were then not displeased to let him go play rugby. Folau undoubtedly gave the Wallabies much-needed firepower in 73 Tests over six years from 2013 until it all came crashing down but his career trajectory is unlikely to ever be repeated. 
Suaalii should be RA's top target – he's not yet an established star but he has the athletic gifts to potentially become the most damaging player in either code over the next decade.
He's got rugby pedigree as well after starring for The Kings School's first XV and representing NSW and Australia at schoolboy and under-18 level in sevens. He also was among the best in his age-group in Aussie Rules, athletics and basketball so he wasn't short of options.
Suaalii is also not short of options when it comes to his contract. He has a player option for the next two years at the Roosters so, in theory, he could sign elsewhere at the end of this NRL season. 
However, the Roosters and the NRL have done everything they can to set him on the path to stardom without overburdening him. 
Rules were relaxed so he could make his first-grade debut last year even though he had not turned 18 and Blues coach Brad Fittler brought him into Origin camp this season as an unused reserve to soak up the experience with a view to him representing NSW as early as next year.
Burton also played rugby as well as league during his junior years but the Dubbo product always had the 13-player code as his preference. He's already won a premiership with Penrith and made his Origin debut this season during his first season at Canterbury but is only at the start of the prime years of his career at 22.
He's contracted to the Dogs until the end of 2024 but has an option to opt out of the final season of his deal, which he'd be mad not to use, as his value has risen immensely since he signed the deal as a Panther with potential early last year.
His booming left boot would be a monumental asset in rugby, but would he be able to adapt to the technical skills required in the backs? Fullback would probably be his best position if he were to switch, which coincidentally where Suaalii found success in rugby and wants to shine in league.
He's stuck on the wing at the Roosters with James Tedesco filling the fullback jersey ahead of him at club, state and national level now and for at least a few more years into the future. At 29, Tedesco – who is contracted to the Roosters for two more years – is showing no signs of slowing down and has never played any other position so his presence could prompt Suaalii to consider his options.
Rugby would perhaps be better served and get better results by targeting some other league prospects who have yet to establish themselves in first grade and could be signed long term and stay even longer in their code.
Players like young Dragons trio Jayden Sullivan, Junior Amone and Tyrell Sloan, or Raiders whizz-kid Xavier Savage, Sea Eagles speedster Tolu Koula, Eels centre Will Penisini (another player with schoolboy pedigree) or Cowboys rake Reece Robson – creative NRL hookers could make great rugby scrum-halves.
Even though Angus Crichton and Cameron Murray are enticing options, rugby officials should pretty much put a red line through any NRL forward making a successful switch, unless they believe they can make one of them a Sonny Bill Williams-style second-rower who could make a fist of centre.
Joseph Suaalii. (Photo by Jason McCawley/Getty Images)
The lineout and scrum are as foreign to NRL forwards as bocce and synchronised swimming.
One of the other problems Rugby Australia will run into is that NRL players will see switching codes as a backward step as far as exposure, notwithstanding the fact that their sport is played in very few countries by comparison.
When Rogers, Tuqiri and Sailor became Wallabies, it was an era when the Wallabies were filled with household names like Eales, George Gregan, Matt Burke and Stephen Larkham. Even the lesser-known Wallabies were doing Bundaberg ads that received mainstream airplay.
Rugby was on free-to-air TV and ratings were booming.
Nowadays, a player's brand is paramount in their careers and rugby is the poor cousin when it comes to national exposure. Only really Michael Hooper could claim to have what the marketing types call "cut through" beyond rugby's traditional fan base. 
It's a delicate balancing act for McLennan and co to attract the right type of talent, that has star potential, that won't just be in for the short term.
There is of course an alternative which won't give rugby the quick sugar hit it craves but is probably going to be more beneficial – invest in junior pathways, identify and retain the best young talent, and reap the rewards when those players become Test stars.
That sounds like such a crazy plan that it just might work.
Sports opinion delivered daily 
Rugby – The Roar