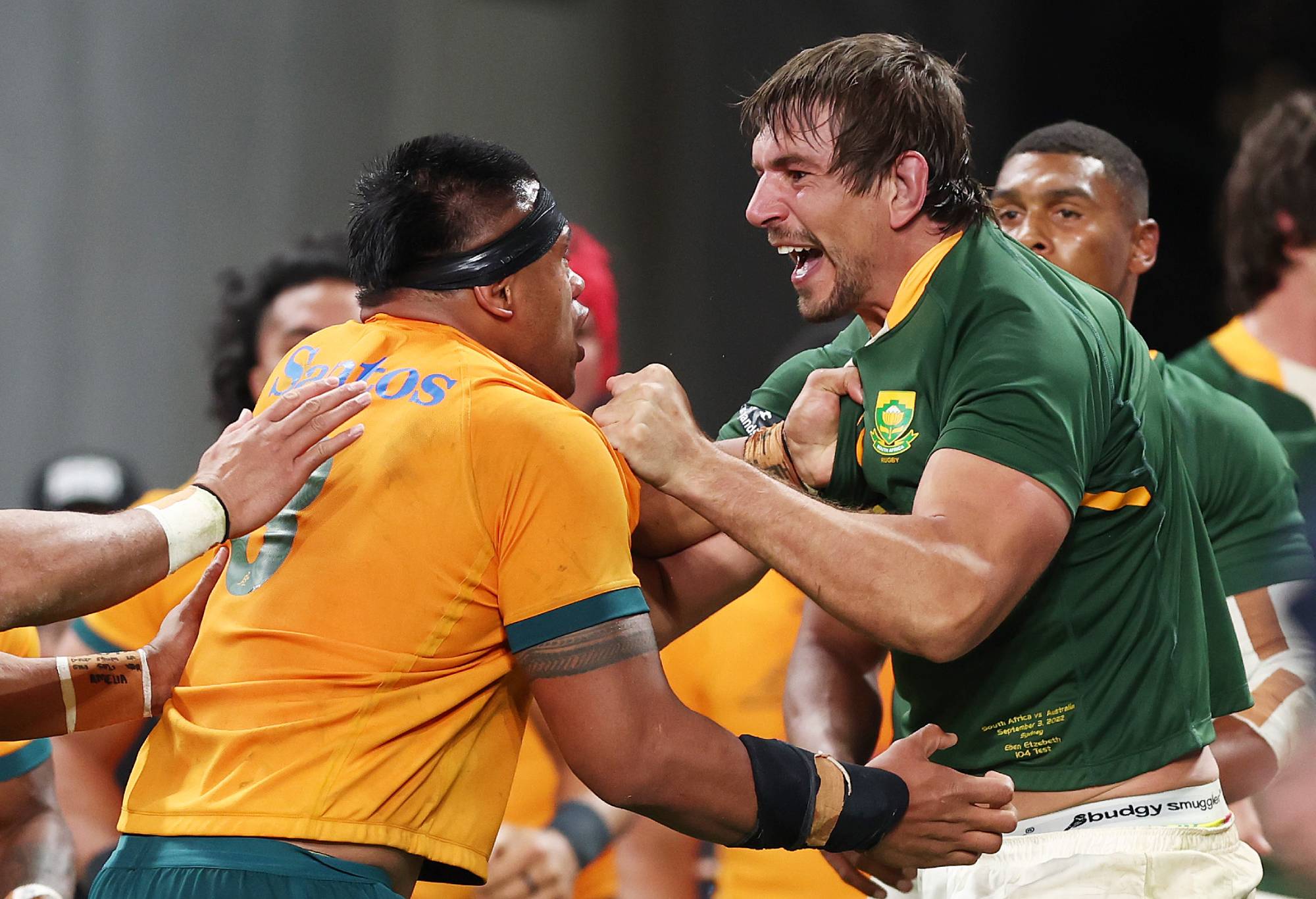 After two rounds, our running team of the Rugby Championship had an all-Springbok front row, quite a few Pumas, including 'Go Slow' Emiliano Boffelli and Tomas 'Volcanic' Lavanini, just two Wallabies and plenty of All Blacks (but not as many as usual). What about now?
In the 2022 Roller Coaster Championship with all teams 2-2 and having had at least one stinker, have we seen any tidal shifts? Is it necessarily true that an even comp will have an even 'all star' team? Of course not, just as the best film of the year does not always have the best director or actor.
There is subjectivity, but also a deeper truth: some teams depend more on some players more than other teams lean on guys in that same position.
Game plans shift and accentuate some more than others (for example, a Springbok nine will have more say on the kick-pass-run ratio than the ten) and there is also the question of minutes in this competition as opposed to picking the 'most skillful.'
Of the four teams, Argentina and Australia have copped one proper hiding each: the Hamilton debacle and the 7-try stampede in San Juan. New Zealand struggled in Nelspruit but finished with spirit, as did South Africa in Adelaide. Neither has been blown out. The All Blacks have rediscovered their big scoring ability and the Boks seem to be sneaking up on being a stingy defence as before.
Thus, despite four even win-loss records, the higher ranked and deep Boks and the mercurial All Blacks feel like they have been a bit better than the other two. Proof of pudding will come in Rounds 5 and 6, or we could have yet another twist.
Plot reveal: Handre Pollard is out and would have been dropped even without his Adelaide injury. He was in for his 100 percent kicking rate and then he lost that. The Bok front row is still the business. But there is a shift towards New Zealand as they ease towards the Bledisloe.
Teams bounced back. The Adelaide Abomination was turned into the Sydney Smashing. Ian Foster's Christchurch Heresy became a Hamilton Hammering. Michael Cheika spent time with Brett McKay and me on the Roar Podcast just at the right time and Dave Rennie saw all the Wallabies' World Cup-type frailties exposed in a gleaming $800 million stadium which appears to be redeeming the cost to NSW taxpayers with$20 beer and $2.90 tomato sauce packets.
Next round will probably throw little babies out with bath water, again. Yes, that was a Nic White reference.
Team of the Tournament (thus far):
Loosehead prop
James Slipper has stepped up during Michael Hooper's surprise sabbatical. Steven Kitshoff finally got a start in Sydney and was a bright red firecracker. Ethan de Groot is thriving in the All Black forward setup.
But young Tomas Gallo takes the first jersey because he has made as many tackles (43) as workhorse skippers Sam Cane and Siya Kolisi. The Spicy Plum is backup again; and what a bomb he is!
Hooker
It's a banner year for busy rakes. Compelling captain Julian Montoya is having a year. But ball-busting Malcolm Marx and barn-breaking Samisoni Taukei'aho have been a class above. Given a full match against the Wallabies, Marx showed why most have him in their World 23. He just cannot be contained.
Tighthead prop
Taniela Tupou will take his fattened calf to a thigh specialist. I'll see myself out.
It's not an Argentine era for tightheads. They seem almost too beefy; the asada needs a sharper knife. I wish there was a Puma tighthead named Chimichurri. But I digress.
Brumby Allan Alaalatoa is a prop's prop and stared into the abyss of Etzebeth.
But Frans Malherbe played mad for about 60 minutes in Sydney. Some of his tackles and scrum work were especially animated; and he carried it into very dark places to keep the ball alive.
He has a firm bind on the tighthead jersey. Eben-whisperer Seven A's is his understudy.
Locks
The Wallaby locks have not punched above light heavyweight; and it's a super heavyweight division. Rory Arnold is lunging at tackles and unable to kill mauls. Matt Philip battles as manfully as a Manly ferry crossing the swell at the Heads.
Tomas Lavanini has had his best Rugby Championship; if he could just believe in card-inal sin.
But maestros Sam Whitelock, Eben Etzebeth and Lood de Jager have ultimately shown their higher top Test pedigree. Offloads, clean breaks, cleaner lineout wins, maul steering, heavy tackles and in Etzebeth's case, terrifying kick chase.
The big hallway pounder, Scott Barrett, has contributed his clumsy courage, but it's crazy eyes Etzebeth and caveman Whitelock with de Jager Shot on the bench.
Loose flank
The Boks and Pumas are less rigid about loosie roles but we can identify a "looser flank."
Tearaway Juan Martin Gonzalez has been a revelation, reminding of speedster Lion Tom Croft. He seems to read the loose ball fluently.
Dashing piratical Fraser McReight has had his moments; he has been as like-for-like for Hooper as you can imagine. But he will have to learn the Test ratio is 5:1 not 3:1 on getting over the ball, particularly when clever carriers have the extra shift to place the ball.
Captains Cane and Kolisi have grown into the tough competition. We will award the increasingly vocal Kolisi the jersey mostly because his pilfers have been just a wee bit more timely than Cane's, and his carries only slightly more dynamic.
Tight flank
Here we have some very cool customers.
Taciturn Pieter-Steph du Toit, big Franco Mostert, fearsome Marcos Kremer, smooth Shannon Frizell and frowning Jed Holloway are quiet hard men. Du Toit was not as hard on the ball and man as cameo Mostert. Kremer is the top tackler in the tournament. Holloway has been a lineout gobbler.
But All Black Frizell should be nicknamed 'the Answer.' He has the body height and heft they've missed. Kaino-esque, he is; not the finished article but what a good start.
No. 8
Four wheel drive Jasper Wiese is a better eight man than slowed Duane Vermeulen at this point in their careers. So that's not too shabby! His job at Allianz was to force the Wallaby backs to spend their deductible. Time after time he found weak shoulders and soon the Aussie bench was 5-1 tall rather than 6-2.
But this is a good season for well-rounded eights. Ardie Savea, Pablo Matera and Rob Valetini have all carried their teams for periods.
Savea — the human rights activist with leg drive — gets the nod because even in losses he seems to be the best player on the pitch. He also seemed incensed by the Puma win, which galvanized his mates. When you outplay Matera, you have done something.
Scrumhalf
In warmups, watching the Wallaby nines box and pass, Tate McDermott struggled to get it his kick high enough and his pass low enough. Jake Gordon has the stronger pass from a crouched position than either of his colleagues. But it is the high box kick that is keeping White in the starting jumper.
But in this tournament, Aaron Smith's pass and Jaden Hendrickse's kick are best in class. (Gonzalo Bertranou's snipe is very good, too). Bullet Smith to start with Hanging Hendrickse the backup.
Flyhalf
With Pollard ceding his spot, Damian Willemse more a fullback, and Santiago Carreras playing a limited role as playmaker, the choice is between young Noah Lolesio and brilliant Richie Mo'unga.
No surprise, the Crusader 10 has it, and if Lolesio is available and selected, they will face off in a mano y mano Bledisloe battle. I was wrong about Lolesio, and yet I think I was right. There is a bit of Pat Lambie about him: such a good sportsman but perhaps not robust enough for the long haul. Still, a good show.
Inside Centre
In the category of how wrong I was, I must commend David Havili for finding a groove. He looks more assured each match, but still has an off day in him.
Damian de Allende is the unsung hero of Bok ball, which depends so heavily on him to swim through hungry crocodiles and set a ruck target upfield.
Not an easy choice, as each has basically had individual performances mirroring the fortunes of their respective teams. But due to fewer errors, I'll slot Havili in.
Outside Centre
I was most wrong about Rieko Ioane. He might end up being the midfielder of the tournament, and he's still a wing! He is a rare player who can conceal his flaws by exposing yours more.
Lukhanyo Am's injury robs us of a better race, but it's Ioane's misfit 13 jersey alone. He and Am are electric to watch for different reasons; Ioane can just beat defenders with speed. His passes still lack the softness of Am's but he played more.
Wingers
Normally there is little spice in a wing debate. Who is the better finisher, who comes in looking for work, and who dealt with the high ball? But this year there are penalty goals and big tackles, too.
Boffelli has had good touches (and kicks) but has not dominated. Caleb Clarke is damaging, but needs work on his defence.
So it is the adorable twins: Marika Koroibete and Makazole Mapimpi, or as I like to call them: Marizole Koroipimpi.
Let's watch them play corner rugby smash and score for a few hours. It is PlayStation really.
Anyone who postulates the Adelaide Avalanche was either 'easily legal' or that it was a penalty try is not a close rugby observer. That type of contact gets pinged at every level (or not) and often ties a TMO up in knots enough to have an irritating five minute rewind and a passive aggressive committee consensus. The arm was not in a typical position.
Or it is just as commonly play on. Because there was arm there or thereabouts. I go with play on but I see the other view. And Mapimpi had the last laugh, albeit on the naughty chair.
Fullback
Jordie Barrett is that Freddie Steward breed of 15: 6 foot 4 or more. Bipedal. A rock. Reece Hodge has had to play a lot of ten, but he is also a big tall fifteen who laces the ball a country mile and scares the spider cam.
But shifty Damian Willemse has shifted Willie le Roux to the Bok bench with tourney-leading breaks, bounced defenders, offloads and otherworldly cover tackles (who runs down Clarke? Not Hodge, Barrett or le Roux).
Team:
Gallo (ARG), Marx (SA), Malherbe (SA), Etzebeth (SA), Whitelock (NZ), Frizell (NZ), Kolisi (SA), Savea (NZ), Smith (NZ), Mo'unga (NZ), Mapimpi (SA), Havili (NZ), Ioane (NZ), Koroibete (AUS), Willemse (SA).
Pack: four Saffas, three Kiwis and an Argie. Which points to the issue for the Wallabies in the semifinals.
Backs: four Kiwis, one Aussie and two Boks. Which points to a potential issue for the Pumas in a quarterfinal.
Bench (5-3): J Barrett (NZ), Lolesio (AUS), Hendrickse (SA), Kremer (ARG), de Jager (SA), Alaalatoa (AUS), Kitshoff (SA), Taukei'aho (NZ).
Three Saffas, two Kiwis, two Aussies and a Puma.
Overall: nine All Blacks and Boks, three Wallabies and two Pumas. And two games each to go.
Rugby – The Roar