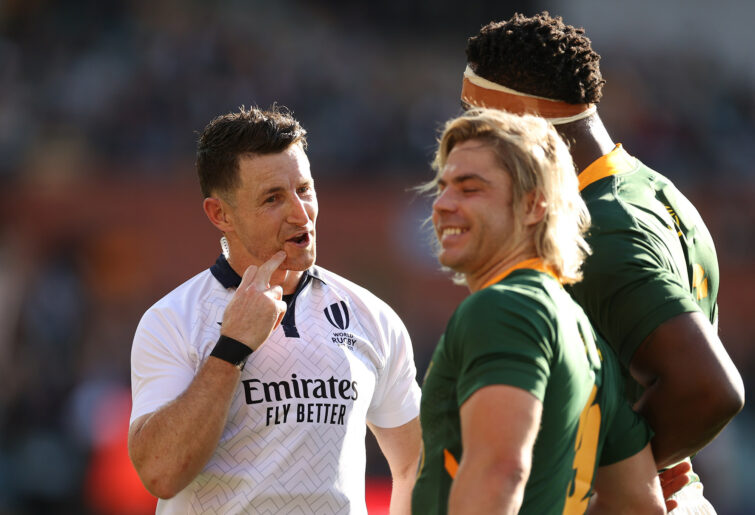 The South African rugby media haven't exactly taken the Springboks' loss to the Wallabies with good grace.
Among the sources of frustration is a controversial performance from Kiwi referee Paul Williams at the Adelaide Oval, while Wallabies veteran Nic White has also come under fire for his apparent stage to earn Faf de Klerk a yellow card after minimal facial contact
"Paul Williams of New Zealand has brought shame onto the game of rugby with one of the worst officiating displays in modern rugby," raged James Richardson in The South African.
"Williams' efforts were either criminally incompetent or evidence of bias.
"On several occassions Australia got a massive lift from a dodgy call from the Kiwi whistle-blower."
Richardson also claimed Marika Koroibete 'should have been carded' for his incredible try-saving tackle on Makazole Mapimpi, describing the effort as a 'flying shoulder charge'.
But his biggest gripe came with the incident that saw de Klerk yellow-carded, after White milked a swipe at his face from the Springbok for all it was worth.
Richards deemed the card a moment that 'brings shame onto the game of rugby'.
"Williams bought into play-acting from Australia scrumhalf Nic White whose actions have no place in the sport at all," he wrote.
"Paul Williams and Nic White bring the game into disrepute.
"De Klerk provided a basis for the call with his attempt to disrupt but the subsequent reaction from White to try and draw a response from the official and Williams bizarrely believing that the incident warranted a yellow card let alone the relieving penalty they also received."
Richardson finished by calling for Williams to be banned from officiating not just international matches, but all professional rugby.
"Williams' diabolical decision-making robbed the Springboks of momentum and points and changed the nature of the game," he wrote.
"This referee has no place taking charge of big games and should be banished to the bush leagues for the rest of his days."
White's acting also brought forth criticism from former Springboks fly-half Butch James, who said on Super Sport laying into the Australian scrum-half, saying it was he who deserved a yellow card more than de Klerk.
"He should have got the yellow card there. I think it's an absolute disgrace to the game of rugby that a player can behave like that," James said.
"For me, he deserved the yellow card there and he should be in the sin bin… Absolutely nothing. He makes contact with him on the face. If he carries on, passes the ball, plays on – nothing, not even a penalty is going to occur.
"For me, he has milked that."
South African TV presenter Derek Alberts agreed, taking to Twitter to urge White to apologise for the milk, as former Springboks winger Bryan Habana did following a similar incident with Saracens' Owen Farrell while playing in a European Cup game.
"Bryan Habana once issued an apology for going down after taking this "hit" from Owen Farrell," Alberts wrote.
"I can't wait for Nic White's essay…"
South African sports reporter Mark Keohane was even harsher, describing the moment as White's 'most embarrassing moment as a professional'.
However, Keohane was also willing to blame the Springboks for the defeat, describing their performance as 'turgid' and calling for change.
"Forget all the blind faith in Rassie Erasmus and Jacques Nienaber on the basis of the 2019 World Cup final win against England," he wrote for Keo.
"They are getting things wrong – too often."
Director of rugby Erasmus and coach Nienaber were the focus of much of Keohane's criticism, and was scathing of the pair's ploy to 'back historic form over all else' rather than give opportunities to new talents.
"The Boks have been in free fall for the past year, having lost to the All Blacks twice, England, Wales and Australia three times since securing a last kick 2-1 series win against the British & Irish Lions," Keohane wrote.
"Erasmus and Nienaber have consistently escaped condemnation, despite losing 45 percent of their matches since Nienaber was made head coach, on the basis of being Erasmus's trusted deputy for the past decade.
"Rennie has overseen just eight wins in 23 Tests against the rest of the world. It seems the Kiwi in charge of the Wallabies has Nienaber and Erasmus's number, with a three from three success rate.
"The Bok coaching philosophy is to back historic form over all else. It is why players like Duane Vermeulen, Frans Steyn and Elton Jantjies were thrust back into Test rugby, despite lengthy injury-enforced absences.
"No player walks from the operating theatre into Test rugby, no matter how many practice sessions. All three players were done a disservice with their selections.
"Meanwhile, two of the best players of the United Rugby Championships, Evan Roos and Elrigh Louw collectively have played less than 100 minutes in their debut international seasons. Louw was in the stands in Adelaide. Roos was in Cape Town.
"Coaches live and die by their selections and right now Nienaber and Erasmus are dying."
Writing in the SA Rugby Mag, Zelim Nel was scathing of the Springboks' 'free-styling display of tactical naivete', also laying into Erasmus for his refusal to change the team's game plan.
However, he also boldly claimed the Boks will square the ledger in Game 2.
"The Springboks will win in Sydney next week but that will do nothing to hide the fact that the world champions have stagnated," Nel wrote.
"The proverbial cat is out of the bag – the Boks have lost their way and are now at a crossroads with 12 months to go to the 2023 Rugby World Cup.
"A master planner, Rassie Erasmus would have spent much of the time since a 27-26 defeat at Twickenham in November ruling perfect lines on his Bok map from January 2022 to September 2023.
"However, his pristine, grand designs were smudged by the unexpected success of the Stormers and Bulls in the United Rugby Championship.
"He doesn't like surprises, and there's probably a part of him that resents this unforeseen development, and his obstinate refusal to adjust the plan to maximise the obvious potential of the likes of Evan Roos, Marcell Coetzee and Elrigh Louw, and address the red flags in key positions, is primarily why the Boks have stalled."
Nel went on to question Erasmus' suitability to remain in charge, arguing his strength is in 'salvaging sinking ships, not maintaining championship contenders'.
"Erasmus cut short his stay to return home in 2018 to dig the Boks out of their deepest hole, and famously guided them to the title at the 2019 Rugby World Cup," Nel wrote.
"But what has changed since then is that he is no longer coaching a squad frantically trying to scrape off the stench of losing 20-18 in Florence, 38-3 in Dublin and 57-0 in New Zealand. He is now working with World Cup winners, and the victors of a successful series against the British & Irish Lions.
"And where he first pulled together a team desperate to do whatever it took to stop the bleeding every time they ran out, he now finds himself in charge of a group of players, many of whom cannot see what's in front of them because they're squinting at the blurry 2023 Rugby World Cup in the distance.
"As the idiom goes, it's easier to get to the top than stay there. The implication is that it takes something different to achieve sustained success and Erasmus has done a terrible job of making the brave calls required to change into 2023 world champions."
Speaking after the match, Nienaber and skipper Siya Kolisi were downcast.
Sports opinion delivered daily 
"It was frustrating how many opportunities we created but didn't convert into points," said Nienaber.
"It is something that has happened in our last few games, so we will work hard to correct that. We were in Australia's 22 about 13 times, if not more, and we didn't come away with points a lot of the time, and when they were in our 22, they used their chances well and got the rewards for it."
Nienaber added: "We will have a good review of the game, take the lessons learned, and ensure that we are up for next week's clash in Sydney. The nice thing is that we will have another chance against Australia in seven days and hopefully we will be able to turn things around."
However, neither would criticise the referee when asked about de Klerk's yellow card.
"We've got to live by it. They capitalised nicely on [the yellow card]," Nienaber said.
"Defensively, looking back at it, we could have controlled it better. If it's a yellow card, it's a yellow card, I just thought we could have handled it better."
Kolisi bemoaned missed opportunities and errors at crucial times.
"I thought the Wallabies played really well, and they took the opportunities they created, whereas we didn't," he said.
"We could certainly have been more clinical, but their defence was good and they did well to get a few crucial steals."
Commenting on costly handling errors throughout the match, Kolisi said: "Our last passes didn't go to hand, but as coach Jacques always says, no-one intentionally knocks on the ball.
"Our set pieces were good, but we can always get better, so we will go back and review the game, and we are looking forward to the next clash against them."
Rugby – The Roar