Lebanon 32 Ireland 14 RLWC 2022 : Ireland fell to a crushing defeat at the hands of Lebanon as their Rugby League World Cup dreams were shattered in the Leigh Sport Village.
Reece Robinson was the first to get over for a try for Lebanon and Mitchell Moses added the extras.
It worsened for Ireland just two minutes later as Jacob Kiraz benefitted after Ireland fell foul to ill discipline and conceded another penalty within their own 30 metre line.
Brandon Morkos added Lebanon's third try just before half-time but Ireland did at least respond before the break as Louis Senior skipped over for the Wolfhounds' first try. The extras were missed and that made it 20-4.
Lebanon head coach Michael Cheika, speaking to BBC Two:
"It was a bit scrappy at times. You clearly saw two teams who were nervous playing in a very important game.
"We stuck to the fundamentals well, I wasn't too happy we lost our heads a little bit. I thought Ireland would try and rough us up a little bit, we lost a bit of our way there and that's when we made some mistakes.
"But all in all, really pleased. Now we've got to finish the job off to qualify against Jamaica. How we prepare over the next seven days will decide if we get through or not."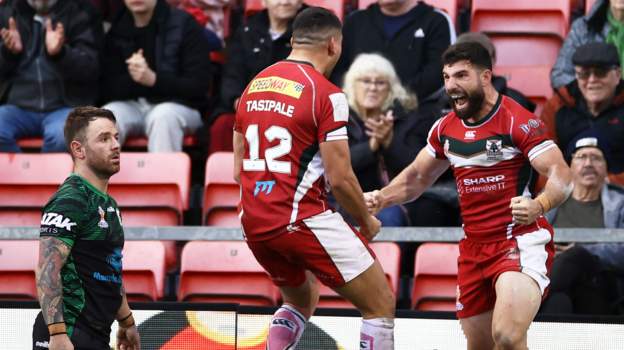 Head-to-head
Lebanon have never lost to Ireland in their three previous meetings, drawing twice and winning once.
Their last encounter was in 2009, when Lebanon recorded a 40-16 win in Bridgend and this will be the first time they've faced each other at the Rugby League World Cup.
Ireland record
Ireland first qualified for the Rugby League World Cup in 2000 as co-hosts, registering their best performance to date of fifth place.
They have featured in every tournament since, coming ninth in 2017 after failing to advance from their group, despite two wins over Wales and Italy.
They are in fine form winning their last three men's internationals by an aggregate score of 115-14.
Lebanon record
The 2017 Rugby League World Cup was just the second time the Cedars have qualified for the tournament.
Mitchell Moses put in a Player of the Match performance in their opening game to claim their first ever win, a 29-18 victory over France.
Lebanon: 17 Jalal Bazzaz, 10 Hanna El-Nachar, 11 Elie El-Zakhem, 8 Kayne Kalache, 15 Andrew Kazzi, 1 Jacob Kiraz, 14 Anthony Layoun, 3 B. MAARBANI, 2 Josh Mansour, 5 Abbas Miski, 4 Brandon Morkos, 7 Mitch Moses (C), 19 Khalil Rahme, 20 Jaxson Rahme, 18 K. RAJEB, 16 Reece Robinson, 13 James Roumanos, 9 Mikey Tannous, 12 Charbel Tasipale
Ireland: 1 Richie Myler, 3 Ed Chamberlain, 4 Toby King, 5 Innes Senior,  6 Luke Keary, 7 Joe Keyes, 8 Liam Byrne, 9 Josh Cook, 10 Jaimin Jolliffe, 11 James Bentley, 12 Frankie Halton, 13 George King (C),15 Harry Rushton, 16 Brendan O'Hagan, 17 Dan Norman, 19 Robbie Mulhern, 20 Louis Senior, 21 Ronan Michael, 22 James Hasson