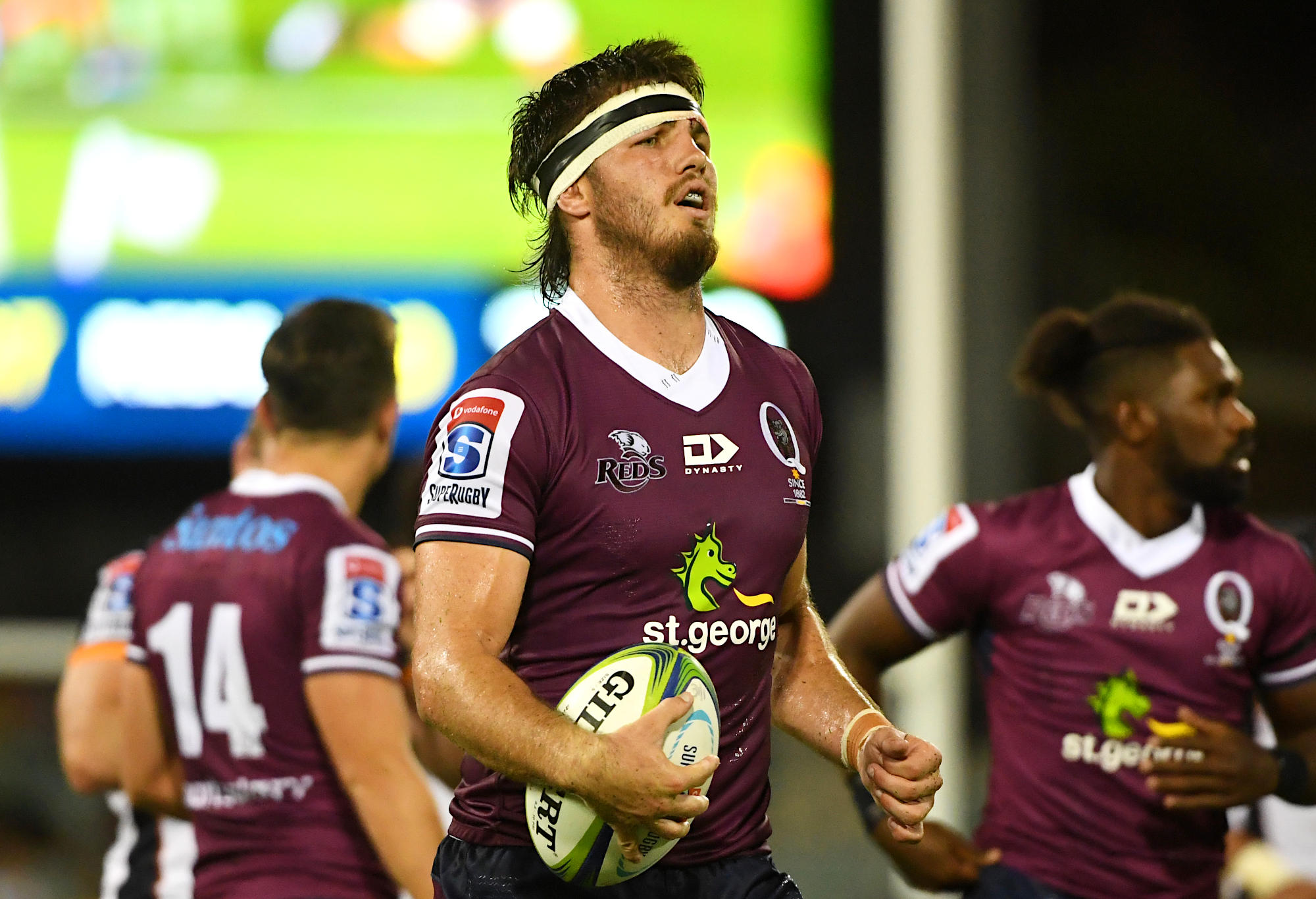 Liam Wright could run out for his native Durban Sharks as part of a unique new Super Rugby Pacific deal with the Queensland Reds.
The co-captain and five-Test Wallabies backrower has been hobbled by injury the last two seasons but, on the comeback from shoulder surgery, still holds hope of selection for next year's Rugby World Cup squad.
He's created a back-up plan if that doesn't eventuate to ensure valuable game time that has been hard to find in Australia since the abolition of the second-tier National Rugby Championship in 2020.
Wright's flexible two-year deal with the Reds will allow him to sign a medium-term overseas deal in the off-season.
That could see Durban-born Wright land in the United Rugby Championship with the Sharks or another European team for up to five months, while a stint in the rich English Premiership or French Top 14 leagues is also viable.
Wright could even play in New Zealand's second-tier National Provincial Championship, but says he will give it more thought next year and aim to go where the coaching staff and playing style will best aid his development.
SUPER RUGBY 2023 TRANSFER CENTRE: UPDATED SQUADS
"I didn't know that was possible," the 24-year-old said of his innovative new deal.
"For them (Reds coach Brad Thorn and football manager Sam Cordingley) to put that in front of me, brought me in, had a meeting, explained the benefits … I'm really grateful.
"I grew up sort of wanting to represent the Durban Sharks. I don't think I'll get the accent back, but it'd be pretty cool."
Wright's move is a topical one given Australia's battles at Test level have been linked to the lack of rugby the country's best young players are exposed to.
Financial constraints saw the end of the NRC, a breeding ground that fast-tracked Wright and Test teammates Jock Campbell, Fraser McReight and Harry Wilson.
Thorn benefited from it as a coach too, while the recent Australia A initiative has also allowed those on the fringe of a Wallabies call-up valuable game time.
"The beauty of this deal is that if it (World Cup selection) doesn't come through I'll get to play more footy somewhere else," Wright said.
'It's a brilliant position to have'
Argentina coach Michael Cheika says this weekend's rival Ian Foster will be loving the pressure that has been mounting on him over the past year.
"He's the coach of New Zealand. They're one of the best countries in the world in rugby. He'll be loving it. Even when it's tough mate, it doesn't matter. That comes with the territory of footy. It gets tough," Cheika told The Breakdown.
"It's a brilliant position to have. It's a great honour if you're in that position and you love it. You get to go out and be involved in footy every day. It doesn't matter how tough it gets, it's part of the game just like when you're a player."
South African YouTuber Riaan Louw joined The Roar rugby experts Brett McKay and Harry Jones for a fun-filled chat on why the Australia-South Africa rivalry is so friendly, on the most-loved and most-ignored rugby stats, on weird rugby fantasies and how the Wallabies v Springboks series will play out
Cheika, who masterminded a win over the Wallabies two weeks ago, will go head to head with Foster this week in the Kiwi's first Test since hanging onto his job in a drawn out and public process.
Asked if he felt the All Blacks were vulnerable, Cheika gave the question short shrift.
"I've been in too many games against New Zealand to even know what that word means for them. The reality is that everyone is lifting their game to play against New Zealand. Everyone," said Cheika.
""There's so much quality in the team across the board that we don't really look at it in that way. We're just taking what we're analysing in front of us, the quality of the players and the team as a whole and then trying to work out how can we put them under pressure, make them have to deal with the challenge from us, as well as the normal things that go on in a Test match – the intensity, the physicality, all those types of things that go on."
He said the All Blacks showed great character to win at Ellis Park after being beaten in their TRC opener.
"The first game [against South Africa], I felt they were unlucky to have that score line," said Cheika. "The second game they showed immense character under huge pressure. And that will only do well for them coming into this game.
"And realistically, everyone is expecting them to dust us in the two games at home. The only people who have got to think the opposite to that is us and believe that way and try and win the small battles along the way."
The new Boogie man
Recalled Springboks winger Warrick Gelant says the Wallabies are more of an unknown quantity to the South Africans since the teams went there separate ways at provincial level.
"The Wallabies are going to pose a different threat and what I think makes it difficult is that we haven't played Australian sides in Super Rugby the last few years," he said.
"We haven't experienced how the Australians have been playing this season."
"But we can control what we are going to do on Saturday and we feel we have been gelling as a backline and are really looking forward to giving it a go."
Gelant was one of two changes to the team that lost to the All Blacks in their second Test at Ellis Park.
Usually a fullback, he will start on the right wing.
"The coaches have told me to trust my instincts. It's just the number on my back that's changed, nothing else. That is what makes me excited for Saturday, I know how good the guys I'm playing with are and I am looking forward to the opportunity on the wing … to showcase myself in a different role and different responsibilities."
Gelant has picked up the nickname 'Boogie' from his provincial teammates but was bemused when asked if it will be a case of "beware of the boogeyman" for the Wallabies in Adelaide.
"It's the perfect opportunity for me to play this weekend. But there's a new guy, Lukhanyo Am, who has adopted the name Boogeyman, so luckily that pressure's off me," he joked.
Schmidt hailed for instant impact
Joe Schmidt returned to the training field with the All Blacks in Christchurch this week and made an instant impression on the team.
"From the 48 hours I've seen of Joe, he certainly hasn't eased his way back into training. He's a confident coach, and he watches a lot of clips," fullback Jordie Barrett told reporters
"It's only been 48 hours, but it's been positive. It's early doors, and I'll be looking to pick his brain like the rest of the coaches and help prepare the best I can."
The former Ireland head coach took over the team in the first week against Ireland when Foster was absent with Covid.
"We got a little bit of an insight into Joe and got to know him a wee bit that first week against the Irish, so to have him in camp full-time is a real privilege, we're excited to work with him," captain Sam Cane said.
"He's already stamped his mark in a few areas, he will predominately be working with attack and attack structure. ​We've had a few sessions in the classroom with him already, and it's good to have him on the field."
Tahs promote Wilsons
The Waratahs have signed the sons of Wallabies World Cup winner David Wilson to full time contracts.
Teddy and Harry Wilson have been in the Waratahs system for three years.
Harry Wilson has signed a two-year deal with the Waratahs keeping him in Sky-Blue at least until the end of the 2024 Super Rugby Pacific season.
He progressed through the NSW pathways through St Augustine's College, Australian U20's, and into the Waratahs Academy in 2019.
Harry was a standout performer in the Waratahs A matches earlier this season and has played a role in Eastwoods surging run to the Semi-Finals in the Shute Shield this year.
Harry said in a statement: "I've always dreamt of playing for the Waratahs, and to hopefully do that here with my brother will be a really special moment for myself and my family,"
"I've been in the program now for the past three years and working hard to try and get my first Super Rugby cap, and to potentially do it in my home state, and in front of my friends and family would be amazing."
Scrum-half Teddy has graduated from an Extended Development contract into the main squad and is also a product of the NSW pathways, attending The King's School and representing the Junior Wallabies and Waratahs Academy.
Teddy capped off a stellar year in 2021 winning the Dave Dennis Elite Youth Development Player of the Year Award after representing the Waratahs A side, earning selection in the Junior Wallabies side, and making his 1st-grade debut for Eastern Suburbs all in his first year out of school.
The young scrumhalf made his Super Rugby debut earlier this year against the Reds at Suncorp Stadium and has been one of the standouts for Easts in this year's Shute Shield competition.
Teddy Wilson said: "Making my Super Rugby debut earlier this year was incredibly special for myself and my family and I'm very grateful to have signed here for another season."
"Harry signing makes it even more special and hopefully one day we can take the field together, as it's been a dream of ours since we were young."
Waratahs Head Coach Darren Coleman said "It is excellent news that both Harry and Teddy have signed with us, as they are both very important to the future of the team.
"Harry is a great addition to our squad who adds depth and quality to our outside backs and has shown great patience in his elevation through our pathway into the main squad.
"Besides his athleticism, Harry is one of the most competitive guys I've coached, and his positive energy drives others around him.
"We've all seen in the back half of the Shute Shield and in the Australian U20's matches this year what a dynamic player Teddy Wilson is. 
"Besides his fleet of foot and attacking prowess, he's as tough as teak, a great cover defender, and extremely competitive.
"It's great that we can get a set of brothers in our team, especially a couple of Wilsons who will be wearing sky-blue instead of red."
Umaga back at Blues
Former All Blacks captain Tana Umaga is set to rejoin the Blues coaching staff for next Super Rugby Pacific season.
New Zealand news site Stuff said Umaga would not be rejoining as a defence coach but that head coach Leon MacDonald has a different role in mind.
Umaga was Blues' head coach for three seasons from 2016, and then became an assistant to MacDonald. He stepped away last year to focus on his supplements business.
Rugby – The Roar