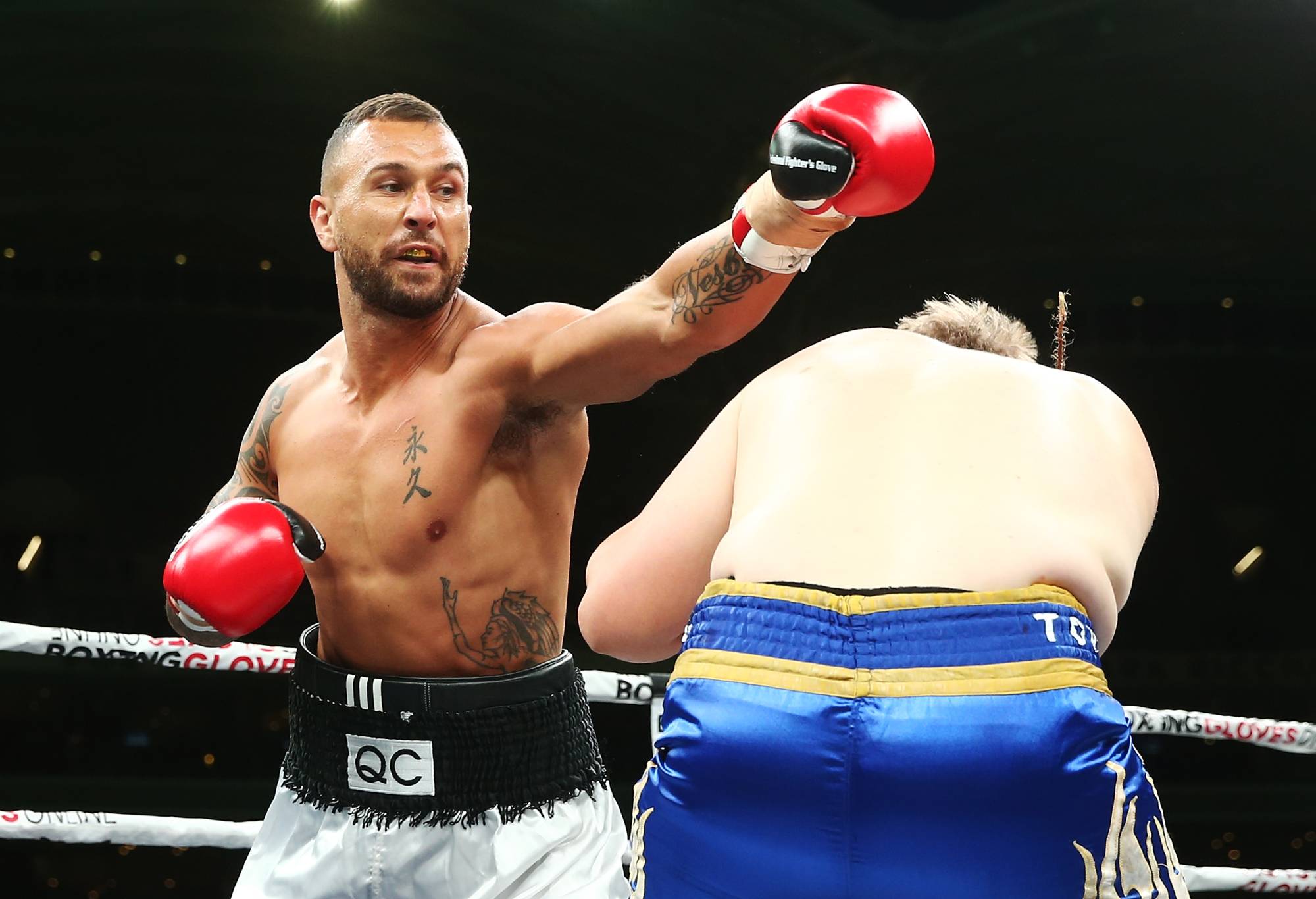 Quade Cooper wants to shoehorn a professional boxing fight in before his rugby return from his Achilles rupture.
The Sydney MKorning Herald reported that Cooper believes he can incorporate a fourth pro bout into his recovery from the injury suffred against Argentina, as he bids to make it back for next year's World Cup
Cooper was talking this week as his friend Sonny Bill Williams announced he would fight Mark Hunt on November 5.
"I would have loved to be on this card, but obviously it's not meant to be with the injury," Cooper told the Herald.
"But I am sure after this fight [Williams] ill have another fight not too long after it, and it may work well with the recovery process.
"I will definitely be doing a lot of boxing as part of the rehab process coming back from an Achilles, just to get that bounce back. I know that's going to play a big part with the skipping and stuff like that. It will be a conversation to be had with the powers that be over the next few months."
Northern hopes for WC glory 'exciting'
England World Cup winner Lawrence Dallaglio believes the gap with the southern hemisphere has never been tighter and that a European nation can win the World Cup for only the second time next year.
Dallaglio's 2003 team is the only northern hemisphere winner of the event.
Ireland's win in New Zealand, England's in Australia and France's Grand Slam make them all contenders.
"It's hard to win the World Cup, especially away from home," former England captain Dallaglio told the PA news agency.
"I thought that England would have done it again by now.
"There have been nine World Cups and eight of them have been won by the southern hemisphere, so either they're just better than us or we shoot ourselves in the foot a little bit. It's probably a mixture of the two.
"But having said that, at no point since 1987 when New Zealand won the first one have the southern hemisphere been as close as they are now.
"France, Ireland and possibly England have got as good a chance as they've had in any previous year. If you get your run right, you can win a World Cup. They've all got a chance and it's exciting."
Japan staged a uniquely brilliant World Cup three years ago and while Dallaglio is backing France to also be a success, he insists their national side may struggle beneath the weight of expectation.
"I think France will give it a good go of putting the tournament on in their own way," the England great said.
"But whether the host nation can win a World Cup when all their players are up on billboards around the country … that creates a bit of pressure.
"They wobbled against us in 2007 when they lost the semi-final in their own country. It's tough and it brings its own pressure, but they seem to have coped pretty well with it so far."
Reason for French star's retirement revealed
French centre Virimi Vakatawa has revealed why has been banned form playing by the nation's medical committee at a press conference attended by a tearful France coach Fabien Galthie.
The Racing 92 player has a heart condition which is considered to make continuing to play too risky.
"I didn't feel any symptoms or anything," said Vakatawa.
"I had a discussion with the doctor. I have nothing broken, everything is fine. I'm going to stay not far from here, just to clear my head.
"I arrived at 17, I didn't regret leaving my family at all. I know it was hard. I always tell young people that they were lucky to be here. There are Fijians who will still arrive, I want to help them. I really appreciated having so many people by my side."
Racing 92 doctor Sylvain Blanchard said: "He must stop his career in France for cardiological reasons. A cardiac anomaly had been detected before the 2019 World Cup in Japan. This anomaly, which is not linked to rugby, has been monitored but it is an evolving pathology. The risk has become too great."
Laurent Travers, the Racing director of rugby, added: "The hardest thing is the length of time we had to wait. The hardest part was announcing it to Virimi and then to the whole group. We know his importance within the group, Racing 92 and French rugby.
"Virimi is still there and will now be present on the sidelines. Virimi will have to build himself differently, with rugby but differently. We had a lot of discussions with him and his goal is to stay in France. He wants to be able to stay with Racing 92."
Galthie turned up in person at the conference to pay tribute to Vakatawa.
"I would like to thank Racing 92 for allowing me to be here today," said the teary-eyed Test coach.
"I wanted to accompany Virimi, it's special so I'm very moved. Fate has meant that he will have played his last two games with Les Bleus in Japan. We will try to get over all that because we know that it can happen in high-level sport, but we still take it [the shock retirement] with full force.
"Monday, when he called me, it touched me. Virimi made many children dream. When we took over the France team, he was a key player in our adventure, in our history.
"He is an example of what he lives – we must tell our children to enjoy all their matches as if it were the last."
Vale Willie Los'e
Former Tonga international turned TV commentator Willie Los'e has died suddenly from a medical event, aged 55.
"We are very sorry to hear that Willie Los'e passed away last night in South Africa. Willie was a long-serving and highly-regarded member of the Sky Sport commentary team and the wider Sky family. Our thoughts and condolences are with Willie's whānau at this time," Sky Sport NZ announced.
Los'e's family confirmed his death in a statement, saying: ""The Los'e whānau would like to thank Karl Te Nana, Bailey Mackey and World Rugby boss Steve Jamieson for contacting us directly from South Africa this morning relating to the sudden passing of our brother Willie.
"We ask that as a whānau, we be given time to process and work through our devastating loss and the logistics of repatriation of our brother, father, uncle, son home. We are awaiting details from Cape Town."
His former teammate Frank Bunce said: "We played a lot of rugby together, dating back to the late 80s, both in club rugby around Auckland then for Auckland and North Harbour.
"That's a long time ago, but he's one of the guys I've kept in touch with regularly. There's a group of us who catch up regularly, and he's been the real driver behind that. He would get everyone together to have lunch or go to different events.
"That's the standout thing about him. He cared for people, for his friends and he made sure we all kept in touch."
Los'e was last seen on Australian TV screens as a commentator for the Pacific Nations Cup featuring Australia A in July.
WR happy with Cup safety prep
World Rugby CEO Alan Gilpin says he is "confident" about fan safety a year out from the Rugby World Cup in France despite security issues surrounding May's Champions League football final held in Paris.
The kick-off for the match between Liverpool and Real Madrid in the French capital was delayed as supporterswere repelled by teargas fired by local police.
After the game, supporters were attacked by gangs with many reports of muggings and violence.
"There's always more to learn from experiences of other events," Gilpin told AFP.
"There's been a significant amount of dialogue between the organising committee, the authorities in Paris and the government more broadly.
"We're confident that lessons can be learnt from that and we're also confident that we have a great security plan, spectator experience plan for the Stade de France."
Last week, Gilpin's counterpart at the organising committee, Claude Atcher, was suspended by French sports minister Amelie Oudea-Castera as a preliminary investigation into his management style found evidence of a deep social malaise within the organisation.
"First of all the allegations around the treatment of staff in Paris, we've taken them seriously," Gilpin said.
"We've discussed those with the relevant ministries and with the board of the organising committee."
"It's business as usual for us," he added.
On Wednesday, World Rugby vice-president and French Rugby Federation chief Bernard Laporte went on trial facing charges of favouritism and corruption.
The 58-year-old former France coach is accused of favouritism in awarding a shirt sponsor contract for the national men's side to a close friend, Mohed Altrad, the billionaire owner of Top 14 champions Montpellier.
"As you can appreciate it's not appropriate for World Rugby to comment on what is an ongoing proceeding and also a domestic matter," Gilpin said.
"We don't have any comment to make on that."
The tournament opens with the in-form hosts welcoming three-time winners New Zealand to Paris with the final block of tickets for all games available online in the coming month. Supporters are limited to six spots per user.
Ireland beat the All Blacks in a historic Test series last month, while holders South Africa lost to Wales on home soil for the first time, making the list of contenders to clinch the Webb Ellis trophy a lengthy one.
"It's wonderful for the sport, it's going to get fans more excited than ever," Gilpin said.
"I don't think we've ever been year out from a World Cup and had the depth of competitiveness that we've had now."
In November, the final group stage place is up for grabs with 2031 hosts USA as well as Portugal, Kenya and Hong Kong taking part in a qualifying competition in France.
"The tournament will be hugely competitive," Gilpin said.
"Portugal go into that competition very well prepared.
"USA were disappointed that they hadn't qualified to date but there's a lot of planning with their preparation and Kenya and Hong Kong will be looking to cause an upset."
"That makes it exciting," he added.
(With AFP, PA)
Rugby – The Roar