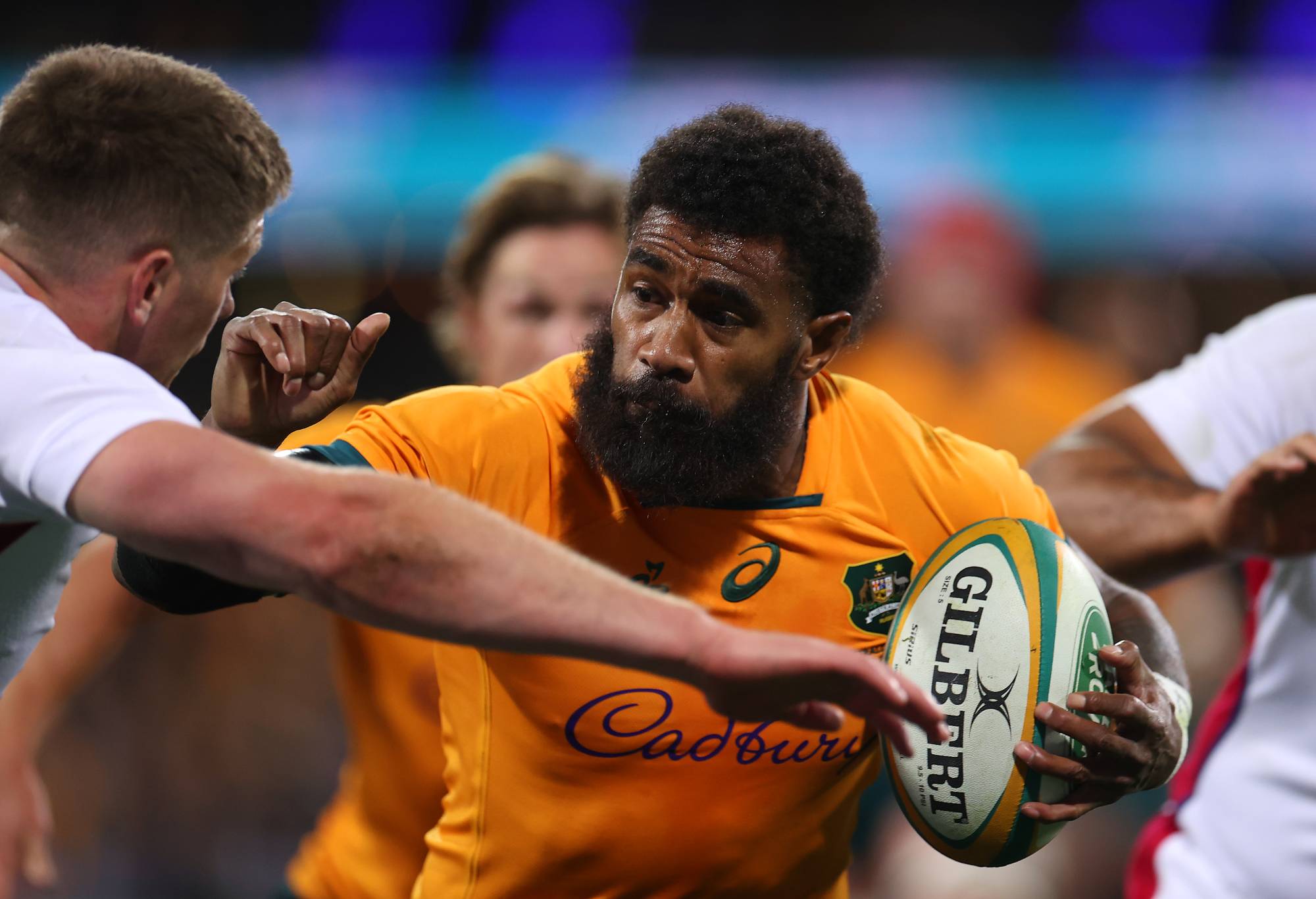 Star Wallabies winger Marika Koroibete has called on his team to bring the "brutality" in an attempt to continue the All Blacks' downward spiral.
New Zealand have lost their air of invincibility over the past year, with the All Blacks at one point slipping to fifth in world rankings after losing five matches in six.
Argentina, Ireland, France, and South Africa have tasted victory in the past year against the All Blacks, who are currently ranked fourth.
Ireland in particular have crushed NZ's fearsome reputation, winning three of their past four contests.
The Wallabies have the chance to join in on the act when they host the All Blacks in Thursday's Bledisloe Cup opener in Melbourne.
"It's just more brutality," Koroibete said when asked about the key to beating New Zealand.
"Just contest on the ruck. Everyone across the park needs to bring that physicality, dominate the tackle and test their ruck.
"Just bring aggression on Thursday. That's what they don't want. That's what the South Africans and Argies (Argentina) did to them when they won. That's what we need to bring."
The All Blacks regained some of their aura earlier this month when they crushed Argentina 53-3 in Hamilton.
It came just a week after NZ had suffered a shock 25-18 loss to Los Pumas in Christchurch.
The Wallabies have also been inconsistent during the current Rugby Championship – with all four teams holding 2-2 records. 
Australia split their series against South Africa and Argentina, but are licking their wounds following a 24-8 loss to the Proteas in Sydney a week ago.
Kurtley Beale has been added to the Wallabies' squad and has a chance to play against the All Blacks on Thursday.
The match will mark Koroibete's 50th Test for the Wallabies.
Koroibete played for West Tigers and Melbourne Storm in the NRL, as well as featuring in Fiji's national rugby league side.
But his switch to rugby union has proved a huge success, with the 30-year-old now considered one of the best players in the world.
Koroibete's crunching try-saving tackle on South Africa's Makazole Mapimpi two weeks ago is set to be replayed for years and even decades to come.
The powerful winger paid tribute to the various coaches who had given him a licence to roam on the field.
"It took me a couple of years to learn the game and to make the transition," he said. 
"I've just been learning from different coaches. 
"Learning from some of the players as well around me, how they play the game in the same position as well. They help me develop as a player."
Melbourne is buzzing with AFL finals fever, but Wallabies forward Pete Samu hopes the Bledisloe Cup showdown will help rugby win over some fans.
The Wallabies' clash with the All Blacks at Marvel Stadium on Thursday will be the first meeting between the arch rivals in Melbourne since 2010.
But the gold jerseys of Australian rugby fans will most likely be heavily outnumbered in the streets of Melbourne by the Magpie Army and Geelong's loyal supporters.
More than 90,000 fans watched Collingwood beat Fremantle on Saturday night in a result that secures the Magpies a preliminary final berth against Sydney at the SCG this week.
Premiership favourites Geelong are set to attract a huge crowd when they host Brisbane at the MCG on Friday night.
"I went to a public school and played AFL in school and rugby on the weekend," Samu said.
"Rugby wasn't very big at the time, but it's definitely growing. And hopefully having more games down there will grow the sport in Melbourne.
"It's going to be quite special to play back home in front of our family and friends.
"But also being an AFL-dominated city, it's pretty good to take rugby down there and hopefully grow the game there in Melbourne."
The Wallabies sit equal second on the Rugby Championship table, with Australia, New Zealand, Argentina, and South Africa all having 2-2 records.
The All Blacks sit on top courtesy of their extra bonus points.
The Wallabies will be aiming to bounce back from their recent 24-8 loss to South Africa in Sydney.
The game was scheduled for midweek to avoid potential Saturday clashes in Melbourne that never eventuated with the NRL team the Storm eliminated and Collingwood playing in Sydney.
RA CEO Andy Marino told the Herald he expected the Bledisloe game to be close to a sell out.
"It is pretty remarkable … especially in a week that is leading into the finals in AFL," Marinos said. "It is really very, very encouraging. We know it is a strong sporting market and they love their sport, but I have always said the best thing about the Wallabies is that is a team that represents the whole country.
"COVID has taught the importance of being able to pivot and adapt to the market. And putting it on a Thursday night has been one of those, and we know we are going to have some really good clean air."
Boks star sent home
Controversial Springbok Elton Jantjies has been sent home from the team's tour of Argentina after allegations of an extra-marital affair with the team's dietician was exposed.
Dietician Zeenat Simjee is also being sent back to South Africa from the Springboks camp in Buenos Aires.
SA Rugby was reacting to an article in SA Sunday newspaper Rapport that exposed the two for sharing a room at a guest house in Mbombela while the team had stayed elsewhere as they prepared to play the All Blacks.
"The Springbok management are aware of reports regarding Springbok flyhalf Elton Jantjies and team dietician Zeenat Simjee between the training camp in Sabie and the test match against New Zealand in Mbombela earlier this year," SA Rugby said in a statement said.
"No team protocols were breached, but the individuals are returning to South Africa to attend to these personal reports and to eliminate any distractions to the team's preparations for the test against Argentina."
Jantjies was in trouble for allegedly causing problems on an international flight between Dubai and Johannesburg earlier this year.
'We're still hurting'
South Africa Rugby president Mark Alexander has given an insight into the strained relationship with New Zealand after accusing NZR of throwing his country "under the bus" in the breakdown of their Super Rugby ties.
Bitterness clearly remains between the two Southern Hemisphere unions, but Alexander is pleased with the way South African club teams have been embraced by Europe, and hinted at a desire to play international rugby in the north as well.
He said the change of competition had had a positive impact on the players' welfare.
"When we played in Super Rugby, our guys were away for five weeks. They were all young men. Many were recently married and when they wake up in the morning, their families were sleeping so the guys would wake up at 3am to speak to their families, they hated it. The travel to Australasia, with three time zones – in Australia there is two, in New Zealand too," Alexander told reporters.
"The players love being part of the European set-up. Saying that also, one has to consider what happened to us on July 16, 2020 when New Zealand announced in a press article that they would not be continuing with Super Rugby in its current form.
"Thank God, two years previously we invested in the PRO16. They threw us under the bus. That had the potential to cripple South African rugby forever, so it (Europe) works for us, in how we prepare teams, we have a lot of players in Europe, so using this as a base is ideal.
Of the strained relationship between South Africa and New Zealand's unions, Alexander added: "It was the manner in which it was done. We are still hurting about that.
"Look, we are exploring other avenues with other things, but I will never forget it. When you have partners, you normally give each other notice and that's how partners work.
"When Australia was going through bad times, we sacrificed our broadcast money so they could stay alive. Similarly when there was problems with the earthquakes in New Zealand we did that and the same for Argentina. But when we had to drop two teams we were on our own.
"So we have to do the things that are best for South Africa Rugby and that is our principle now, we do anything that is best for our game and for our players."
(With AAP)
Rugby – The Roar