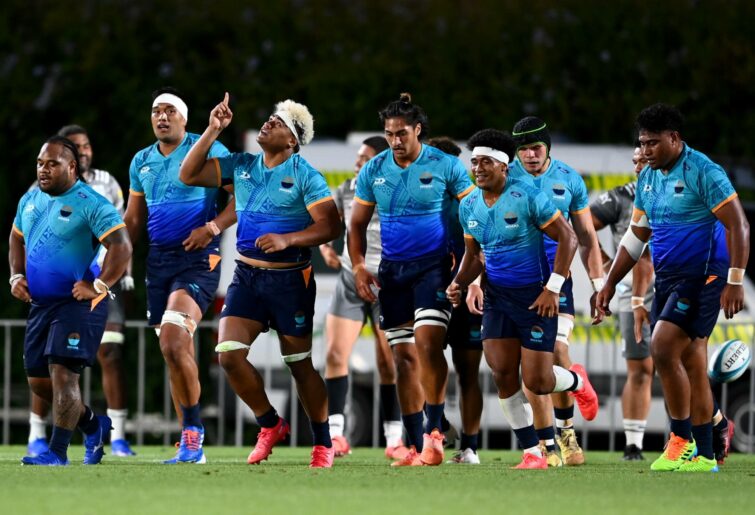 Two more Super Rugby Pacific matches are in doubt because of Covid.
The Highlanders, whose players were involved in a controversy last week when some refused to wear masks as requested on a domestic flight, have been hit by a new wave of cases, putting a doubt over Friday's game against Moana Pasifika.
The Blues are also reeling from the virus and their match against Crusaders on Saturday is also under a cloud.
Moana Pasifika have only played one match so far with three Covid-related postponements, throwing their campaign into utter chaos.
Christian Leali'ifano told stuff.co.nz that it had been challenging for his team.
"It's been challenging for a lot of teams and people during this time," he added.
"I guess the focus for us has just been trying to prepare as if we are playing every week, set out our weekly schedule and just try to get things going as best we can, now that we're all pretty fit and healthy.
"It's disruptive, but I think we've done really well as a group to be really focused on our process, and try to get our game right.
"It's definitely tough, as you can imagine, being away from our families," Leali'ifano said. "And, you're stuck here not being able to play footy.
"But one thing I've really enjoyed about this group and loved is the mental resilience that the guys have to be able to draw energy from each other, to be able to get through each day."
The Blues lost several players, including Beauden Barrett, Nepo Laulala and Sam Nock, ahead of their win over the Highlanders on Friday.
On Tuesday, the Blues cancelled media commitments and chief executive Andrew Hore confirmed Covid had spread further.
"The Blues can confirm that Covid is further impacting our squad," Hore said in a statement. "We are currently working through the full impacts of this situation, including in regards to this week's fixture against the Crusaders.
"Both the Crusaders and New Zealand Rugby are fully aware of the current situation. We are not in a position to add any other details at this stage, but will be able to speak further on developments hopefully by tomorrow."
Sevens team gets Tooled up
Corey Toole has signed a deal to seal his rise from Brumbies development player to Australian rugby sevens linchpin at this year's Commonwealth Games and World Cup.
Toole has taken his chances since being loaned out last year as part of Rugby Australia's new collaboration with Super Rugby clubs.
After four World Series tournaments he leads the series performance tracker on 223 points, has scored the second most tries (21) and leads the offload count (24).
Toole's new contract will see the forward eligible for the remainder of the World Series, the Commonwealth Games in Birmingham in July and September's World Cup in South Africa.
The Aussie men finished fifth at the 2018 Gold Coast Games but will enter the 2022 version confident they can podium given they sit third after four World Series rounds thanks to two second-places.
"I'm really excited to be joining the team on a full-time basis for the remainder of the year and am grateful for this opportunity," the 22-year-old from Wagga Wagga said.
"Every young rugby player dreams of eventually getting a full-time contract so at times I'm still pinching myself.
"I've enjoyed every minute that I've spent with the program so far and am in a privileged position to be able to play a game I love for a living."
Coach John Manenti, who switched roles with women's coach Tim Walsh after a post-Olympics review, said Toole's signing was a confidence-boosting one for a program that been streamlined.
"After a period of uncertainty, it's great to be able to start to expand our program again," Manenti said.
"Corey is shaping up to be a world-class player, and his recent form on the World Series is a testament to his skill, ability and work ethic.
"Corey signing is a great endorsement for the program & where it's heading. We want to be challenging for medals every time we compete and, in the process, develop Super players and Wallabies."