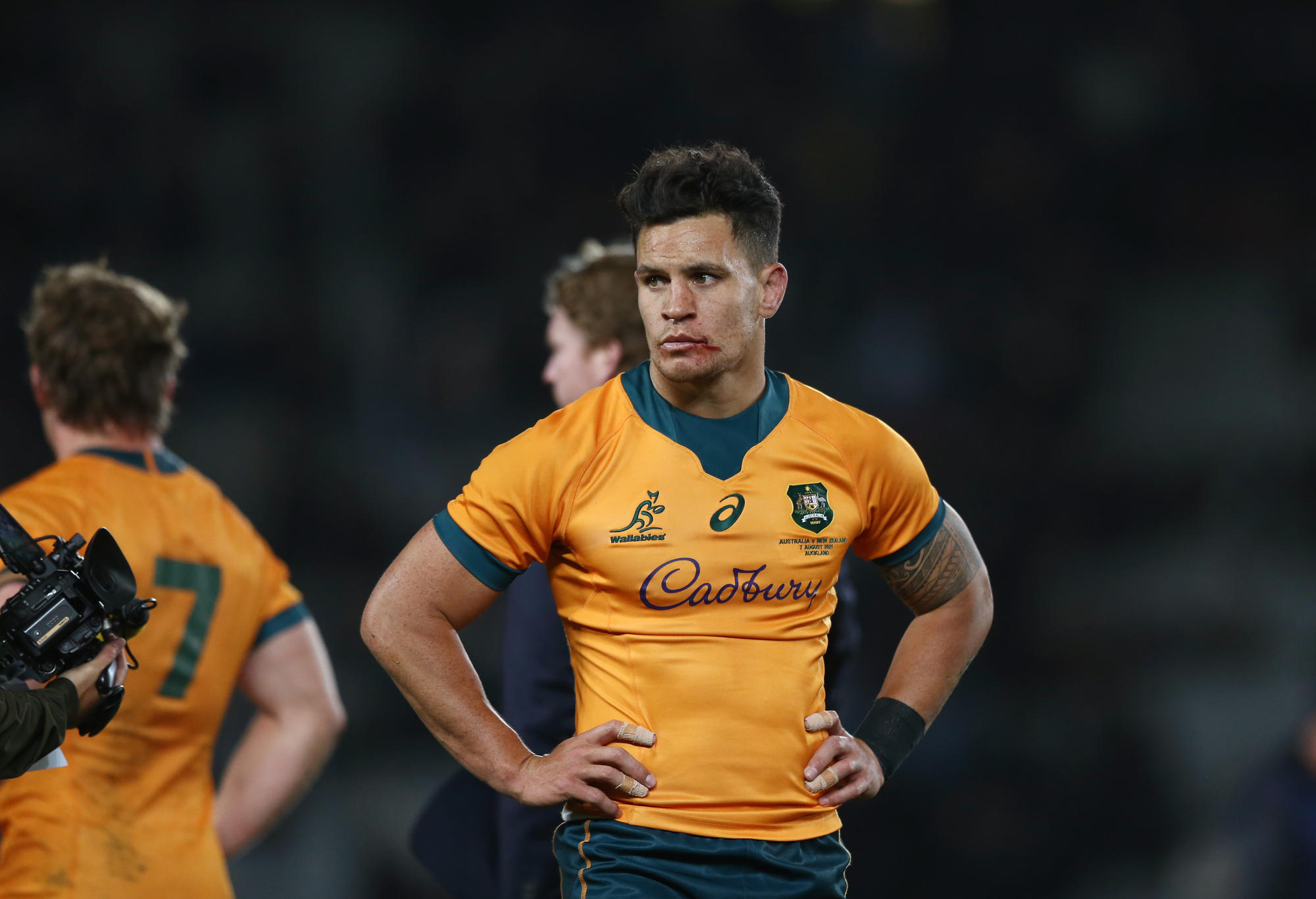 Matt To'omua has opened up on his departure from the Wallabies, saying he felt he no longer he was doing the gold jersey justice.
To'omua, 32, played the last of his 59 Tests against New Zealand last year and is weeks away from departing Australia to play in Japanese rugby.
Speaking on The Roar Rugby Podcast, he covered a range of topics including the rule change he would like to see and his difficult relationship with Michael Cheika, as well as the end of the road with Australia.
"It's so hard because it's your dream as a kid. You're not going to get this option in 10 year," To'omua said.
"But I don't think I could do the jersey justice anymore. I'd try my best but I don't think the commitment day to day is there like it was when I was a bit younger.
"It is an interesting journey. And you know, one that you float with emotions. You've got it some days and other days you can't, it's too hard.
"I would really struggle with the commitment. Early mornings. The physical battle toll. The 80 minutes on the weekend, I would be fine, I think. It's everything else on top of that. It's the scrutiny, the pressure that really got to me this year, I think at at Super Rugby level.
Listen to Matt To'omua's chat with Brett McKay and Harry Jones here or on your podcast app of choice
"I wanted to enjoy my rugby again. High performance sport is high performance sport. You get a lot of feedback, you get a lot of criticism and I wasn't in a position, or robust enough to take that all the time. I don't think I'd be able to give absolutely everything that would be required for that role."
To'oma has impressed as a pundit on Stan Sport but also seems a deep thinker on the game, leading to suggestions he could be interested in a coaching career. But To'omua indicated he would rather take a role in sports admin – such as a Director of Rugby job – illustrating his point with a cracking Michael Cheika anecdote.
"We were in Argentina and we'd just lost to South Africa and he named the team and dropped me to the bench and I'm livid," says To'omua.
"So we're in the lift and I press stop and said 'mate what's going on, I shouldn't be dropped I'm the best player in the world' and all that stuff.
"We got out of lift and sat outside, and having a little bit of a go. This week, the bus driver decided that he's leaving on the dot, no matter what, we're setting standards blah, blah, blah.
"Cheik and I are having this real heated argument and I was getting quite emotional. He's probably used to it, and then we get out there and  the bus has driven off without us.
"I had to share a cab ride with him 35 minutes out to training. Oh my god, fair play to him. It's business at the end of the day but I don't envy coaches. Someone told me once it's like breaking up with a girlfriend every week."
He added: "Cheik and I disagreed on many things as we're both strong headed people. But one thing you can never criticise him for that is his desire to be better and improve and question himself and look for better techniques.
"He's always looking to improve. He's always looking to evolve. In Australia, we give all the reins to the head coach and we go you've either got it or you don't and if you don't you're out.
"But they might be different in three years. Stephen Larkham coming back to the Brumbies is probably a different coach now that he's been outside of Canberra for a little while, so I think we have to allow time for coach development as well."
To'omua also bought into Dave Rennie's decision to go with 6-2 bench split against South Africa – a move that backfired when Noah Lolesio and Hunter Paisami suffered head injuries.
"I hate it, the 6-2, always have. I'm sure coaches would probably argue that there's been games where  it may have won the game but I remember plenty where it hasn't.
"I just think you need that insurance."
He added: "I think we should change the rules on the bench and only allowed four subs a game.
"I think you should get one back and one back row or something like that. They're gonna manipulate it because of safety, I don't think that should negate the discussion.
"We need fatigue in the game. You've got six forwards coming on fresh with 30 minutes to go. It's pretty hard to break a defensive line down when they're that fresh. Those games that are nice and tight when you're playing for penalties you kind of have to. I'd love to see Pete Samu having to play in the centres because we've used our bench up."
Rugby – The Roar