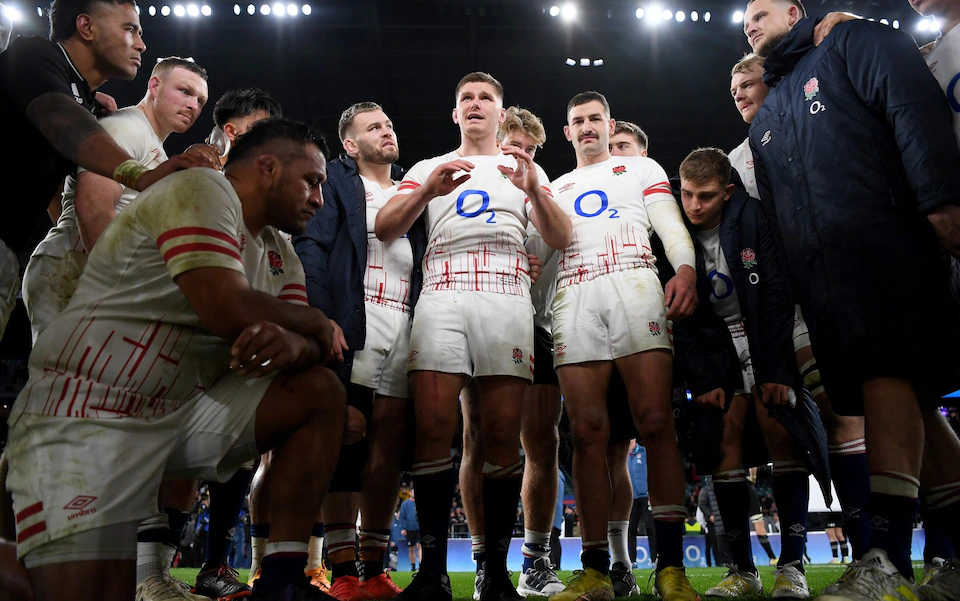 In the space of eight breathless, mesmerizing minutes that sent Twickenham into raptures, Eddie Jones' side belied their reputation as toothless game-chasers to force one of the most improbable draws in their history.
Will Stuart had never scored a try for his country in 23 previous Tests and yet here, clamping the ball between his legs and going for broke, he scored two to erase a 19-point deficit to the All Blacks. The stadium veritably shook amid scenes of eye-popping, beer-throwing delirium.
It was a giddying momentum shift, engineered with a final act of immaculate precision. What a curiosity of a team this is: maddeningly error-strewn for 72 minutes, then all but unstoppable for the rest.
Even the final whistle brought a peculiar hybrid of emotions, with 81,000 fans pleading for England to drive on for victory, only for Marcus Smith to kick the ball out to take the draw.
Ian Foster, New Zealand's coach, left little doubt as to what his players would have done in the circumstances. "I think we would have had a crack," he grinned.
But credit where it is due: England have demonstrated for perhaps the first time under Jones that they can master the art of the comeback. Stuart's bulldozing interventions could not have been better timed for a coach who was confronting the harshest of inquisitions otherwise.
No sooner had Beauden Barrett's drop goal left the hosts 25-6 behind than the New Zealand No 15 received a yellow card for pinning Smith to the ground. England exploited the man advantage to breathtaking effect, elevating this strangest of Tests to the status of a stone-cold classic.
No wonder Jones was grinning and embracing his players as if England had just claimed the win.
Could this be the turning point of his tormented World Cup build-up? It surely felt like it as Owen Farrell delivered a passionate speech to his players on the pitch, saluting their tenacity in refusing to give up until the final kick.
The only regret was they could not muster this remarkable energy from the outset.
"All of a sudden, someone blows some magic dust, the passes start to click, the lines are a bit sharper, and our finishers come on and improve the game we wanted to play," Jones said. "Sometimes that happens."
It sounded as if this was a tactical masterstroke that he had planned all along. In truth, England's resurgence defied rational explanation.
For the vast majority of this game, the All Blacks were superior in every department, from Jordie Barrett's inspired kicking to Rieko Ioane's lightning bursts, from Sam Whitelock's leadership in the second row to Mark Telea's extraordinarily accurate defensive work. Then, against all odds, England captured lightning in a bottle.
Foster, visibly shocked, was at a loss for words. "We'll probably have two press conferences," he joked, bleakly. "One for the first 70, another for the final 10."
One undoubted star of the show was Smith. Even if he had struggled for over an hour to carve through New Zealand's defence, he was England's most consistently dangerous attacking player.