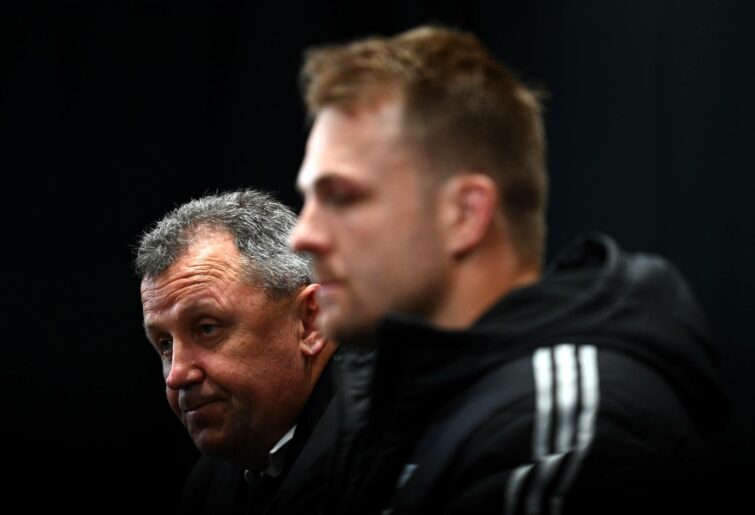 There is a famous story in New Zealand cricket.
Playing at the Basin Reserve in 1978, England won the toss and elected to field. The story goes that if you had stopped any passing little old lady outside the ground and asked what to do on winning the toss at this ground she would have replied 'bat', so obvious was the choice.
Fast forward to England's second innings, chasing 136 to win and they got rolled for 64. QED.
Had this same, now seriously ageing pensioner been walking past Orangetheory Stadium before kick-off on Saturday and had been asked, 'What will Argentina bring tonight?' the answer would have been an equally obvious 'defensive line speed and breakdown blitz'.
In short, exactly the same approach as the All Blacks had faced in their prior two Tests away in the Republic.
So, can anyone explain to me why the All Blacks were sent out with a game plan that was effectively walking slowly into the teeth of a storm and was diametrically opposed to everything that brought them victory on the high veldt?
It is beyond frustrating to watch and even moreso to try and understand.
What makes this result even more disappointing is that this game was effectively a replica of the loss to Argentina in Sydney in 2020.
Horrible execution by senior players with so much ball they didn't know what to do with it, the absence of the excellent kicking game that turned round and tired out the South African pack, but worst of all, there is again the odour of a head coach who, despite all evidence to the contrary in the past two years, genuinely believes he can out run and out score the opposition no matter what they bring, and thus all the positives of patience and accuracy from the Johannesburg result were frittered away in a second half of complete ineptitude, inaccuracy and ill-discipline.
Argentina, in addition to their excellent defensive work, took New Zealand's kicking game from last week and executed it against the hosts. Argentina predominantly kicked off 10 and not 9. We should note again that after not kicking from halfback once in the last Test the All Blacks were back to box kicking ball away while Los Pumas expertly found the grass repeatedly, allowing the blue and white chasers to organise and bring pressure well up the park, while the All Blacks headed lemmings like into a slow ruck trap over and over.
Where have the rugby smarts in New Zealand rugby gone, both in the coaching box and on the park?
Single-mindedness in business and politics is often fatal, and Ian Foster is displaying all the signs of needing to be able to say 'I told you' so by reverting to this run at all costs measure with little respect for his opposition.
If it isn't obvious by now this game plan does not work in the current international rugby era and despite totally controlling possession which they turned into territorial dominance, at no stage in that second half did the All Blacks look like rolling over the top of Argentina.
Over half of the second-half penalties conceded were offensive ones and that is inexcusable.
In short, the Foster iteration of the All Blacks has no identity, and even when they show periods of high-quality international rugby, it is not maintained and this reversion to helter-skelter nonsense just repeats ad nauseam from a side that simply does not have the skillset to play the way the way they are pursuing.
For mine, this ill-directed game plan has an inbuilt negative multiplier of poor selection, both in personnel and positions.
It has long been said that the art of being the All Blacks head coach is all in selection and game plan and has little to do with actual coaching on the grass.
And in these key regards, Foster has been nothing but a failure. Square pegs in round holes, and the inclusion of players that do not have complete skill sets for their roles which just places further pressure on the players around them.
Sports opinion delivered daily 
There is no greater evidence in his selection blindness than the standout performances of Samisoni Taukei'aho and Shannon Frizell in the past two games when finally called upon. Throw a blanket over them for Man of the Match, even based on the too few minutes played by the starting hooker on Saturday.
It should be clear here that Codie Taylor should not be the designated blanket thrower in this instance lest he miss them both.
The next month is going to be the real test of this new selection panel. The new selectors need to harden up and make the coming selection meetings places where decisions have to be defended in rigorous fashion, which means both selections and game plan, and how they tie together.
It is difficult to quantify just how poor the second 40 minutes was against Argentina, but the genesis of the many of the problems is a whole lot easier to see.
Rugby – The Roar