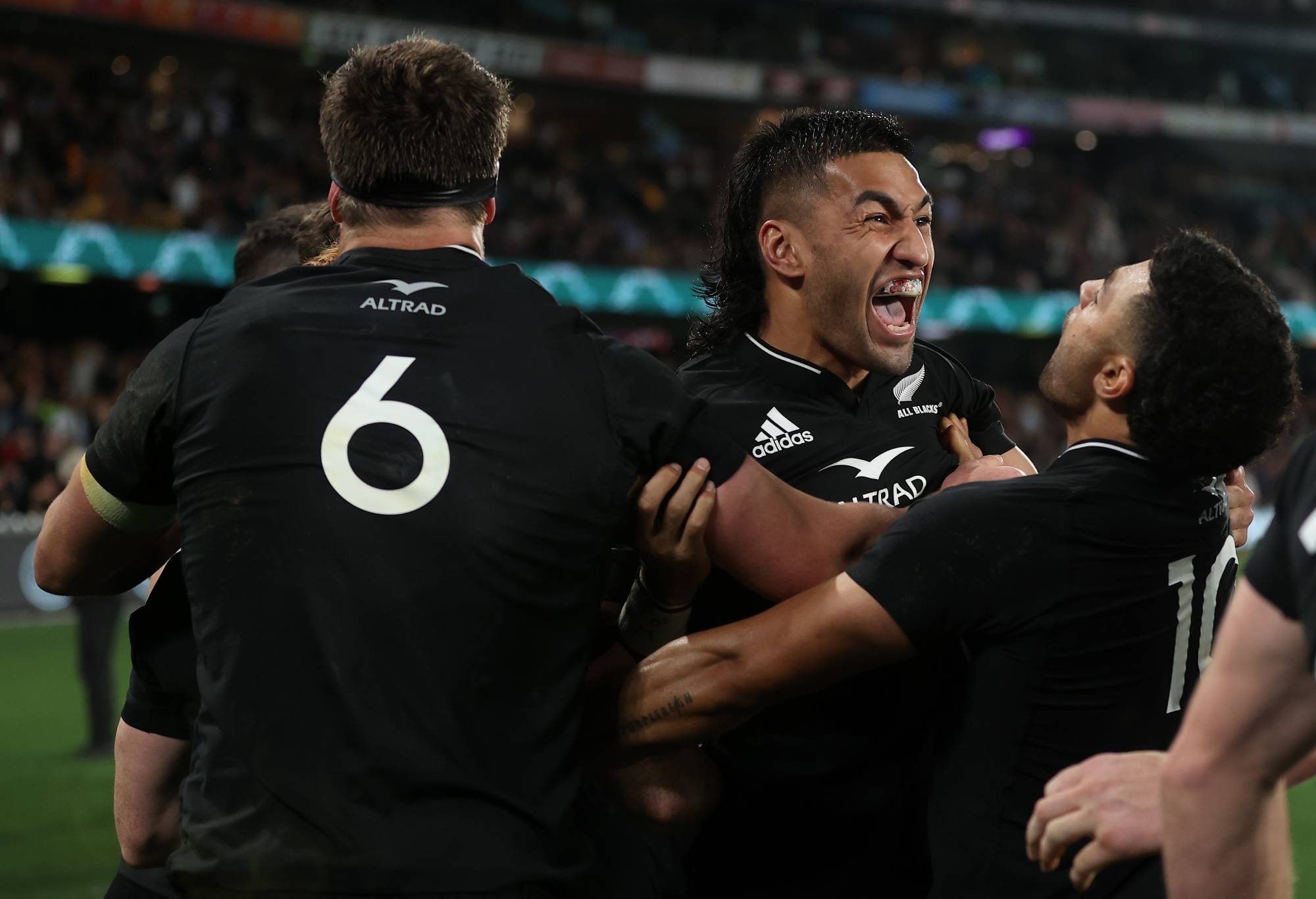 Wallabies coach Dave Rennie threw petrol on the fire burning since last week's Bledisloe Cup epic, calling out All Blacks centre Rieko Ioane over an incident near the end of the game, and saying one of his teammates should have been banned.
Rennie named his 23 for the return match at Eden Park on Saturday and revealed what happened in a clash between Ioane and Folau Fainga'a in the aftermath of the All Blacks' dramatic winning try in Melbourne, claiming it gave the Wallabies added motivation this weekend.
He added that All Black Fletcher Newell should have received a similar fate to Darcy Swain – banned for six weeks – for an incident where Scott Sio suffered an injured hamstring that has kept him out of Saturday's game.
"There's a lot of motivating points in there," said Rennie about the upcoming game. "Rieko Ioane had a lot to say to our boys after the final try, mouthing off at Folau Fainga'a about disrespecting the haka, which is a bit odd.
"As New Zealanders would know, when a team does a haka you respond with a haka; we don't have the luxury of responding with a haka. So our response was in the boomerang shape and to move forward, and by throwing down a challenge we're accepting it. There's a fair bit of banter that goes on on the field, and it just adds to the theatre I think."
Ioane was evidently upset about Australia's response to the haka before the match. The Aussies stood in a boomerang shape and advanced as the haka was underway. At the end, Wallabies captain James Slipper and fellow prop Allan Alaalatoa stared daggers at the All Blacks.
Rennie was adamant the Wallabies would do it again this Saturday.
"That's our reply, it's how we respond," Rennie said. "I was just a bit surprised that he thinks it's disrespectful. That there's an expectation that we just stand there and they throw a challenge at us and we do nothing. Just take it.
"We think it's a very respectful way of responding, and it's unique to us because of the boomerang shape, so we won't be stopping that."
Rennie was in a feisty mood looking ahead at the clash at Eden Park, where Australia haven't won in 22 visits stretching back to 1986.
He spoke at length about the ban given to Swain – accepting the decision despite claiming the Wallabies lock was unlucky to get a yellow in the post-game press conference. And he was adamant that Newell should have received a similar fate for an incident that has left Sio injured.
Here's what Dave Rennie said on Thursday
On the Swain incident
Rennie was asked if Swain had reached out to Quinn Tupaea or anyone in the All Blacks after the incident which has ended the All Blacks centre's season due to serious knee injuries.
"He spoke to Quinn after the game and then made contact with him through I think it was Tyrel Lomax who gave him the number to try and contact him," Rennie said.
"I hear they're fuming. We're not that excited about Fletcher Newell's cleanout on Scott Sio. He's going to be out for three weeks and [Newell] didn't even get cited or carded during the game.
"As part of our defence we used that. They mentioned he should have been cited as well. We're not happy and neither is Darcy. He's not happy with the action or the result. But it's not malicious. He's been punished and six weeks is a hefty punishment I reckon. Fletcher Newell gets to live another day. "
Rennie said he accepted that Swain made a technical error in the incident that injured Tupaea.
"It was clumsy and reckless. There's no malice in that, " said Rennie. "I was part of the judicial process last night. It certainly met the red card threshold and he got punished accordingly. 
"The intent to cleanout, he's misfired a little bit. Instead of clawing a leg and clawing under, what we call breaking the window, he couldn't quite get in there because someone had blocked his path and so he ends up twisting and then clumsy landing on legs," said Rennie.
"He's been punished for that, but we highlighted what he was trying to do. And used a couple of examples from the game and one was a good one where Sam Whitelock cleaned out in similar fashion to Darcy, but did it accurately and effectively, and the other one we use was Fletcher Newell's where very similarly to Darcy and he's landed on Scott Sio's leg and he's done a hammy based on that.
"You can't use it as a defence but we're just highlighting the fact that we've got one incident that's been picked up, punished on field and off field, and another example that's been glossed over."
Swain will miss three Wallabies matches but his punishment could have been more impactful if not for the selectors naming him in the Australian A team to tour Japan. That seems like a cynical ploy or creative masterstroke depending on the colour of your replica kit.
Asked if Swain was always earmarked for the Australia A tour, Rennie replied: "Yeah. We had nine in this group going. Guys like Ben Donaldson, who has been on the edge of it as well.
"We're keen for a number of those guys to get as much footy as possible leading into a World Cup next year. Darcy is still a young lock, he's in his second year of international footy. We're keen for him and Cadeyrn Neville and Nick Frost to go away and get a bit more footy prior to the end of year tour and maximise that.
"Unfortunately he's going to miss a fair bit of footy over the next month or so."
On the changes in the 23
Rennie welcomed back three players who haven't been sighted since the England series with Harry Wilson back at No.8, Neville returning from a knee injury and Angus Bell recovered from a toe injury.
He said Wilson had the chance to make a strong claim on the No.8 jersey as part of a remodelled back row.
"With Rob Leota out, one option was to move Jed Holloway back to No.6 but we like him at lock," said Rennie.
"That puts him in the middle of the park a lot more. He's a good carrier and good defender. He's got a great skillset.
"Harry has been working really hard, he's leaned down a bit. He's been desperate for an opportunity and he gets it. We're looking forward to seeing him go. We played him at six last time we played him. This time we've given him the eight jersey.
"He should get more opportunities to carry which would be great. They'll be a good tag team him and Bobby.
"We really rate Wilso. There's massive competition in that spot and based on us playing Pete at seven, with Rob Leota out, with us moving Jed Holloway to lock there's a genuine opportunity for Harry not only in this Test, but in the European tour.
"He's well aware of the importance of that and he's pretty keen to have a big performance on the weekend."
On the approach to World Rugby over the officiating
Rugby Australia put in an official complaint about the decision by referee Mathieu Raynal to sanction Australia for time wasting in the 79th minute in Melbourne. Rennie suggested that World Rugby shared the Australians concerns.
Rennie said: "I didn't write that letter, I've done what I normally do where I talk over a number of clips and share my views with the refs. So we've obviously been in contact with World Rugby around it, and they agreed with our concerns.
"We've decided to just take that on the chin and we're going to move on, it's seven days since we've played that game, we're a couple of days away from a big game in Auckland, and that's our focus now."
Asked it if was better or worse that WR agreed with the Wallabies' concerns, Rennie replied: "We're just at a stage where we're going to move on. We sought a bit of clarity, we got that. It's not going to help us win on the weekend, so our focus has been on our preparation and making sure we can throw everything at it on Saturday."
On Tom Banks' selection for Australia A, and Bernard Foley's Spring Tour availability
Banks was named on the squad for three games against a Japan XV next month as the first stage in a comeback from a broken arm.
While Banks is heading to play in Japan for Honda Heat, and the Wallabies had issues with players being available for the Spring Tour from Japanese clubs last season, Rennie seemed bullish about the prospects of Banks and Foley making the trip if required.
"He's a chance to tour, obviously we want to get some footy into him; we sort of hoped he'd be back a bit earlier," Rennie said of Banks.
"Going to Japan will get some footy into him and then give us an understanding of where he's at and whether we include him for the European tour."
On Foley, he added: "We're working through things at the moment. He's very interested in touring, we're keen for him to go, but we're just making sure that from a Kubota perspective that they're happy, but initial talks have been supportive. But we'll get clarity over the next couple of weeks."
On the All Blacks team for this weekend
The All Blacks made six changes with Sam Cane and Scott Barrett among those missing.
"As always with All Blacks sides are they are incredibly strong," said Rennie. "You lose some are like Sam Cane out of that loose trio, but you bring in Ardie Savea. And obviously, Beaudy Barrett gets a start at 15, probably one of the best 15s in the world, so it's a hell of a replacement.
"We've got a huge amount of respect for them. We're well aware that we need to be at our best to be in with a show at Eden Park but we're excited, we've prepared really well and we're keen to rip in.
"While we're disappointed we're not going to Eden Park with a chance of winning the Bledisloe Cup, it's a fairly big game for the All Blacks still with a Rugby Championship crown up for grabs. 
"So, we're taking the game very seriously. It's a big match for us. It's a big match for them. There will be a bit of hype around it and the fact that there was a bit of controversy at the end of the game it was still an unbelievable game of footy.
"You'll still have two teams that want to play a bit of footy at Eden Park. As we know, all those games are very physical."
Rugby – The Roar