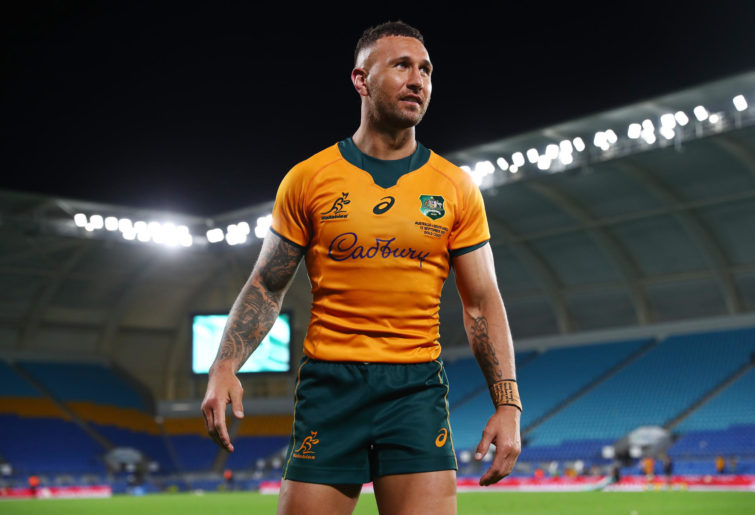 A gutsy, come-from-behind Wallabies win in Mendoza on Sunday morning (AEST) was sadly soured by two significant events.
The first was the Achilles injury suffered by Quade Cooper in the 48th minute itself. The second was the almost immediate realisation of the major ramifications for game development, specifically leading into the Rugby World Cup next year in France.
A ruptured Achilles tendon is a major injury with full recovery typically outlined in nine-to-12-month terms.
The tendon itself can take around six to ten weeks to heal, according to online resources, but it could be as long as four to six months before a patient is in a position to commence relatively normal activity, like walking or running. Even if this is achieved, the general advice appears to be a that it will likely take another six months or so of rehabilitation treatment before the injury is considered fully recovered.
Obviously – as if this even needs to be said – these timeframes are indicative only, and equally obviously, every patient is different. The Roar, unsurprisingly, is not the best place for medical advice.
Harry Johnson-Holmes suffered a ruptured Achilles almost immediately after arriving in camp from the Australia A squad last month in the midst of the front-row injury crisis, and his training and recovery to restore the strength and conditioning he needs for the front row is going to be a lot different to Cooper's.
But this point remains: even if Cooper can get the best possible treatment available and strictly adheres to his rehab while maintaining the best fitness and body condition he possibly can going into next year, he's still going to be a 35-year-old coming off an Achilles rupture.
If Johnson-Holmes is racing the clock, so too is Cooper.
Which all amounts to the Wallabies no longer having the option of basing a gameplan around Cooper at flyhalf for the World Cup.
And that probably means that the post-RWC – and post Cooper – thinking around the way the Wallabies approach and play the game needs to be identified and employed well ahead of time.
Maybe not this week, because the next game is probably too close, and Argentina is not exactly an easy commute. But certainly in this Rugby Championship the Wallabies have just begun, and certainly over the course of the five-Test Spring Tour in late October and November.
And all the thinking for 2024 would hinge around two key questions that now need answers in August 2022.
How do the Wallabies want to play? And…
Who do are the best options to fit into and drive that approach?
With Cooper back in the No.10 for the first time this year, Australia looked very different in attack in Mendoza than they did against England in July, and that would have surprised no-one.
There were noticeably more flat runners, and more inside lines being offered – Jordan Petaia's for the first try being an obvious example – as Cooper looked for and played toward any chinks he could find in Los Pumas' defence.
Nic White's role was to play field position and get Cooper the ball where he needed it and when he wanted it. Hunter Paisami's role was play support to Cooper and often trigger the next phase of attack when Cooper ran, while Len Ikitau and the back three were the guys running the lines that Cooper needed, from first phase, as an inside option, and obviously to support any tackle busts and line breaks.
On the whole, it went OK. Cooper showed plenty of signs in the first half that he'd not played a great deal of rugby since late May, and that's not unexpected given the nature of the injury that sidelined him in July.
But he was starting to look more dangerous and the Wallabies attack more menacing when the old sniper in the stands got him eight minutes after halftime.
When Cooper went off, White and to a lesser extent Paisami took more control of the play, with Reece Hodge admirably playing the distributor and linking role in between them. The Aussies simplified their attack, upped their pace as they entered the attacking zone, and guys in space had supporting options around them.
So the Wallabies need to work out if they want to play primarily off 10 or distribute the playmaking across 9, 10 and 12. Then they need to work who the best options are for whichever method they want to deploy.
Indeed, it could be that they want the ability to play both styles, and maybe even use different players accordingly.
If Noah Lolesio is now the man, then the team needs to play within his capabilities and to his strengths. If it's Ben Donaldson, then he needs to be added to the squad at the first logical and logistically possible opportunity to start gaining experience. Same applies for Tane Edmed or any other young options.
James O'Connor may be an option if he's fit. Hodge did exactly what was asked of in Mendoza, but would be a questionable long-term option.
But further, the Wallabies now more than ever need to ensure the Super Rugby sides are on the same page. If it's Lolesio, then Stephen Larkham and the Brumbies need to know what they need to start building into Lolesio's game in January, so that he's right for the national team in July and August. If it's Donaldson or Edmed, then Darren Coleman and the Waratahs could do a lot worse than play to the same attacking structure.
Communication with the states is going to be crucial. Coordinated planning and feedback and tinkering between the national coaches and their Super counterparts will need to be deliberate and careful and regular.
Sports opinion delivered daily 
And it's all achievable, importantly. The Brumbies-Wallabies conduit is well established. With Jason Gilmore taking charge of Australia A this year and employing Dave Rennie's structures, it won't be foreign to the Waratahs, either.
If Cooper can recover in time get enough game time into his body, then by all means, take him to France.
But the Wallabies can't wait and see.
Any success they achieve in France next September needs to come from steps taken and methods employed in the next few months.
And the very real prospect that it may not involve Cooper at all.
Rugby – The Roar