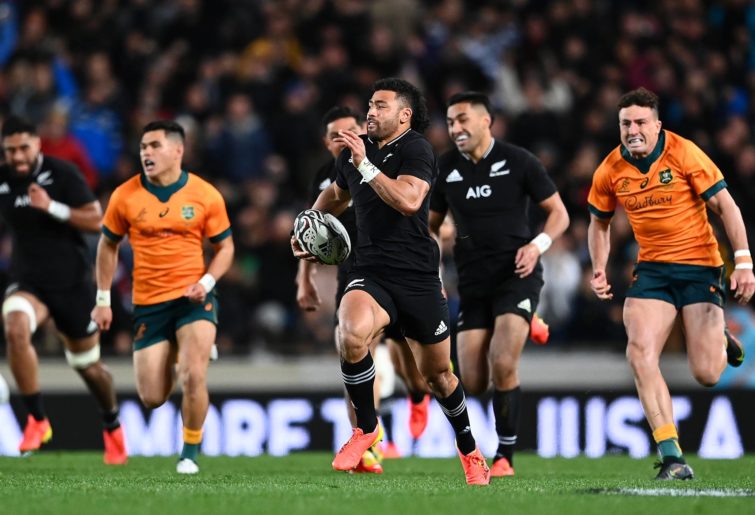 The faculties are just about strong enough to remember being woken by the parents in the Kingswood station wagon having arrived at Nelson camping ground but personally having little idea as to how we actually got there, not dissimilar to the latter years' Dunedin to Queenstown ride after a fine Highlanders home win.
And here too do the All Blacks find themselves. Their destination looked pretty good, albeit it has been via a series of pretty ugly detours in 2021/22 and without being sure that they were even on the right side of the road on occasion.
Saturday really was confluence of all that is good with New Zealand rugby, with a game plan that works, and more importantly, one the that looked like the players believed in and did so with some serious intensity.
A front row is now in, which if the radio journalists in New Zealand are correct, coach Ian Foster had to be 'dragged kicking and screaming' towards, and it is one that is taking a backwards step to no one.
A back row with clearly defined roles, that needs little tinkering or selection adjustment, a backline which has been released by the lightning in the hands and space awareness of Aaron Smith and Richie Mo'unga (the 'total passes by outside backs' stat has rocketed in the last three games) but most importantly, a discipline to stick to what was working, 10 minutes at the beginning of the replacements aside, right through until the end.
In the last five minutes we saw both backline Barretts have the opportunity to run the ball back from average Puma kicks, but both kicked the ball deep, looking for grass, and a final try was added for good measure. Sticking to the plan when the points are done and dusted is a really good sign.
The loose forwards in the last three games have been a revelation. Shannon Frizell has been the addition that fixes so many of the small things that made this side clunky over the last two years. His carries out of the defensive end, sheer speed of getting off the ground at lineout time, and a willingness to throw his body into everything sets a platform for those around him.
But it is the spread of the loose forward workload which has been the big change.
Rucks aside, Ardie Savea had 24 carrries and tackles on Saturday, a huge effort and still had enough gas to sneak over for a cheeky try towards the end. Compare that to the five involvements in the second Test against Ireland, or just 14 (four tackles) in the loss to France last year.
Sports opinion delivered daily 
There was no way either Jason Ryan or Joe Schmidt were going to countenance the waste of a loose forward used primarily for edge attack purposes which places too much pressure on his mates, let alone the two of them that Ian Foster has favoured for a year and a half.
Hardly surprising then that Sam Canes best two games of this year, Saturday and the win in the Republic, where that loose forward workload was evenly spread, and he can just concentrate on his own job. I was so hoping he would dummy and go for the try himself when he put Jordie Barrett in on Saturday, but as in all he does, the captain chose the selfless and best option.
During the week I noted that Foster gave an interview where there was some element of recognition of the failings of the All Black game plan while the results have been in free fall, and I hoped that he would back up this sparsely distributed interview with selections and a game plan that re-enforced what seemed to be his new way of thinking.
Congrats to him for not only having the courage to select the same side that lost the week before, but to send them out with a variety of game plan that Argentina did not get to grips with from the opening minutes to the last.
Anyone who thinks that coaching doesn't matter with players of this quality needs to seriously re-watch the last two Argentinian Tests. Same guys, vastly different approaches; massive result swing.
So many further things that could be highlighted here, but a couple stand out. A rush defence simply cannot hit something that does not provide a target and Richie Mo'unga handled that magnificently. His management of depth in the pocket is instinctive and precise, moving the ball either by hand or foot to the parts of the park that took the pressure off his side.
The tangential statistics of this use of time, such as team turnovers, plummet when the players outside him are given time and space. The re-discovery of Rieko Ioane's running game as the ball is presented flat and out in front of him is a serious bonus.
Secondly, the kicking game at the Tron was exactly what was required; for territory, for manipulating the defence and as an attacking weapon. Who would have thought, eh, kick the ball 32 times and score seven tries.
If there was any doubt that the rugby philosophy under the Foster group, before the recent changes, was a thing of another age, then it was so proven in Hamilton.
Let hope that the flat attack, running rugby 'cause it's in our DNA' is over, dead, expired, or whatever other number of descriptors were assigned to the famous Norwegian Blue.
I do not care how we got here, not if it was the Crusader influence of Jason Ryan, not if it was the attention to detail of Joe Schmidt, or feedback from the players after the turnaround win in Johannesburg that kept coach Foster in his job. I care not a jot.
On Saturday there was a structure that was far more like New Zealand rugby DNA than the fictional product that has been alluded to in the recent past. Aggressive and physical up front on both sides of the ball, and considered, patient and clinical out the backs when required.
Foster is renowned for his loyalty, both to players and to his rugby philosophy. Credit to him for not only changing the plan, but for sticking with the personnel best able to implement it. He had his reversion step last week, that one last time roll of the dice which may have given his philosophy a glimpse of hope, but which some big nasty blue and white forwards stomped all over.
What I do care about is we don't go back.
Not in game plan, not in micro plans, not in selections. Not even against weaker opposition when running at all costs has little or no consequence.
If the All Blacks do strike injury trouble, then elevate the next young players in line and let Schmidt and Ryan get them up to speed, we can have absolute trust that both these men will get newbies up to Test level in the right way.
What was perhaps most pleasing about Saturday's Test was that the man of the match discussions all involved players maligned by game plan or selection in the recent past and showed what they can do, given clear runway.
As for the approaching Bledisloe Cup: select the same side, micro game plan changes only and search for that consistency of intensity that raised its head on Saturday as the new All Black normal.
Rugby – The Roar