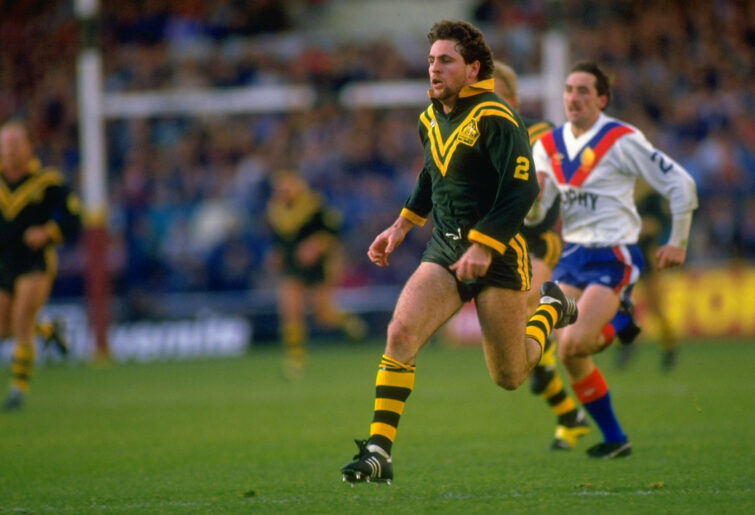 There are three factors that distinguish an average sportsman from a great one: an almost pathological fear of failure, an intense motive to never be beaten and a self-assured personality type.
Combine all three and you have the foundations for a champion player. They are succeeding because of a huge desire not to fail and not be beaten and the self-confidence drives them to achieve.
Michael O'Connor shared these three traits and was the greatest dual international in rugby union and rugby league.
Although he only played t13 Tests for the Wallabies, O'Connor will be remembered as one of the most brilliant and exciting centres to play for Australia. The definition of "poetry in motion" is someone who moves in a way that is very graceful and beautiful – sound like O'Connor?
"Gliding across the turf" is how former coach Bob Templeton described him. Even his strutting, jogging style reeked of superiority.
He was fast, possessed a sparkling sidestep and a skilful swerve that made him a constant attacking threat. A chip kick was also a speciality.
Michael O'Connor was also an adept defensive player, described by former St George coach Roy Masters, "he had a toughness in defence which many union players did not have."
Michael David O'Connor was born in Nowra, NSW in 1960. He moved to Canberra and attended Phillip College (now Canberra College). Michael played in the First XV for two years and captained the Australian Under 17s to New Zealand.
He toured with the brilliant undefeated Australian Schoolboys Team to Europe and Japan in 1977-78, along with other notables such as the Ella brothers, Wally Lewis and Chris Roche.
His form for the ACT in 1979 had him selected for Australia on a tour to Argentina, where he made his Test debut.
Oh, for a backline like this now: Cox, Ella, Hawker, O'Connor, Moon, Martin and Gould took on the All Blacks in 1980, and won the series 2-1, retaining the Bledisloe Cup for the first time in history.
Sports opinion delivered daily 
O'Connor moved to Brisbane in 1981 to lift his game with more high-profile matches. He played club rugby for Teachers-Norths and was coached by Bob Templeton for Queensland.
Injury interrupted his Wallaby tour of Britain and Ireland where he played against Ireland and England, missing the Welsh and Scottish matches. The Irish match was the only victorious one for the Wallabies on a disappointing tour dominated by the freezing weather.
Nine Queenslanders, including O'Connor declared themselves unavailable for the Wallaby tour of New Zealand in 1982, for professional and personal reasons. A new player by the name of David Campese made his debut on the tour.
In 1982, O'Connor shocked the rugby union world by announcing he was leaving union for the St George rugby league club. His motivation being for the money and challenge. He was at the peak of his game and did not want to move later when he was not so motivated.
O'Connor and his father did not speak for four years over his decision to change. At one point he had written a letter declining the offer, but friend and fellow player Chris Roche implored him to go as "he would be mad if he did not take it".
He became an accomplished goal kicker in league, but in his first two seasons with St George was not required for goal kicking. O'Connor used the round-the-corner style compared to the old-fashioned toe-on method. He made his State of Origin debut in 1985 and scored all of NSW's points.
A week before he was selected for NSW for the first time, O'Connor was hit in an accidental high tackle from Canterbury-Bankstown's Steve Mortimer in a club match at Belmore, leaving him with a broken nose and contributing to his nickname of "Snoz".
A tour to New Zealand with the Kangaroos followed and he made his international debut in 1986. He played both wing and centre in rugby league, showing his versatility.
A distinguished league career followed with highlights including leading points-scorer for the Kangaroos on the 1986 tour, playing under Bob Fulton for Manly and starring in the 1987 Grand Final win against Canberra Raiders.
O'Connor is remembered in State of Origin folklore for a sideline conversion for NSW in teeming rain only minutes out from the final siren to win Game 2 of the 1991 State of Origin series 14–12 at the Sydney Football Stadium.
He had achieved everything in union and league but had one final goal left: to captain the Manly team, which he accomplished in 1992. It was at this time that he announced his retirement.
O'Connor served as head coach of the Australian men's rugby sevens team from 2008-2014.
He also continued his rugby union career as an Australian selector.
O'Connor was an integral part of the golden era of Australian rugby. His time in the Wallaby jersey was fleeting but brilliant. As a young man he wanted another challenge and with great confidence made the move to St George, Manly and the Kangaroos where he established himself as one of the finest league players.
Michael O'Connor, another favourite Wallaby.
CLICK HERE for a seven-day free trial to watch the NRL on KAYO
Rugby – The Roar